An amazingly scenic and inspiring drive – GREAT for traveling with your RV Camper – I just HAD to share it!
I pushed to get this post out quickly to keep it timely and frankly it is SUCH an inspiring drive with your RV! I made this drive on Memorial Day (5/30/22) from Saratoga to Wheatland. It was a special drive, not only because of where I was, but I was accompanied by the sounds of Music Radio 77WABC in NYC from the days of top 40 radio. This is an annual event held every Memorial Day weekend and I share a bit more in the video. Rewound Radio holds this event. They are a channel on Tune-In Radio (phone app.) And… despite the rural region I was traveling through, the vast majority of it had a Verizon signal!
RV Travel from Saratoga to Wheatland Wyoming
The drive from Saratoga Lake to Wheatland starts off heading North from Saratoga on Wyoming 130. Amazingly green prairies accompanied me thanks to well above normal rain AND snowfall in April and May. In fact, it seems as soon as the ski areas closed, it started snowing! I actually believe in this region we INCREASED our snowpack this MAY in the Snowy Range and other mountains here in Wyoming!
The entire drive was a shade under 3 hours and I condensed it to about 20 minutes in the video. The first half hour or so is a a northbound stretch to cross Interstate 80, then an hour or so long stretch eastbound through Medicine Bow (pop. 284.) The final stretch takes you northeast on Wyoming 34 through the Laramie Mountains. It is incredibly scenic as you travel through the last mountain range before the Great Plains – which effectively begin in Wheatland!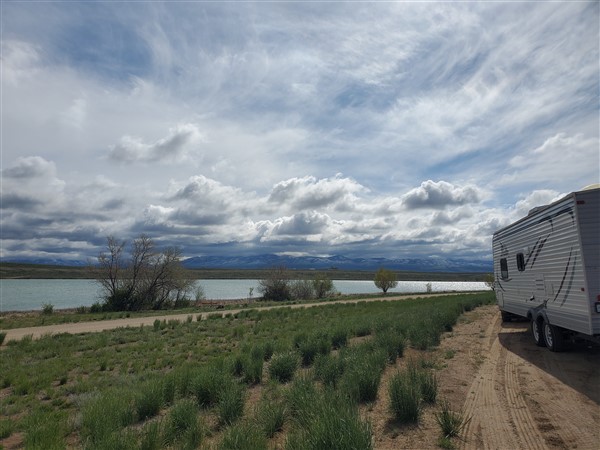 It's springtime, thinking of getting your first RV camper – or replacing an existing one? Do you know about my Concierge RV Buying and Selling Service? Check it out HERE.
RV Camping in Saratoga and Wheatland
Saratoga, as I've noted in my recent post from there has two campgrounds. I stayed "at the lake" for $15/night (electric only.) Wheatland has 2 private campgrounds AND a few town sponsored sites at Lewis Park. They provide electric hookups and a nearby dump station and fresh potable water. There is a 3 day limit, there is no fee, but donations are graciously accepted.


Cost of RV travel – a new consideration…
The total drive is about 155 miles, I left Saratoga with a full tank, and filled in Wheatland shortly after arrival. The damage? About $75. – a drive that 16 months ago would have cost about $38. Hmmm… I wonder just how THAT happened? At 0.50/mile to pull my trailer, that's going to limit just how far folks travel until this problem is fixed. And… of course, high fuel prices (diesel here is 5.49/gallon) are an issue at ALL levels of the economy due to how all our supplies arrive at our fuel stations and grocery/merchandise stores.


Like my content? Please subscribe below to be notified of new posts as I create them…