And… Putting my new Ford F350 to its first test towing
Leaving Vernal…
The time had finally come, time to leave Vernal, Utah after about 7 weeks in that (somewhat) sleepy town in Northeastern Utah. I used my time there to pick up my new truck, get a new hitch installed and more. In fact, my maintenance plans didn't end until I was within a mile or so of leaving Vernal!
TJ's Tire Pros
Not Tire Pros, TJ's Tire Pros – located on the east end of town was my last stop – a planned stop. My trailer is nearing 5 years old (my how time flies!) and the Goodyear Endurances' had seen better days. Weston was "my guy" at the store and after speaking with him (at length), I decided to go with his recommendation of Milestar Steelpro tires for my Glacier Peak. Yes, they're Chinese, but, Cooper owns the company and Weston relayed that they've sold many sets to folks who use them on trailers in the oil field which is the ultimate test for tires. So… here goes, new tires for about half the price of what Goodyears were going to cost (Goodyears are $480/tire!!) I also had them check/repack the bearings.
Did you miss my recent article detailing my new truck, how I "built" it and my inspired towing capacity tips for what you'll need to tow your trailer? Check it out HERE.
The drive from Vernal to Craig, Colorado
Driving through the intermountain high desert in Spring is a true experience! This is a region of extremes – summer heat, winter cold, high winds, and limited precipitation. The end result? Few trees! Instead there's plenty of grasses and shrubs – ALL very GREEN at this time of year. Its actually an inspiring drive as you occasionally see snow covered peaks, first the Uinta's just outside of Vernal, then the Rockies as you approach Steamboat near Craig, and swollen rivers handling the winter snowmelt.
Craig itself is only about two hours east of Vernal. The drive went by quickly, and before I knew it, I was in Craig. Craig Colorado is the county seat of Moffat County. It is one of the most conservative towns in the entire state. When the governor of the state tried to limit gun rights, the town of Craig passed a law stating that all citizens must own a gun! Did I mention I LIKE Craig?
Interestingly, when it came time to vote on legalizing dispensaries (cannibis) in Moffat County, the vote was overwhelmingly in favor. Its probably the Libertarian lean of the residents that led to that decision – and it was my main reason for making Craig a "pit-stop." No, I don't smoke it, but I'm VERY aware of its medicinal properties including the powerful anti-inflammatory pain relieving salves. When visiting Craig, I highly recommend visiting Shane at the Honey Bear Apothecary.
RV Camping near Craig Colorado
While I didn't camp near Craig, if I were looking for a place to camp, I'd consider the Elkhead Reservoir or the Freeman Reservoir. Check both for open/close dates as I don't believe they're open year round.
Did you miss my post that details the process of installing a 5th wheel hitch – tips and tricks – choices to make and avoid… HERE.
The Road from Craig to Baggs, Wyoming
As my destination was Saratoga, Wyoming, I opted to turn north from Craig and head towards Baggs Wyoming, just 40 miles up the road. I was going to make it an overnight, but upon entering "town" (its got 50 residents…maybe), I both failed to locate the RV park, and couldn't pull a cell signal (Verizon), so, knowing that Rawlins was just 77 miles "up the road" (actually north then east on I-80), I decided to continue my journey and thus make my drive the next day all the shorter.
Once in Baggs, had it been a month later, I would have turned east to head for Encampment, but that road approaches 10,000 ft. elevation and is not open yet. Interestingly, there was no warning sign at the intersection of Wy-70 where the drive up into the mountains begins, so I'm not sure how far a hapless traveler may go if they don't know the road to Encampment is blocked. Google (of course) wanted to steer me towards Encampment on the closed road!
Rawlins
Rawlins has two good (and reasonable) RV parks (NOT the KOA!) I stayed at Western Hills for 1 night – enough time to hit Bucks (great atmosphere and fries), Pennys Diner (good breakfast), City Market (Krogers), and Walmart. Well, that about does it for Rawlins!
Oh, and Rawlins is only about 40 miles from Saratoga, so when I need a real grocery store, the City Market there is my "go to."
Saratoga, Wyoming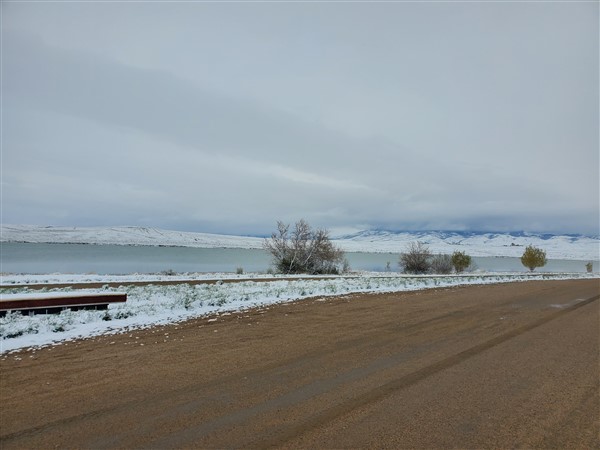 I've been here so often, I almost feel like a local! The big draw? The hot springs. But… its a nice sleepy little town, camping on the lake (Saratoga Lake), biking, kayaking, and oh, LATE SEASON SNOW!
Yep, as I write this on Wednesday 5/18, while its a breezy 70F outside, and has been mild for a few days here at 7000 ft, it still IS 7000 ft and snow is expected to move in tomorrow night. Temperatures on Friday are expected to remain in the 30's – quite a change from the 60's-70's I've grown used to in Vernal over the past two months! But… relocating from 5400 ft to 7000 ft and heading somewhat farther north can quickly change the scenery from mid-Spring (in Vernal) to early-Spring in Saratoga. Its kinda like reliving Spring '22 twice! Of course, if I stick to my plan, I'm heading for Edgemont, SD in a couple of weeks and there it will be summer by the time I arrive (around Jun 1.)
RV Camping in Saratoga
Camping in Saratoga is best done at Saratoga Lake – $15/night, electric only. Use the showers at the hot springs to conserve water in your camper. No reservations accepted – and generally you'll find a site. You'll see locals visit the lake off and on but its generally quiet and safe. There is a private campground called Deer Haven. It does offer full hookups but they're not cheap (and I am!) The lake campground is almost exactly 2.0 miles from the hot springs. There is a small grocery in town, but for me, I stock up at the City Market in Rawlins (40 miles) when needed. There's also a Walmart in Rawlins.
Need RV Accessories for Spring Travel? Here's what I use and recommend…
Summary on the truck… It performed like a champ! Smooth, stable, easily handled my 15000# load, and got about 10 miles per gallon towing. Not sure if that will improve with time.
If you enjoy my content, please consider signing up for my newsletter below. You'll be notified of upcoming posts as I generate them.
#rvtravel
#rvlife
#saratogawyomingrvcamping
#saratogalake