RV Life in a small town in Eastern Wyoming during the Corona Virus
The title of this post was inspired by Ted Nugent.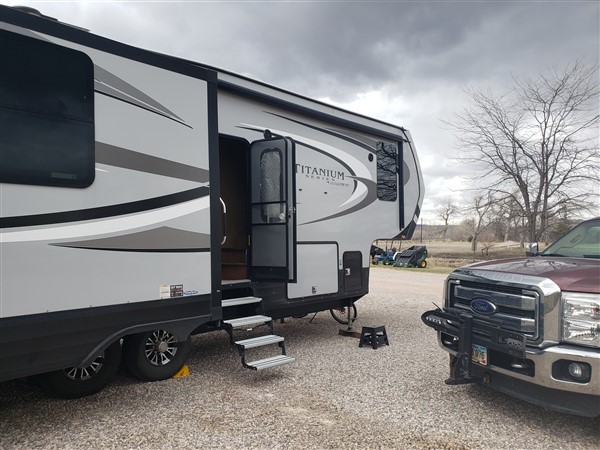 Quiet, kinda sleepy, with nice roads for bicycling, near two large lakes for kayaking, and even a touch of history nearby. RV greetings from Guernsey, Wyoming! A town of about 1100 people where I'm riding out this virus in my 5th wheel for the time being.
RV Camping and Life in Small Town America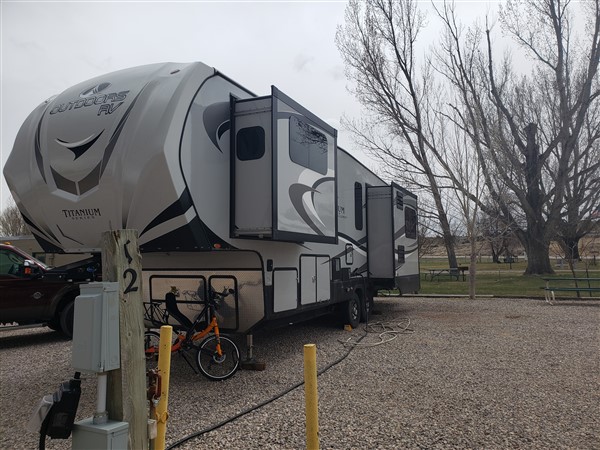 I've established "temporary residence" at a campground that borders a golf course on the southern edge of Guernsey, Wyoming. There's a small "fishing hole" across from my camper, I'm told there's bass in it. The location is quiet, safe and frankly cheap – a nice combination. Its an easy bike ride into town and the roads are quiet (and primarily flat!)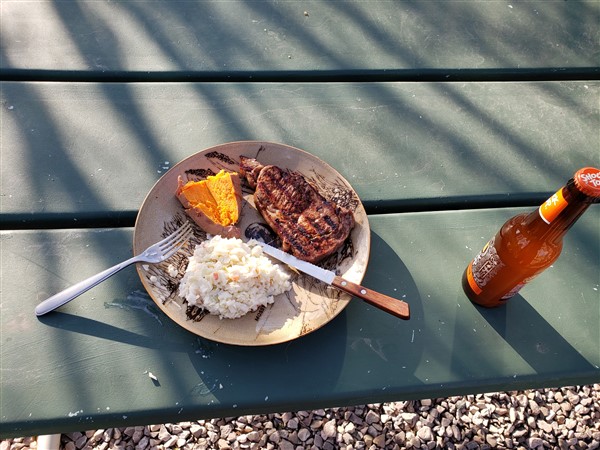 Fortunately here in Wyoming, we have not been under a complete lock-down. People here go fishing, biking (one of my favorite activities that I do for an hour or two each day now), walking, hiking, and boating/kayaking/canoeing. The common theme is outdoor recreation! And the weather (much of the time) cooperates.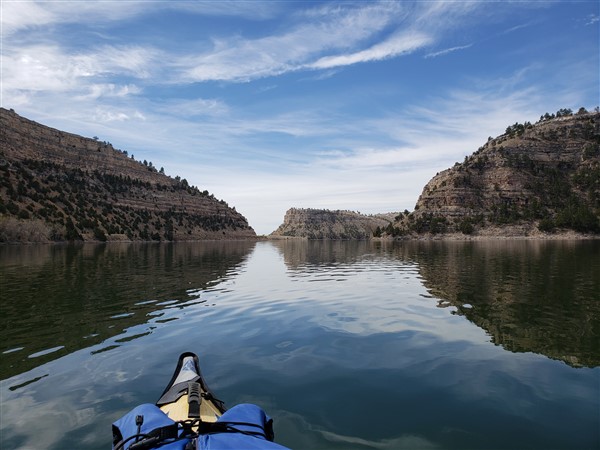 There are two significant water bodies nearby – Guernsey Lake State Park (click the linked text to learn much more about this spectacular state park) and Grayrocks Reservoir. Each is accessible within about 10 minutes of town. Guernsey itself is fairly flat – which is just how I like my bicycling! The State Park is fairly rugged terrain, and the scenery on the lake while paddling is beautiful. There are MANY campsites inside the park. None are open at this time, but starting on May 15, 2020, the state will re-open them, initially to Wyoming residents only.
Lake Guernsey itself is basically a flooded river as there is a dam near the southern end of the park (photos coming in my upcoming post about Lake Guernsey State Park) that caused this lake to form and allows for flat water paddling.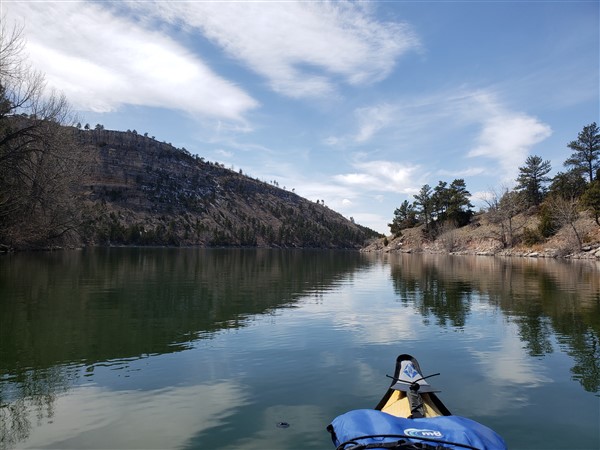 The town of Guernsey Wyoming is located on the western edge of the Great Plains. There are farms and ranches in the area. The Laramie Mountains are just to the west and some of their relief appears nearby. The relief ranges from rolling grasslands to limestone/sandstone cliffs – many of which can be seen in the state park.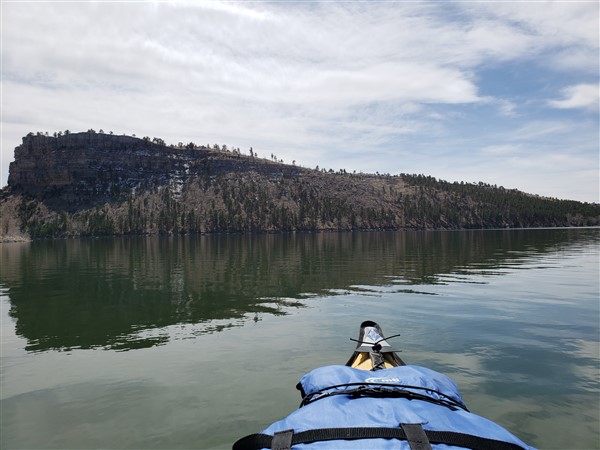 The weather has cooperated as much as can be expected in Wyoming in April. Last night it rained, last week it snowed, but in between it got sunny and warmed into the 60's and 70's. There are families and kids out and about and they seem to be enjoying their extended semi-summer vacation.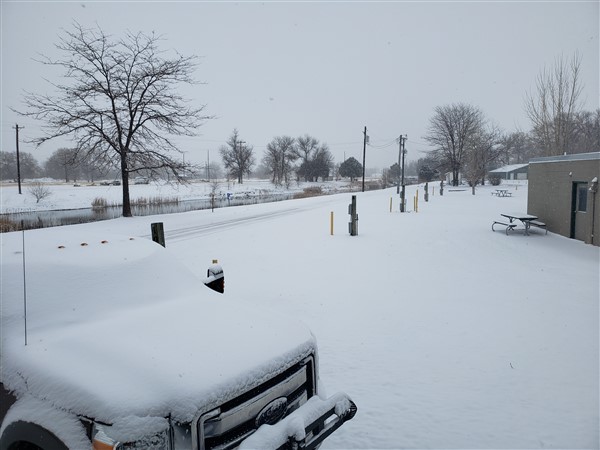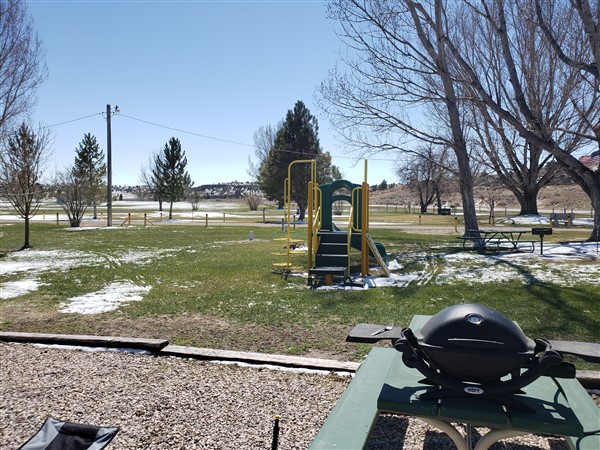 Signs of the Virus…
The greatest signs of the virus here are the restaurant closures – the town's one coffee shop is closed; the liquor store is take-out only; the bowling alley is closed, but everything else is basically open and functioning.
Most folks, including myself, use face masks when inside a store and carry around hand sanitizer. I was impressed now on two occasions to see the paper goods aisle in the grocery store nearly full with toilet paper! So, at least here, that "crisis" has ended. The hardware store gets very little traffic so no one wears masks there. I've visited the hardware store to get a state parks pass (which for day use is open to all) and to get materials to do a minor repair on my camper.
For myself, between working on the camper, switching from winter to summer clothing, bicycling, and kayaking, I'm keeping occupied, along with my Concierge RV Buying and Selling Business picking up. I recently helped a gentleman purchase a 2019 Vanleigh Vilano 320GK 5th wheel, and I'm actively working to find a true 4 season travel trailer for another client.
The Lunchbox
The lunchbox is a restaurant that offers outdoor and indoor seating. It's kind of a simple place, but the food is actually good and the owner is a local guy who is trying to make it. I've met people here from as much as 100 miles away – and it was THE place to stop at! The indoor seating is closed at this time – but from all indications, not for much longer as salons and barbershops are now open!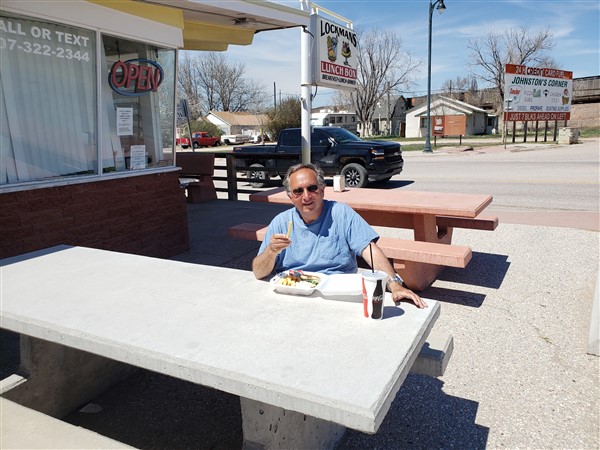 Life has been a real mix of relaxation and frustration
It's clearly an uneasy time – here and everywhere. And, the thought "it didn't have to be this way" (a Chris Martenson phrase) keeps entering my mind – knowing the entity likely responsible for allowing it to escape could have stopped it in its tracks where it appears to have originated. I feel for those who are out of work – and especially those who are not eligible for unemployment (which will run out sooner rather than later.) At the same time, when the weather is spectacular and I'm kayaking for about an hour each day, biking, now about 10 miles daily, hiking, interacting with some of the locals here, it's hard to be anything other than relaxed and enjoying the incredible surroundings in a town that is NOT a tourist destination (part of my reason for choosing to come here.
My roots are in New Jersey and while friends still there are safe, many have died from this virus and as I write this, the carnage continues. Its awkward to enjoy life here while I know what's going on in the NY Metro region.
Two Large Lakes Nearby – one in a spectacular state park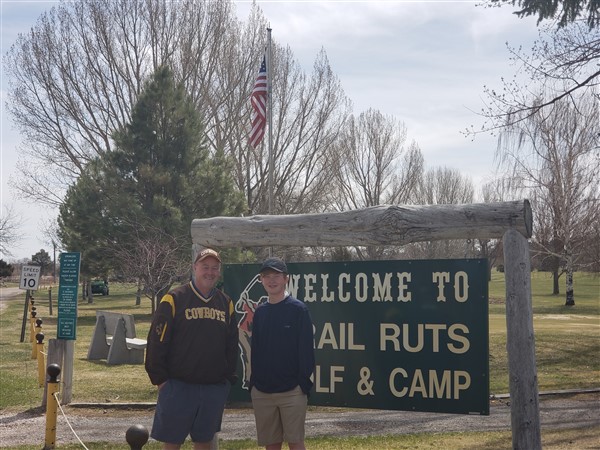 One of the reasons I chose to camp out in Guernsey is the easy access to water. Lake Guernsey State Park (see the video – and expect a post focusing on this state park and camping options within it.) and Grayrocks Reservoir can be accessed within minutes from my campsite. Wyoming has a $70. annual pass for day use of their parks. It beats the $6. daily fee (soon to be $9. in May.) Grayrocks has free public access (and free dry camping), but is in a "bowl", so be aware that cell signals will be minimal (if at all), and it tends to be a bit windy (which is not my friend while kayaking!)
Camp Guernsey – Military Training Site
There is a large military presence here in Guernsey. Camp Guernsey is a National Guard – Army – Air Force facility that also serves as a training ground for the police. To say this is a safe place is a bit of an understatement! Camp Guernsey has training grounds both south and north of town, and the main camp on the east side of town is quite large and looks like it can house thousands.
A Little (Guernsey) History
Guernsey Wyoming is home to the "Oregon Trail Ruts" – ruts recorded in limestone from the wagons crossing our nation in the early-mid 1800's. It is also home to "register cliff" – a sandstone cliff, known as a key landmark along the Oregon Trail.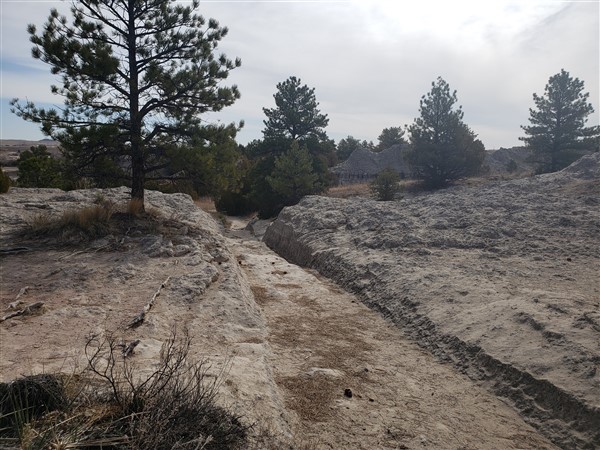 Nearby Shopping and Provisions
Guernsey itself has a well-stocked and well-run grocery store. The meats and produce are fresh and the prices are surprisingly reasonable for a small town. In less than a 30-minute drive, you can be in Wheatland to the west or Torrington to the east. Torrington is the larger town, but Wheatland has better stores and lower fuel prices. Thsi is likely due to its being located along I-25.
Wheatland has a Safeway (well run and clean), a local grocer (good bagels!), a Bomgaars (similar to Target or Walmart sans the groceries), and surprisingly competitive fuel prices (I recently paid 2.10 for diesel.) Yesterday I visited Bomgaars and took my first step (back) into fishing by purchasing a fishing rod (that happened to be on sale!) I hope to really learn how to fish (this time) as it's possible it could prove to be a viable way to obtain FOOD.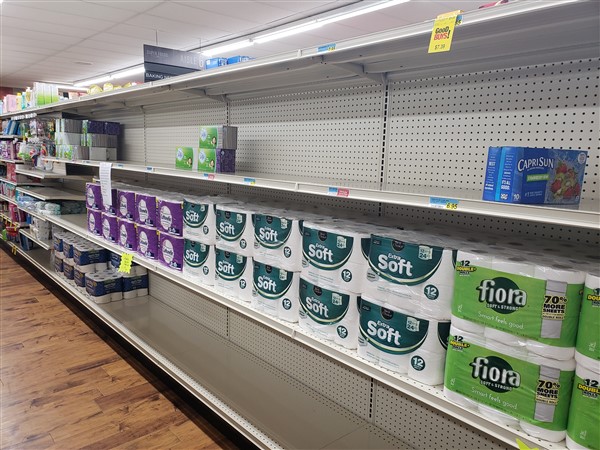 I keep renewing my stay here week to week. I'm playing everything very much by ear. You may know that I had a heart attack in February 2019 and combined with mild hypertension (fully under control with carvedilol) – while this has NOT slowed me down (at all), heck I've skied over 100 days since the heart attack. I skied about 33 days in the remainder of the ski season ending in Spring 2019 – starting just 5 days after I received 2 stents, and another 70+ days this season (ended in mid-march.) BUT – my condition DOES put me in a high risk category for the "severe phase" of covid were I to catch it.
So… my goal has been to AVOID that possibility at all costs UNTIL the doctors get a handle on just what causes the "severe stage" (the cytokine storm) and how to PREVENT that from occurring. I still have strong hopes for hydroxychloroquine and remdesivir. But at it appears, the doctors are switching their thinking on just what is going haywire with those folks who head into "the storm" – they were thinking its pneumonia, but now they seem to think that some kind of runaway clotting is occurring. I'm no M.D., but to me it seems these are two very different paths of thinking, so I (and many others) can only hope "they" figure out how to treat and/or PREVENT folks from getting to the severe stage of this illness.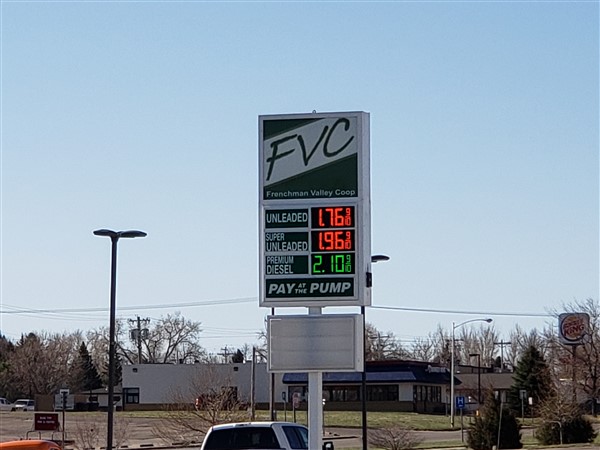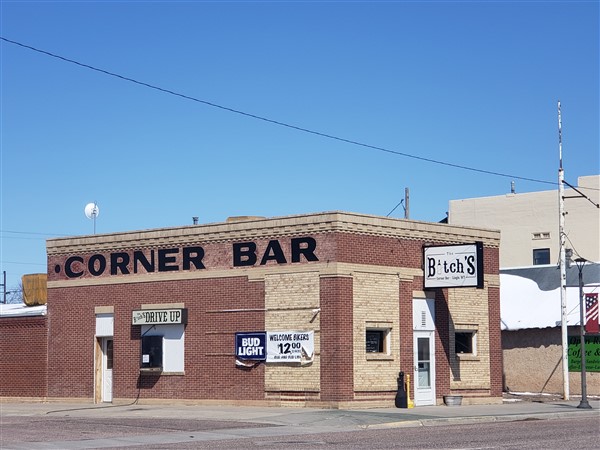 Working from "home" and building RV Across America (.net)
I'm delaying my summer RV sales plans to work in an RV store in Cheyenne at this time because of my risks associated with exposure to "the virus." On a positive note, that leaves me more time to work with my Concierge RV Buying and Selling Service clients, build my website, and do other odds-n-ends and perhaps even lose the "extra 20" my cardiologist wants me to get rid of!
Much more soon including a complete overview of Lake Guernsey State Park – a place I'm truly growing to appreciate. Hey it IS "rv'ing season" – if you're heading out, HERE is a post about two great campground discount programs (one gets you FREE stays) and from the image below, you can see the RV Accessories I personally use and recommend.
If you like my content and want to be advised of new posts – please join my newsletter below. Your info is completely protected. I can tell you I'm working on my buying advice for RV'ers, an article on water filtration for your camper, and more GREAT places to visit and explore! If you want to see how I got from Jackson to here in early April – here's the story of that journey.