RAIN… And wow did it rain big-time! And… it's not over. After three days of nearly continuous rain (and snow about 1500 – 2000 ft. above my current elevation – look at my photos!), I feel more like I'm in Maine than Wyoming. It is GREEN, and for late June, COLD! Temperatures today here in Swan Valley (Idaho) were primarily in the 40's today. The summer sun did show itself for a little while, but I don't think it managed to drive the temperature even to 60F before the next line of showers moved in!
When you RV Camp – especially in the wilderness… you gotta be FLEXIBLE
So, I guess a major message I want to share is I bugged out of Pinedale, actually Soda Lake a day early because of the impending weather. Right now, this region is experiencing an EXCEPTIONAL amount of precipitation over an extended (4+ day) period of time. And for a region that doesn't get much moisture year-round, that's a BIG DEAL.
I elected to depart Soda Lake a day early, just as the rains were arriving as roads, like those that surround Soda Lake can quickly become IMPASSIBLE due to mud and rivers of mud. After all, they're only dirt roads that with sufficient rainfall will turn into an impassible mess. Since I was nearly 10 miles outside of Pinedale with access only via dirt and gravel road, I decided to get up early on Sunday (Jun 28) and if the weather permitted, leave… QUICKLY! A little rain did fall Saturday evening, but it was just a prelude to the "main event" due to start on Sunday and continue into (at least) Wednesday!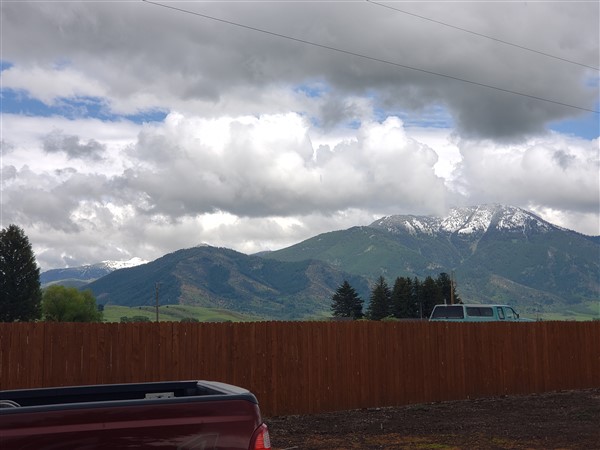 Waking up Early Sunday – Ready to Depart to be "ahead of" the weather moving in QUICKLY and EARLY…
Sunday morning arrived and I awoke at 6:15 am, grabbed my phone, and (of course) checked the latest radar report (another GOOD reason to camp where the cell phone works!) What I saw on the radar echoes alarmed me – a big blob of green and yellow (indicating significant rainfall AND potential winds) heading towards Soda Lake, with MAYBE an hour of good weather before arrival.
In (a record) 33 minutes, I was up, washed my face, grabbed a banana, food bar, and some bottled drinks – tossed them in the car and began the process of retracting the slides, the landing gear, and connecting the truck – all went smoothly including my now traditional "double checks" to prevent disaster, and at 6:48, again – precisely 33 minutes after waking up, I was connected to the trailer and beginning to pull out of my "home" for two weeks. A home I will definitely miss – save for the BUGS!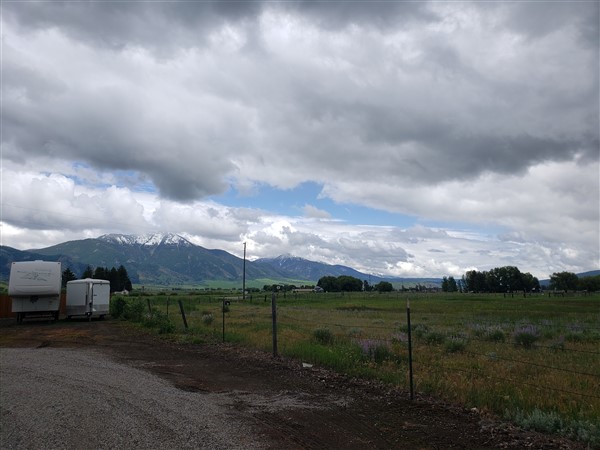 The best time of year to RV Camp near Pinedale…
I've learned from my time at Soda Lake, the Wind Rivers release a tremendous amount of snow in the spring into the valley – much of it ends up as standing water which ends up producing mosquitoes that would make "Jersey skeeters" blush! At times (when there's no wind), I've never seen more aggressive mosquitoes!
So, lesson learned. Wait until the winter snow melt "dries up" before camping at the lakes surrounding Pinedale at the foot of the Wind Rivers. BUT… there's a narrow window! Recall my comments from earlier posts – this is a high altitude environment! Even on July 1st, they may have frost in the morning! In fact, the first killing freeze usually occurs in mid-August – and snow is not often far behind!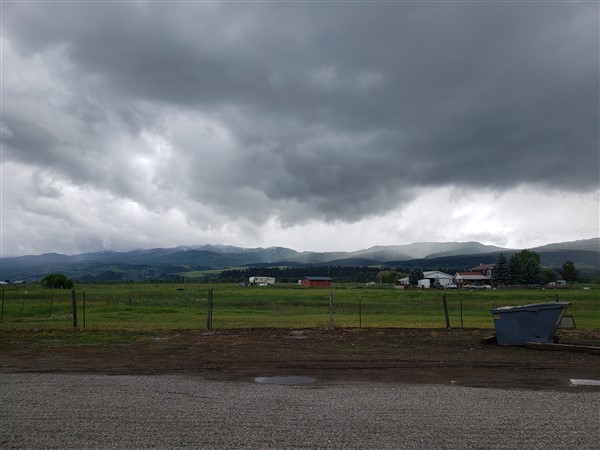 As a result, August camping is far more likely to be less buggy, and after mid-August, virtually bug free. I'm sure most of September is spectacular as well – especially as autumn colors take over. But… by late September, you must again be ready to move if an early snowstorm happens to move into the region!
When RV Camping – Be ready to MOVE and have flexible plans…
As you see, my plans had to adjust to the weather conditions – even in early summer here in this high alpine environment! It was not just a matter of convenience, it was a matter of safety as travel to/from Soda Lake could easily halt for a few days. As a full-timer, life of course is not without problems – I'm currently struggling to identify the core of a converter issue. I thought I had it nailed, then I didn't.
Finding RV Repairs "on the road"
A converter is responsible for converting 110v AC power to 12v DC power and keeping your batteries charged. At the moment, mine is not working – and, from my own testing, it may not be the converter, it could be an electrical issue leading to the converter – hence I need an RV tech!
Most immediate and importantly, I'm NOT in "dire straits". While the 12v system in my camper is critical, as EVEN WHEN CONNECTED TO SHORE POWER, without functioning batteries, many systems are disabled – not the least of which is the fridge! So, it's important to keep your battery levels healthy.
Knowing that I was about to face several days of clouds and rain, I opted for a full hookup campground where I have 110v "shore power." I also have a battery charger that can trickle charge my batteries. Additionally, if and when the sun returns, I have solar panels that can also charge my batteries. So, the converter is not needed (at the moment.) At *some* point it has to be addressed, and I'm in the process of locating a repair service to fix the issue. I do have an extended service contract that I plan to use to limit my expenses, but as it may be a circuit breaker block or just a fuse (that I can't access!), my costs may be fairly minimal anyway.
Regardless, I take these issues in stride as I prepare to head to Jackson tomorrow. I'll share a bit more with you then and then get this post up on the Internet as quickly as I can!
Driving over Teton Pass on Jun 30
Temperature 36F, new snow visible just above the elevation of the roadway, and a report of snow falling on the roadway about 1 hour before I crossed the pass (at 7:30am.) Traffic was HEAVY, its the "white knuckle" drivers who described the drive as such in reviews last summer. Me? I've traveled this thing on solid ice with heavy snow falling and moved faster than I did today with less trepidation! In fact, I was sightseeing in between ensuring I kept my distance in the steady line of traffic crossing from Victor to Wilson! Summer in the Teton's?! In my view, WAY overrated due to the excessive visitation to this region – and I'm told by locals that this year so far is about 1/2 of the typical traffic experienced in this region. Yuch! As for me, I'm happy to travel to and through areas with fewer crowds, fewer visitors, and more locals. How about you?
Visiting Jackson for a day…
Incidentally, my visit to Jackson was less than inspiring – the town is crowded, masks are mandatory almost everywhere; access is severely limited (only 8 customers in Starbucks at a time) due to covid19, and there's road construction everywhere. I had lunch with a good friend who does tours of the National Parks here and he relayed some (all too typical) tourist behavior observed in the parks and on the road as he travels with clients. I relayed how the Wind Rivers and Sublette County (Pinedale) are really just as spectacular and virtually no one was there! Hmmmm….
Hey, stay tuned to RV Across America (.net), I have a report coming up soon on water filtration, and I'm thinking about a report on dry camping – fee free options and how to be best prepared for them. Whadayathink?
Want to be notified of new posts? Please do subscribe below…