Have you ever returned to a place you've been before – but everything looks just a bit different?
Perhaps its a bit of age, wisdom or whatnot; or perhaps it's just that you really "took it in" during this visit for the first time – and perhaps it's just a bit more spectacular than it was before.
That's the way I have felt about much of my traveling over the past few weeks. Yes, having a heart attack has made me more "dialed in" on life, perhaps a bit more appreciative, if you will. There's something else though – and I've mentioned it in my recent posts how GREEN its been here in (of all places) Wyoming.
I left Casper on May 10 after a month's stay and headed directly to Saratoga – can't pass on the hot springs there! As you saw in my previous post, when I departed Saratoga, I encountered stormy conditions (AND SNOW) more typical of late March than late May! I know from reports that this has been occurring throughout much of the Western US, which is also the catalyst for the tornado outbreaks in the middle of the country.
Return to Tough Creek Campground
Despite the weather, the calendar said Memorial Day was approaching – and as with the other major Summer holidays, campgrounds often fill up months in advance. I was heading to Tough Creek with NO reservation, yet I was confident I would find a site – and truth be told, a GREAT site (see video above & pics in this post!)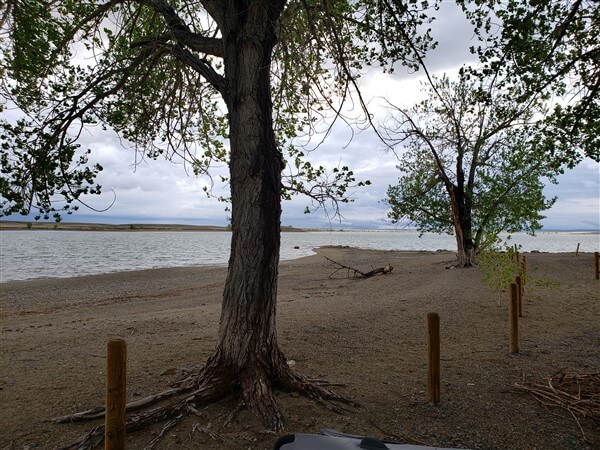 Planning to purchase a camper? Want a "guide by your side" to help you purchase the RIGHT RV at the BEST price – and to AVOID the pitfalls that come with this MAJOR purchase? Check out my Concierge Buying Service HERE.
What was the source of my confidence and how can YOU be assured of a GREAT campsite over any of the Summer holidays if you're a full-time traveler?
Here's my BIG tip on getting a great campsite over the Summer holidays WITHOUT reserving months in advance…
Wyoming (and likely many states) have non-reservable campsites in their state parks. BE SURE TO CHECK ON THIS BEFORE HEADING THERE! They also have a rule that says you must stay in any campsite you occupy overnight. This means they don't allow "weekend warriors" to drop the camper in the campsite of their choice on lets say the Tuesday before Memorial Day weekend and then return to it to enjoy their 3 day weekend on Friday.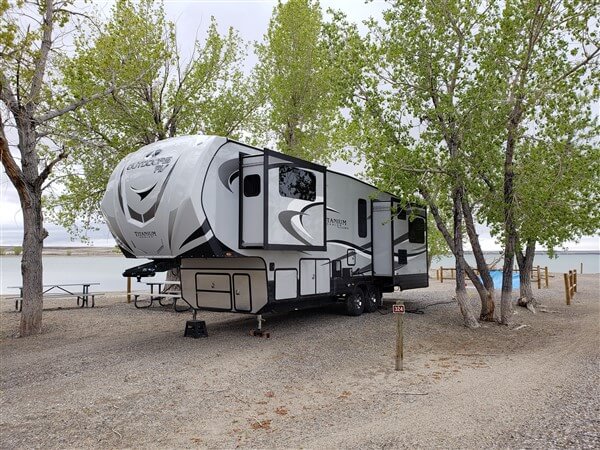 As a full-time traveler, that's not a problem for me – I stay in my camper EVERY night! I arrived at Tough Creek Campground a couple of days BEFORE the holiday weekenders and secured the site of my choice – in fact, I arrived to find an EMPTY campground!! My only restriction was to avoid the sites (about 1/3rd of them) that are reservable. The other 2/3rds are open to occupy and stay in up to 14 days (this is the typical limit for many public campgrounds – State Parks, National Parks, and Federal lands.)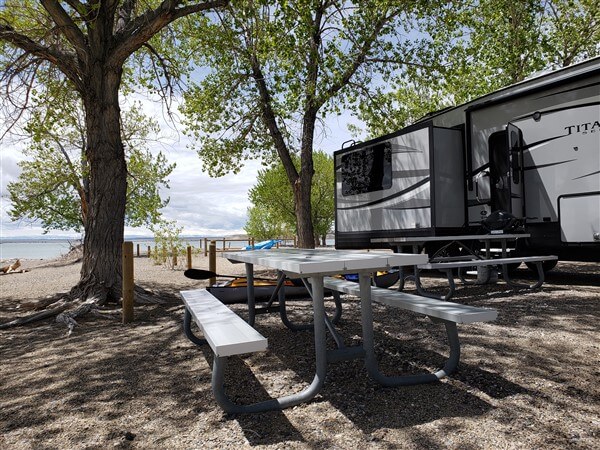 ***Wyoming State Park campground fees – there's a new system this year: A day fee & an overnight fee. As a camper you pay both. For non-residents they charge $9/day and $16/night for DRY camping. There IS a way to save on this – get an annual non-resident DAY pass ($70.), good thru Dec. 31, and then pay only the $16 fee nightly for stays in the parks. This means if you spend more than 8 days in Wyo State Parks, you've paid the $70. annual day use fee and the rest is gravy.***
If you check with the public campground of your choice you may find that they too have non-reservable sites – and if so, you're in! Just plan to arrive no later than the Wednesday before the big holiday weekends (Memorial Day, July 4th and Labor Day.)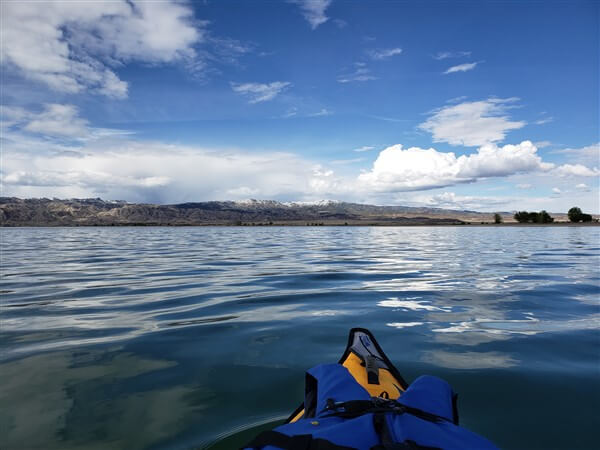 Important: July 4th is not always a traditional 3 day weekend. This year (2019), July 4th falls on a Thursday, so you can expect many "weekend warriors" to arrive on Wednesday the 3rd. In this case, I'd suggest getting settled in no later than Tuesday the 2nd and perhaps even Monday the 1st.
Just a quick side-note… Some of my photos show the nose of my kayak when I'm in the water. In case you're curious – the image below shows the inflatable kayak I've chosen to play and travel with…
I'll say this – I LOVE this kayak for a few key reasons – its well made; lightweight (26 lbs) – and paddles fast! If you get one, let me know what YOU think of it!
Wind River Canyon… a SPECTACULAR Drive
During my most recent stay at Tough Creek, I drove the Wind River Canyon (the majority of the video that accompanies this post shares my drive through this canyon) to Thermopolis. Thermopolis is aptly named as it has hot springs to enjoy – healing waters as they say. Between Tough Creek and "Thermop" is the Wind River Canyon – a spectacular stretch of road, an easy drive, and perhaps some of the greatest scenery in the nation! This is why I dedicated so much video footage to driving the canyon… enjoy! Oh, and yes, the tunnels you pass through are large enough for the largest of 5th wheel trailers and motorhomes.
The weather…
The weather was stormy during much of my stay at Tough Creek and I thanked the Lord for giving me the wisdom to purchase my generator this Spring as my solar panels were virtually useless for 4 consecutive days. Those 4 days were followed by two days of sun and calm, only to see two of the stormiest days ever that I've been in my camper! At one point, I was watching the water level rise in the reservoir, just feet from my trailer – and wondering if I was going to have to break camp during the storm and head for higher ground.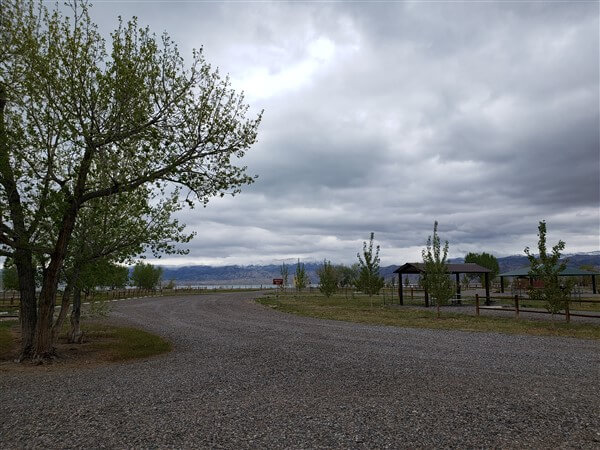 All told, the storm systems dumped about 50% of the ANNUAL precipitation for this region over the course of about a week – and as I noted in my video, the two day storm that hit at the end of the Memorial Day weekend dumped over 2 inches of rain – and again, this is a region that averages 8.43 inches annually!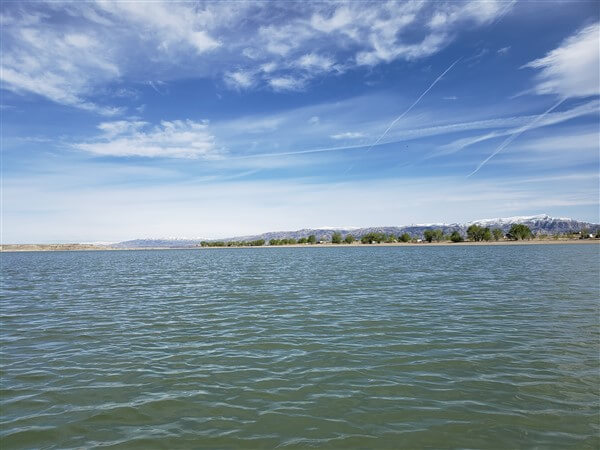 On Wednesday the 29th, the weather cleared and on the 30th I decided it was time to move on to my next adventure – a return to the Flaming Gorge with a planned visit to a new campground in that region. More about that in my next "journal entry."
Did you see my thorough analysis detailing the benefits & costs of RENTING vs. BUYING a camper? Be sure to check it out HERE!