Live in an RV – even for a few months out of the year?
Wondering how to get a good nights sleep?
I did too! 
Here is my story… [youtube]http://www.youtube.com/watch?v=u3YHnT3UO3A[/youtube] I bought my "5'er" (fifth wheel) in December 2011- one I have lived in full time since my purchase. I quickly discovered while it had great cabinetry, living room furniture, and overall excellent construction (even a fireplace!), there was one GLARING area in need of improvement – the mattress! Yup, my Crossroads Seville – like most (if not all) RV's came with a really "basic" mattress – one that left me tossing and turning all night long and wakening with lower back pain; and NOT feeling refreshed.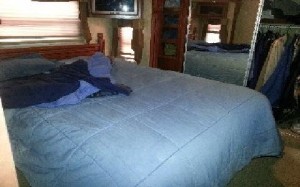 Wondering how to get a good nights sleep in my RV – on a RV Mattress  led me to a search – one that took entirely too long to solve, but in the end… it was worth the time and effort to arrive at a solution. I had heard about the benefits of air mattress' and the solution seemed reasonable for an RV (since weight is a factor), but, in my research on the #1 air mattress company (the sleep number guys), I heard some things that concerned me – I was also not thrilled at the cost anHow d quality control I was looking at if I were to purchase from them.  Further research led me to a real solution… My solution involved the purchase and setup of a Habitat Furnishings (modified) Arise air mattress. (Click link to go to their page – BUT – be sure to read on – you won't want to miss what I share in the coming paragraphs – especially how to SAVE on what you order.)


After ordering my new air mattress, I anxiously awaited its arrival! After about two weeks, that day arrived. The box was large (see photos below), but each component was reasonably easy to remove and transfer into my RV. As I built it, I created a series of photos. My photos below show the ease of "constructing" this air mattress – in the order in which I performed each action (so, in addition to Habitat Furnishings setup video, you can see how I did it in my RV). All in all, it construction of my new air mattress took well UNDER 1 hour and I did this alone, in the limited space of my bedroom. You also need to know that due to back and neck issues, I have limited strength and flexibility – and was yet able to get this queen size mattress built EASILY alone. (My neck and back issues were also a MAJOR motivation to act on purchasing a new mattress!) Now… there are three important points I need you to know – 
I would NEVER create an article on a bed like this UNLESS I truly believed in the product (It was after my FIRST night on my new Arise mattress that I stopped wondering how to get a good nights sleep in my RV!) I now awake REFRESHED and find my days are FAR more productive than prior to sleeping on my new air mattress. 
I want to encourage you to contact me (561 676 1205 or email rvacrossamerica@gmail.com) to discover what I learned when I spent time researching this mattress- specifically what I mean by a "modified" Arise mattress – you will not see the modification discussed on Habitat Furnishings marketing page.

(Note: they also offer latex mattresses – these tend to be HEAVIER – so, even though they are likely a great product, be careful about your situation – a RV mattress typically sits on a storage box. In my case, I have storage under my bed – and the board under the rv mattress has to lift up to access that storage, hence weight of the mattress was a factor. 

If you place your order by phone with Habitat Furnishings –  800-313-2591, Mon. – Fri. 9am to 5pm, CST – BUT… FIRST email me (rvacrossamerica@gmail.com) and I will give you a discount code that will save you between $50-100. off your purchase price (depending upon the bed you purchase.)
Tip: Use "ctrl +" command key sequence in your browser to make the images larger if you plan to study them to set up your own Habitat Furnishings bed.
[portfolio_slideshow]
In closing, if you do opt to make a purchase from Habitat Furnishings, and wish to take them up on a discount on ANY rv mattress they offer, please DO email me for a discount code which will yield a savings of 50-100$ depending upon the rv mattress you purchase.