Does it Matter WHERE you buy your new (or used) RV? 
and… What you SHOULD look for when evaluating that rig!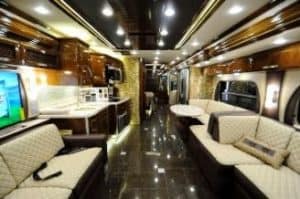 I learned some interesting facts when I first got into RV sales last Spring. I saw people who lived in Wyoming willing to buy from a dealer in Michigan or Indiana and in some cases travel there to pick up their new RV. A wise move? Well, listen to my thoughts below and then see if you agree with my summary posted below
Important note: My comments in the "Where to buy" video are based upon the assumption you purchase from a dealer. I'll admit right up front, I prefer buying from dealers. This has NOTHING to do with the fact that I'm now working for one (in Wyoming). When I purchased my first two used Class C motorhomes about 12 years ago, I bought from dealers. Why? A dealer has the obligation (at the least the HONEST ONES DO) to inspect the RV before they put it up for sale. They will also share that report with you – showing what was wrong with it when they brought it in on trade. They will also show you what they fixed – and what they left for you to deal with.
A good negotiator (hopefully YOU) can not only get the price down to a point where its a "good deal", you may get the dealer to toss in a 90 day extended service contract. While these contracts are NOT a full warranty, they WILL cover components (hot water heaters, slide motors, landing gear, refrigerators, a/c, etc…) and this can be VERY important to YOU as you drive off with your new or used RV.
If you buy from a private party, YOU the buyer assume virtually all the risk. The seller is not obligated to know if there is anything wrong with the RV (roof issues, black mold, etc…), so the responsibility is ENTIRELY yours to insure you're getting a good rig. RV Trader is the #1 site through which used RV's are now sold. If you're really lucky, you'll find a rig that already has an extended service contract applied to it for sale – and then you'll have greater confidence that you have some level of protection when you drive off after closing the sale.
What to look for when buying a RV…
Summary thoughts on this topic…
Virtually ALL RV's require service/repair in their first year (and beyond!)- be sure you know how you'll get your new rig serviced when you purchase!

Consider the protections you'll have when you buy from a dealer vs. a private sale

Is the rig you're looking at WELL BUILT?

how accessible is the furnace for service? (and if you camp in the cold, it WILL need service!)

any refinements to the frame construction?

how will the rig drive off-road? do they use shocks on the axles?

does it have tires or china bombs?

is there attention to "finishing touches"

is the plumbing protected/insulated?

will the countertops hold up?
AND… Are you willing to pay for a unit that attends to all or much of the above? Some of the best rigs I've seen are NOT necessarily the most expensive out there, but they're also not trying to hit a budget "price point".
There are several other posts in this How to Buy a RV series. Be sure to check them out HERE. Part 5 – RV LOANS can be found HERE. 
Additional resources you may wish to consider include exploring the value of an Extended Service Contract and how to prepare for winter conditions if you live in your RV where winters get COLD!
As always… THANKS for visiting… and COME BACK SOON… y'hear? Please DO leave comments below and SUBSCRIBE to us using the box in the upper right corner!