Condensing a 6+ Hour Journey From Portland to Brookings into 15 minutes
Enjoy (and GREAT music as well!)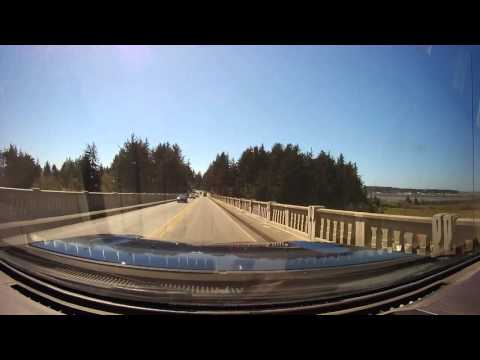 The Oregon Coast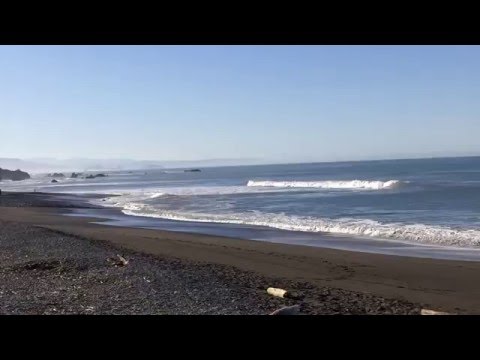 Beachfront RV Park in Brookings
Yep, it happened! After 5 months in McCall Idaho with the warmest temperature being 50F, I reached the Oregon coast (the "shore"?!) to experience sunshine and near 70F in LATE MARCH! The water was even warm enough to sit on the beach and let the rising and falling waters reach up to my ankles. I even saw kids playing in the water (up to about waist height), clearly not tuned into the chilly 53F water temperature.
Picture this: You're so close to the waters edge, you hear the sound of crashing waves as you fall asleep! Waves that are literally LESS THAN 100 ft (perhaps even 50 ft) from your RV!!
Enjoy the pics below. Some were taken with my NEW Canon EOS Rebel SLR! (Mostly the sunset shots). The pics are all taken at the Brookings Oregon Beach and nearby. Some were taken last evening – at or near sunset, others this morning. Note the beach fires that start up just after sunset, the rocks in the water (a bit different from the Jersey shore – where I grew up!)
If you enjoy this, please do visit other posts on our site and feel free to leave feedback below; also – you're more than welcome to join in the discussion on Facebook or Google+. 
Incidentally… to get here from Portland, I drove I-5 south to Curtain, then took 38 West to 101 South. I *may* add some additional video footage (collected by my dash cam) to share a few of the routes highlights… but for now, the sun is too nice to continue working inside! 
Note: Use the LEFT "karat" to slide the slide show to see the sun set (puts the slides in correct time order)
Finally, KUDOS to Brookings Harbor RV who repaired my propane hose (replaced) and repaired my skirting (correctly – in contrast to my own work!) so I'm now "good to go" and continue my journey in a few days (after more beach and SUN!)
UPDATE 4.1.16… Photos from Brookings to Gold Beach (enjoy!)
These photos were taken on March 31. Some show the coastal fog rolling in during the late afternoon – also made for a spectacular sunset! You'll also see a VERY tame squirrel!! (use the LEFT karat to see the slide show in time sequence)
Category: RV Lifestyle and Exceptional Places to Camp and Visit
Alan Sills is a full-time RV'er and has been since 2011. A science educator at heart, Alan has realized that its important to maintain an income stream while "on the road". He writes about RV life, RV issues, and living an entrepreneurial lifestyle.