It was 14 degrees and there was a thick frost on the windshield. Fortunately, in the "warmth" of yesterday afternoon (about 35F), I had already broken down the sewer and water connections. All that remained was the removal of my 120 gallon propane tank (rented for the winter) and disconnecting power. The cord was still frozen under a patch of about 15 inches of snow – but thanks to the propane guy who travels with a heavy duty shovel, that "obstacle" was cleared quickly.
Clear the windshield, put the truck in drive, and begin the next journey. I love being a full time traveler! After 5 months in McCall and skiing Brundage all winter, I'm back "on the road" again!
A visit to Outdoors RV
Of course, every time I travel, there seems to be an adventure – and even in the first hours, I had some "events" occur. But first, my first stop along the road was at Outdoors RV factory in La Grande, Oregon. I'm coming to believe more and more that these RV's (travel trailers and fifth wheels) truly are a cut above. I shot lots of video footage while at the factory and will share that with you soon. Perhaps the key "takeaway" I gained from the visit is what this company does at virtually every step along the way to build a trailer that is a cut above the competition.
One of the highlights for me was the opportunity to see something new in development. I'm not at liberty at this time to say more – other than it is EXCITING and if you visit the Outdoors RV factory, you'll see it too!
Unexpected Events
My travel plans were ambitious as I left McCall. The drive to La Grande is over 200 miles and took nearly 5 hours (lots of winding roads combined with pulling my 5er), then after a two hour factory tour, my goal was to reach a campground just south of Portland – about another 275 miles from La Grande. I arrived a bit after 8:30pm (allowing for the clock to roll back 1 hour from my 8:30am departure in McCall) – this meant a 13 hour day – with over 10 hours of driving. More than I like, but necessary if I am to reach the Oregon (shore) beach by mid-week – and enjoy a few days of SUN on the Oregon beach in late March! (Rare!!)
I guess a drive of this magnitude (nearly 500 miles) must have a few unexpected "turns" – but I have to say, travel by RV keeps life interesting! As I was heading towards Portland in the late afternoon, I ran my wipers during a light rain shower, and the passenger side wiper flipped over then broke free and blew off my windshield! Thanks to a local Ford dealer, the issue is already fixed early this morning (March 29).
Additionally, as soon as it got dark last evening (I arrived at Pheasant Run RV Park about 1 hour after sunset) – I found myself driving in the post-rush hour traffic, early evening darkness down I-5 with NO LIGHTS on my trailer. I had visions of some car driver clipping my DARK trailer on a winding urban highway and causing a multi-vehicle pileup!!
Yep, the power cord between my truck and trailer had come loose – and NOT at a good point! After driving a few miles through CITY traffic like this (including the I-84, I-5 split), I found a shoulder wide enough to pull onto and check the cord connection to the truck – fortunately, thats all it was and the lights were restored! I completed the last 4 miles of my journey and found my site for the next 2 nights (see photo below).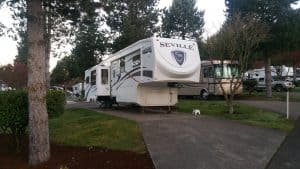 CruzBike and a good Jewish deli…
As I finish this update, all is well, I just finished breakfast at Miller's Homestead after replacing my wiper blade. I'm going to upload this post and then go into Portland with 2 major objectives: Visit a bike shop and test ride a "CruzBike" (no relation to Ted Cruz – but it DOES make me like the bike even more!) and find a good Jewish deli with tongue! (It's been a while since I've been to a big city with enough Jews to find a good Jewish deli!)
Got thoughts? Share 'em below! Also, feel free to join in the discussion on Facebook – RV Lifestyle or Google+. Lastly, don't miss the wealth of content all over this site! Visit the tiles on the main page to see the main groupings of topics.