Sometimes I feel like I have to pinch myself to confirm its all really real.
That "sensation" has occurred a few times in the past week!
With a TON of early season snow and some "professional development" work at a world-class ski area, the stage was really set for one (or more) "peak" experiences.
Allow me to share with this brief video and then some phenomenal pictures below…
Life in an RV during Winter in the Rocky Mountains
It was Tuesday evening November 18 where I found myself doing something I rarely do. I was packing to leave my "home on the road" for a few days and drive to Summit County, about 2 hours south here in Colorado. I had to find my travel bag and remember the "stuff" I needed when leaving home. My goal? Three days on snow – skiing VERY early in the season, and for two of them facing "PSIA Examiners" (ski instructor examiners) who would either pass or fail me in an important certification I have been working towards.
Wednesday morning arrived, I left around dawn and drove on (mostly) dry roads out of Steamboat and towards I-70. Along the way, I passed high mountain peaks, narrow valleys, small hamlets like Oak Creek where recent snows had not been cleared off the roads (good idea to slow down!) and then… I-70 and Beaver Creek, Vail, and Copper – three world-class ski resorts all in succession!
By staying in the mountains all winter in my RV, my access to all these amazing places is much better than if I were to position near a city.
Click this or any image below to see it full screen
It was great to see the snowmaking going at each, and especially at Copper, where I stopped for a morning of skiing (my legs would stand no more than the morning!) Conditions were OUTSTANDING – packed powder surface, and no ice or even "hard pack"! This is truly impressive for mid-November!
Thursday and Friday took me to Arapahoe Basin. The skiing continued to be exceptional, especially considering the time of year. Since I was there with the goal of earning a teaching certification (and YES, I passed), there was a bit extra pressure, but it could never take away from the amazing place I was immersed in!
I would be remiss if I did not give a BIG thumbs up to the Bivvi Bivouac Hostel (look 'em up through booking.com) in Breckenridge where I stayed for 2 nights enjoying solid AFFORDABLE accommodations, great breakfasts, great conversations and company, an an inspiring view – see below!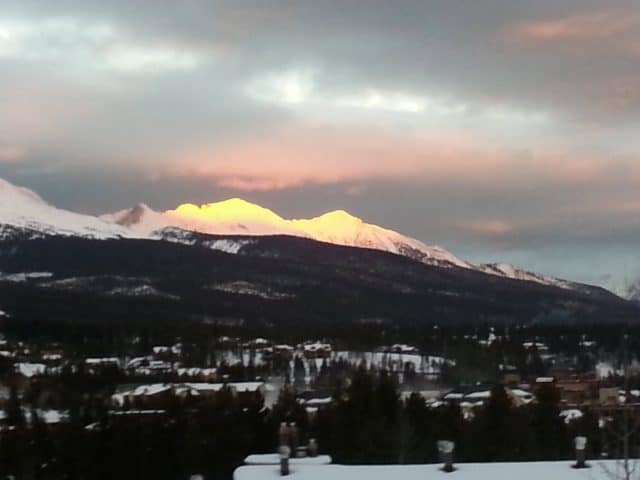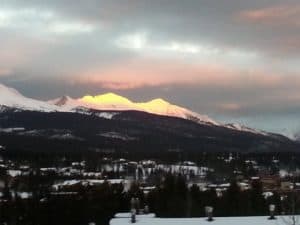 Winter is Settling in here in Steamboat…