I love the RV Lifestyle!
And, I'd bet that many of my "RV Colleagues" do as well. Now-a-days RV'ers come from a wide range of lifestyles – yes, certainly there are lots of retirees who wish NOT to be "put out to pasture" next to the shuffleboard courts in a Palm Beach County planned community. In addition to retirees, there are young families raising their children "on the road" and providing an education that simply can not be duplicated by ANY school; there are individuals and couples who simply prefer the RV Lifestyle to remaining in a "sticks and bricks" home; and even those who wish to remain "off the grid" and out of the way of the challenges that come with city life.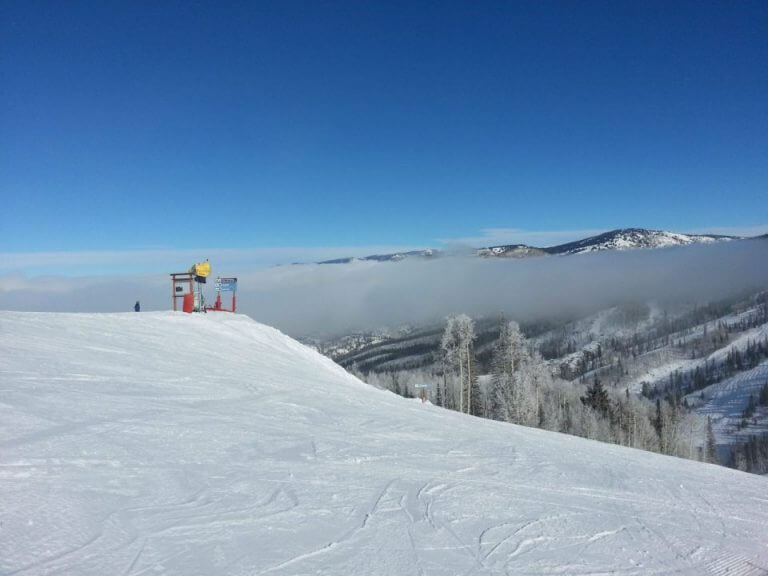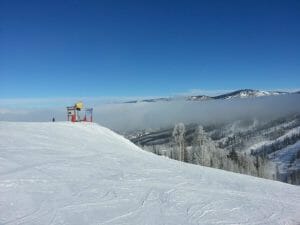 Regardless of the reason for choosing the RV Lifestyle, all RV'ers have one thing in common – expenses – and often unexpected expenses. Speaking from personal experience, during a recent "cold snap", I awoke to our coldest morning of the winter (thus far), with the temperature outside at MINUS 28F, my furnace decided to stop working! Talk about inconvenient!! Thirty-six hours and $250. later, my furnace had a new circuit board and is now performing like a champ. The key here is I spent $250. I had no expectation of spending on a 3 year old fifth wheel. These expenses, and others – fuel and monthly/weekly rental fees being among them – lead me to address the need for INCOME while "on the road" in your RV.
Jobs for RVers
Carol Ann Quibell has written an ebook titled "Jobs for RVers" as a primer for those who wish to "explore the possibilities". It is my pleasure to offer this ebook to you and endorse it as she covers a variety of topics in its 39 pages. "Determining Skills and Experience", "RV Industry Related Jobs", "Making your Current Job Mobile", "Seasonal Positions", and "Self-Employment" are among a few of the topics covered in her contribution to RV'ers searching for "on the road" income.
Frankly, while much of the information Carol Ann shares can be searched for online, it will take hours on your part to acquire the knowledge and specifics provided within the pages of Jobs for RVers. This makes the $7.00 fee Carol Ann is asking for her ebook (in my humble opinion) a great value.
I would like to add value to Carol Ann's ebook in the following manner: To anyone who purchases Carol Ann's ebook before Jan 31, 2015, I will offer a $50. break towards the purchase of my soon to be released complete course on Internet Marketing – a course that will cover everything from how to create your own website to how to create "buy now" buttons, and most importantly, how to get your website noticed. I also will include an extensive section on video marketing and how it integrates into the entire picture of "internet marketing". I am estimating my course will be available in Spring 2015 and will cost about $249. Those purchasing Jobs for RV'ers using the button below will receive a substantial discount off the price of my course when it becomes available. Until then, I have a special "unannounced bonus" that you'll become privy to after you complete your purchase of Carol Ann's ebook using the "buy now" button below.
Both Carol Ann and I are full time RV'ers and remain available to you as resources to share the many aspects of RV Life you will encounter while on the road and how to best prepare for them in advance.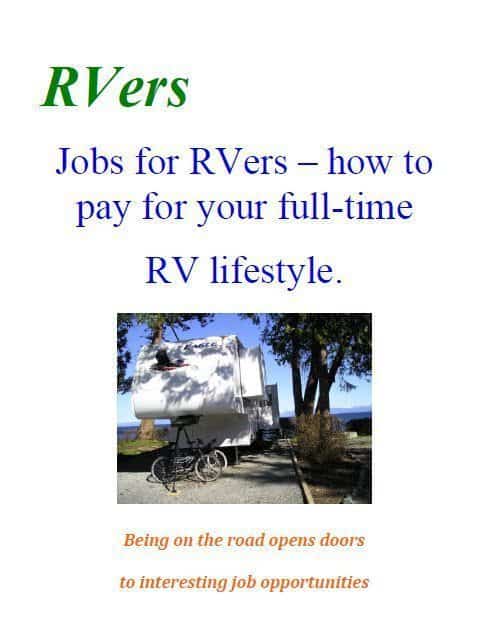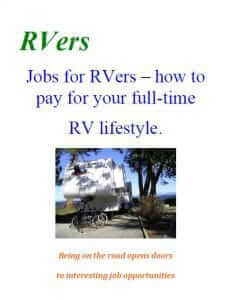 Thanks for reading! You may also enjoy THIS ARTICLE on a related topic!