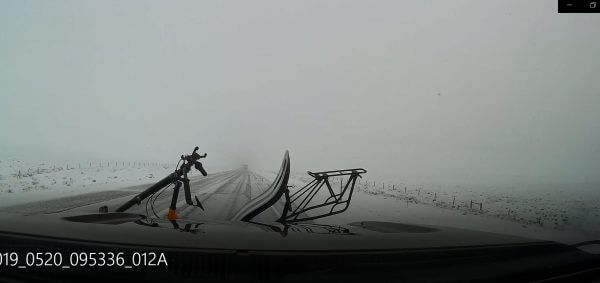 THIS is what I try NOT to do with when towing my trailer. Who would have thought – at about 6000 ft. elevation in Wyoming I'd see ACCUMULATING SNOW – ON THE ROADWAY at 11AM on MAY 20th?!
Watch the video below…
So, this happened near Muddy Gap, on the way towards Riverton from Rawlins and Saratoga. I left Saratoga this morning after a soak in their hotsprings (great place – and I'll share more soon), the weather was sunny and chilly (upper 30's), BUT there is a WINTER STORM WARNING up for tonight, so, I knew that TODAY would be the better day to travel (5.20.19) as tomorrow may see up to 2 FEET of snow (above 8000 ft) – but as you can see from my drive, the roads at 6000 ft (a common elevation here in Wyoming) CAN get covered – even in the MIDDLE OF THE DAY!
Thanks for watching – yes, I was pulling my trailer through this! Yes, I did make it safely to my destination – a campground in Boysen State Park. Right now, I'm at 4800 ft. elevation, no snow here (for now), but its just 39F at 3pm, overcast, breezy, and Memorial Day weekend starts in a few short days! More soon on it and on my latest journeys – Springtime in Wyoming!
Oh, and while you're here – feel free to check out my latest posts on a number of RV related topics!