Purchasing a new vehicle…
Remember the excitement? Anticipation? Then comes the "meeting" with the finance guy (or girl) and the offers – extended this, premium that, you know. In most cases, I go with just say "no", but… there were two I opted for this time…
The Ford Extended Service Maintenance Plan – and a road hazard protection on my new trucks 20″ tires were the two "added services" I purchased when I got my new 2011 Ford F-250 Super Duty truck in December 2011. The truck – which I absolutely LOVE has been in for several routine maintenance services since and I'd like to share my experiences as a traveler.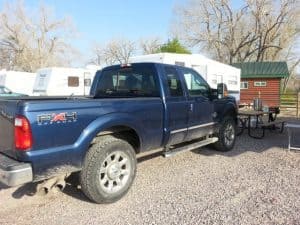 A lesson about Car / Truck Service from my youth…
I was always taught when I was young that it was good to develop a "relationship" with your auto service center. My parents had particularly good experiences dealing with the service center at the dealership from whom they purchased their vehicle. I had similar experiences when I started to do business consistently with a local independent repair shop.
When I bought the Ford "ESP" which was basically pre-paying for up to 15 services (every 5000 miles for 5 years), I was somewhat concerned as to whether I'd have good experiences at each Ford dealer I would be visiting as I knew that NONE of them would be the dealer whom I purchased my vehicle from.
So, how is my "Ford ESP Maintenance plan" going?
Well first a word of caution – you have to anticipate your usage to buy the right plan. I purchased a 5 year – 75000 mile plan. Ford has plans with many terms and you need to buy one for your *anticipated* usage. In my case, I only have about 33000 miles on my truck about 3 1/2 years into the term, so I will not end up using all the services I paid for – but that is my own mistake since I did not drive the miles.
That said… How did the Ford dealers whom I visited to complete my routine maintenance do? And remember – I'm an "unknown" to each of these dealerships…
**Feel free to add to this list by using the reply box below**
Sandy, Utah – Larry Miller Ford – ***** – Outstanding! Honest, good clean service center, great waiting area, fast, efficient, large dealership, NO appointment needed for most routine maintenance visits

Corinth, Texas – Bill Utter Ford – ***** – Very efficient, professional, did what needed to be done

Rawlins, Wyoming – Fremont Ford – **** – Small dealer, must plan and schedule in advance

Steamboat Springs, Colorado – Steamboat Motors – * – Avoid at all costs; dishonest, ineffective

Casper, Wyoming – Grenier Ford – ***** – very professional dealer, treated as "one of their own"

Cascade, Idaho – Bob Bate Ford – (not rated) – has to be the SMALLEST ford dealer in the nation; I stopped in and met the sales manager/service tech. Their service center is a one bay garage! But… he was personable and the dealership has clearly been there for a LONG time!

Lewiston, Idaho – Joe Hall Ford – **** – large, reasonably efficient service center, I did have a warranty service issue for which they at first ordered the wrong part so it required a second trip to complete the service, however, I believe it was an honest mistake and could have happened to anyone
Summary
The vast majority of my experiences with Ford dealerships have been quite positive. I'm glad I purchased the Ford ESP, and with the notable exception of one dealer (see list above), I can honestly recommend all of the dealers I have visited. Ford has clearly done an outstanding job enabling travelers like myself to "feel at home" when visiting a dealer/service center that is "foreign" to me.
Like our content? Subscribe to our mailing list (look for the box up to the right to enter your email) – and – join our Facebook group.