Two weeks in and the shiny new RV's are lined up across the street from my office – all begging for owners to hitch them to their vehicles and take them to all kinds of neat places. Fifth wheels, travel trailers, and toy haulers, each offering their own lifestyle reach out to those who yearn for the "on the road" lifestyle.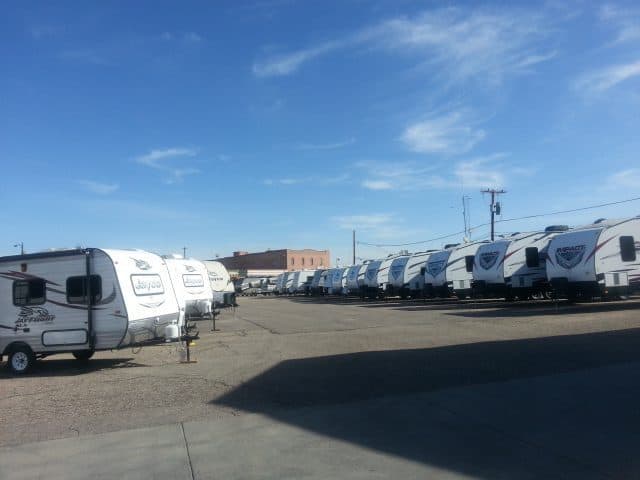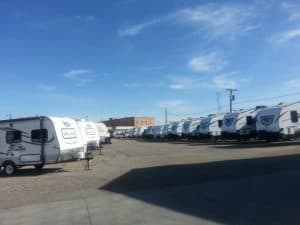 Me? I'm two weeks into the world of RV sales and I gotta say, I'm having some fun! At the age of 56, I'm WAY too young to retire, but… I will only "work" in a field where I'm having fun. Steamboat Colorado has been my home for the past three winters and ski instructing has enabled me to combine my favorite winter sport with a reliable stream of income (more on my plans for next winter soon!) As a result, I feel healthier (100+ days of skiing each of the past 3 winters) while living on income instead of savings.
For this spring and summer, I decided to make a "pit stop" and step into the world of RV sales in Casper, Wyoming. Here at Stalkups, the atmosphere is relaxed and I find my role as more of a consultant than high pressure salesman.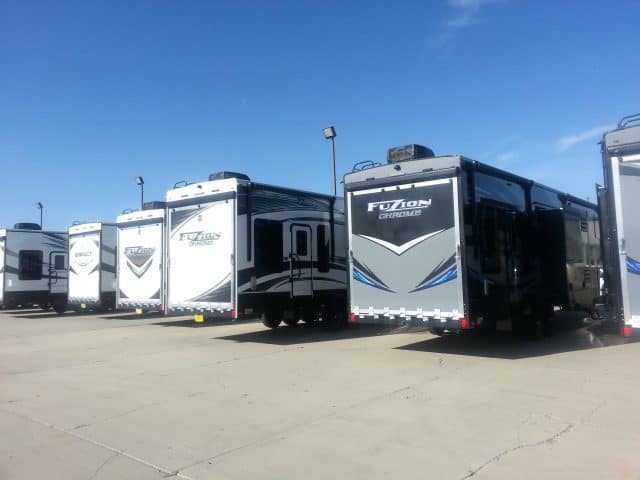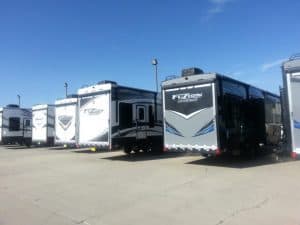 My goal is to help folks achieve their dreams or enhance their lifestyle – its really that simple.
How's it going? In my first two weeks, I sold six RV's – of all sizes and types, and delivered five of them so far. Again, I see my time here as a "pit stop" – time to have some fun, build some relationships, help some folks fulfill their dreams, and yes, to make some cash. (After all, my RV *does* need "constant attention" and diesel is not cheap!)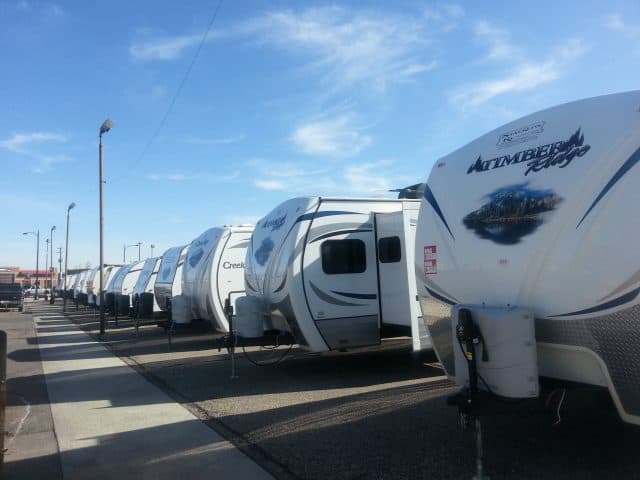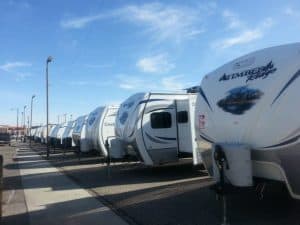 My Facebook group is dedicated to RV'ers, like myself, who wish to earn a living "on the road" and learn more about the RV Lifestyle.
Clearly there are many ways to earn a living "on the road". For me, it has worked out well to remain stationary for several months at a time – both in the summer and winter, and then traveling through the intermountain west for several weeks during the "shoulder" seasons. For me, this provides me with the best of both worlds – remaining stationary long enough to get to know a place (my two prior summers were spent camp hosting) and then traveling, staying a day or two (or a week) at a time as I head from my summer to my winter experiences.
The upside to RV sales is the fact that you're helping people find something that is tied to their dreams – and I'm real big on dream building! So, its not high pressure and those shopping tend to know what they like when they see it – all I am learning to do is to point out the features and benefits of each RV I show and share a bit about my "on the road" RV Lifestyle. It helps to work with a dealership that has a great mix of rig's on the lot and some companies that offer strong value for the dollar being spent.
The down side to sales – really any sales (other than "online ventures") is the down time. I'm writing this at 10am on a Saturday and so far, there has been little "action" here – I greatly prefer talking with folks. So, its really a game of patience. When someone walks in, it becomes a matter of building a rapport and assessing whether you have something that will meet their needs. This for me generally starts by asking a series of questions – both to assess what are their wants and needs, and where they are in the process of taking action.
What I have found is the price becomes truly secondary to finding a rig that helps the buyer fulfill their dreams and working with our financing folks to get them a loan that provides payments they can live with. In my limited experience thus far, a good financing guy is critical to making everything "work" and happen when the buyer presses the "lets do it" button!
It's now 11am, just got back from showing two large 5ers (fifth wheels) to a gentleman who is an oil field inspector. He, like many in this area, is a hard working man, lives in a remote area and works long hours – his need for an RV is far different from a retired couple looking to tour national parks! What he needs is a solid, well insulated rig, but is not in great need of the amenities others may need when looking for a fifth wheel. It was genuinely fun speaking with him and getting to match his needs to our rigs on the lot.
Being a Saturday, the day moves along quickly – a used toy hauler comes in for trade, and its off to the races, contacting folks I've conversed with over the past two weeks to see whether its right for them. Emailing info including photos back and forth, and working with the occasional drop in customer and time flies by!
The weather is gradually improving here in Casper. We did get a dusting of snow a couple of days ago, but today is near 70 and more mild days are in the forecast.
I could go on and on… but, my goal here was to share a bit about what I'm doing this summer, and if nothing else to give you some "food for thought". I also have an online marketing business, but it has honestly taken a back seat to what I'm currently doing. I do that in my spare time and continue to seek ways to have some fun each day.
If you find yourself in the Casper area this summer, please do look me up or just drop by Stalkups, I can assure you that most day's I'll be there – although I'm currently taking a (well deserved) morning off and since it snowed last night, I went skiing! (I wrapped up my thoughts here a few days later!)
In closing, happy camping and enjoy that RV lifestyle!