No, I did not go there to ski, though some resorts in Utah and California closed for skiing just a few weeks ago. I traveled just over an hour to Grand Targhee Ski Resort to "beat the heat."
One of the great advantages of the RV lifestyle
is to choose a location, in my case East Idaho, from which I can reach SPECTACULAR destinations in just MINUTES. Rigby Idaho is within a two hour drive of the Tetons, Yellowstone, Island Park (lake), and Jackson Hole. ALL world class destinations! That's why I'm here!
July 16: The forecast called for temperatures to reach the upper 90's
Rigby is located in the northern Snake River Plain. A flat region situated at about 4700 ft. above sea level. High enough to avoid the extreme heat of Boise and parts of central-northern Idaho like Lewiston and Orofino, but on occasion, the temperature can skyrocket.
This past Sunday, July 16 was one of those days. After a morning paddle at Jefferson Lake (now a daily routine!), I packed up and headed on the 75 minute "journey" to Grand Targhee Ski Resort. Grand Targhee has a base elevation of 8000 ft. and the Dreamcatcher Chair takes you about 2000 ft. higher to just under 10000 ft. above sea level. If you can't beat the heat there, something is VERY wrong!
An interesting and cool chair lift ride – then the hike down Grand Targhee
Grand Targhee sells chair lift rides in packs of 3 for $25. You're welcome to ride down, I chose to hike. The trail I followed, called Bannock, was hiking only (no bikes), and was a moderate pitch, very scenic, 3.25 miles (my quads felt it for the next two days!)
Riding up was an experience because you're VERY high up above the ground! Far higher than in the winter, especially this past winter. You see, in March, there was (literally) a 20 foot base of snow covering the ground, so, the chair lifts were FAR closer to the surface than they are now! In fact, I can't recall the last time I rode a chair over bare ground.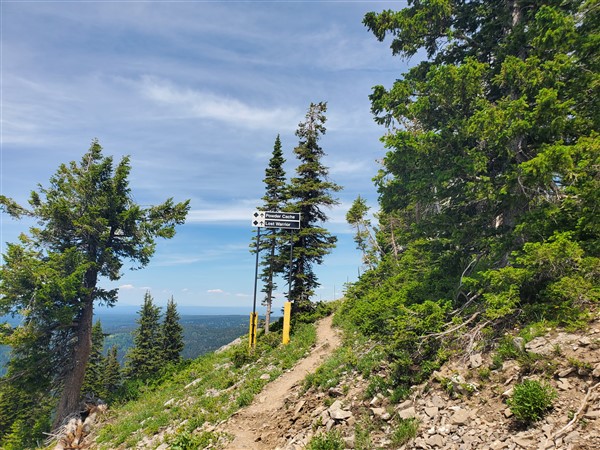 Temperatures were in the high 60's just after noon at the top (9800 ft.), and only rose into the 70's as I hiked down to the base area. The hike featured some left over snow (yes, in mid-July!), summer flowers, spectacular views, hiking along a mountain ridge (with a steep fall nearby!) and more.
Grand Targhee: The Base Area
The base area features a coffee shop; two restaurants (in the summer), lots of seating, lots of bicyclers, and some stuff for the kids to do. I spent time relaxing there before heading back to the heat. On the way home, I was sure to stop by the Victor Market to partake in their great deli offerings.
Quick update on my Aquaglide Kayak… I'm paddling nearly every morning – still loving it – and its holding up quite well. Here's the rest of the story!
Nearby RV Parks
The RV park I'm staying at is in Rigby, about 75 minutes from Grand Targhee. If you wish to be closer to Grand Targhee, look into the Teton Valley Resort in Victor (full service – full year campground) or Big Eddy-Rainey NFS Campground – summer only, no services. Additional campground research is best done HERE.
Summer RV Life in East Idaho – Final Thoughts…
It's July 21 as I'm wrapping up this post – and more hot weather is moving in (surprised? Its the middle of Summer!) I may just need to do a return trip to Grand Targhee soon. In the interim, if you wish to be advised of new posts, please join my newsletter below – and – feel free to shoot me a message in the comments section below.