The drive from Cascade to Challis and my adventure in the Challis, Idaho wilderness was perhaps the most scenic and picturesque travel I have encountered our the entire amazing nation!
Starting out in Cascade, Idaho, the view across Lake Cascade (look for a post soon that details all the camping options in Lake Cascade State Park) in the morning is stellar. The wind is calm in the morning making the waters surface glassy. It is very tranquil in mid-September and little activity is ongoing. The campsites at Ridgeview overlook the lake as they are situated about 15 feet above lake level, but only 50 feet or so from the waters edge. Ridgeview is but one of about a dozen camping areas that comprise Lake Cascade State Park!
[As you enjoy this read. be sure to check the 3 videos below that detail this amazing region – rich in photos and explanation]
The town of Cascade becomes a sleepy hamlet at this time of year and I bid it farewell, potentially to return again next summer, but for now I head south to the scenic byway that will cut across to Challis. After about 38 miles of twisting, winding road through a deep v-shaped valley and a rapids filled river paralleling the road, I turn left onto the byway that will take me to Challis, some 147 (additional) miles down the road.
The first stretch of the byway, before Lowman (barely a town, but it is on the map) and State Route 21 is another deep v-shaped valley with some pull-outs for temporary rest and views – I could even see where one would "camp" overnight along some of the pull-outs. The road continues to twist and wind and while at no time am I nervous pulling a 38 foot trailer, I do have to keep my mind on what I'm doing as any even momentary lapse could result in disaster. Much of the route has a sharp drop off to my right leading to a "young" river and of course, there are primarily no guardrails! The upside is the view and the fact that there is nearly no traffic.
Shortly past Lowman, and joining 21, the road continues to the northeast into Idaho's "southern" mountains. I put southern in quotes as this region bears no resemblance to Boise or the desert in true southern Idaho. I decided to stop for lunch and found a pull-out that was plenty wide enough to extend the slideouts, take out a chair, sit by the river (about 50 feet above it) and relax while enjoying the journey.
Perhaps I was not focused upon it earlier, but I begin to notice campgrounds – mostly BLM or National Forest Service (NFS). I thought about pulling into one later in the day but was hesitant as I did not wish to get into a place where I was "boxed in" and unable to negotiate the roadways. I have since learned that several, though far from all, of those campgrounds would accommodate my fifth wheel.
If one wishes to ever stay in a NFS or BLM campground, I recommend studying the route, getting the "all stays camping" app for your smart phone (cost about $10) and studying which campsites are along your route. Some details are provided, but you can then Google the name of the campgrounds and learn more. A phone call to the regional BLM or NFS Ranger office will also yield valuable information as to whether a particular campground can accommodate your RV and whether the campground is open. I found several of the campgrounds, even though it was less than 2 weeks after Labor Day were closed for the season. The option of doing any of that once I left Cascade was virtually gone as I had no cell service for much of the day as I traveled this route.
If you ever do opt to stay in a BLM or NFS campground, expect it to be "dry" camping (no hookups) and costs to be about $13 per night or less.
At some point, as I continued to the northeast towards Challis, 21 turns south returning to Boise through the first of 3 canyons that essentially connect Boise to Idaho's mountainous wilderness to the north. The road for those heading northeastward becomes state road 75 but the view remains the same – spectacular!
I noticed I was climbing and eventually crossed a pass (see photos) at 7200 ft. with a twelve foot snow-stake posted at that site – a definite reminder of what is "right around the corner" – despite the 80F afternoons as we approach the first day of autumn.
A few miles beyond the summit, I thought about stopping near or in the town of Stanley, known for being one of the coldest places in the USA, but failed to find a campground (to be honest, I did not look real hard) that I wished to stay in. The town of Stanley is small (population around 100), there are a few restaurants, bars, and hotels, and the roads are plenty wide. It is worth a brief visit, though not sure about much more!
I have since learned that about 7 miles east of Stanley is a turn off to Lake Stanley, I did visit (and photograph it – and yes its in the slide show below) and I found it to be one of the best spots I've visited yet! I want to thank Frank from Challis Valley RV Resort for pointing me towards Lake Stanley – and I did so after joining Frank and his friends at an RV about 6 miles east of Stanley that has an outrageous prime rib dinner on Wednesday and Saturday evenings – passing through here? Don't miss it!
Late in the day (on the 15th) I arrived in Challis and at Challis Valley RV Resort. First the town – not much to share really. Two bars with the only cross-walk in town connecting them (diagonally). One has lots of antlers mounted to the walls and has been an operating bar for about a century! Several other buildings date back to the late 1800's when this area became a hot bed of folks in search of gold. The food market on the southside of the highway is definitely the better market in town. Food prices are not bad considering the remote location of this town.
Now to Frank and his RV park…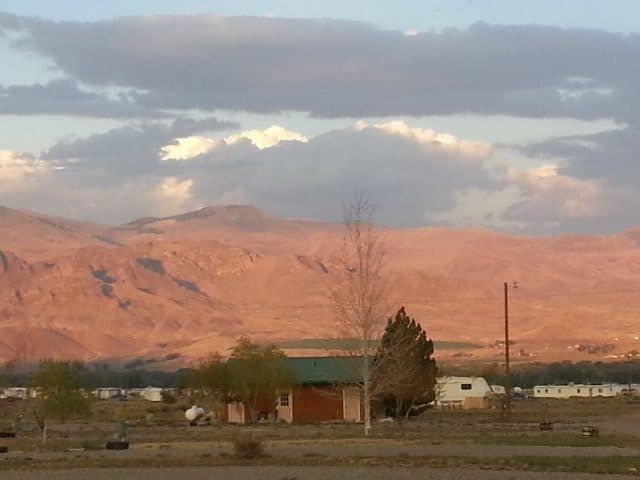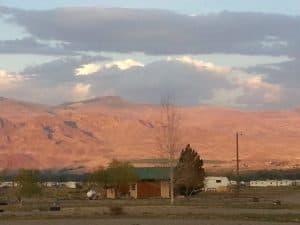 The park is not much to look at. But after all, what do you really need in an RV park? Yes, you can hook up, yes, its easy in/out, and yes, he has pull throughs, and his rates are excellent. Now, what separates Frank from almost any other RV park owner I've met before? Simple, Frank, is a born salesman (in the GOOD sense). He greeted me with a big smile and insisted upon helping me set up. More significantly, he brought me (without my ever asking) a series of brochures AND books (for loan) that detailed the region and its history.
Video 1: From Cascade to Challis
Being a history buff, this is "just what the doctor ordered"! I discovered I could rent an ATV and tour HUNDREDS of miles of trails that go into the Frank Church "River of No Return" Wilderness (see video 3 for more details on this.) In addtion to ATV travel, the state parks have Yankee Fork State Park – a must visit center that details the regions rich and at times troubled history (the Indians had been severely mistreated in and near this region in the late 1800's).
Bicycling, hiking, fishing, camping, ghost town and wilderness touring are all options one can engage in and Frank has made himself very adept in the ability to share information related to each. For me, I opted for some fishing (you gotta hit Mosquito Lake) and touring the wilderness and 3 – yep 3 – ghost towns. I go into quite a bit of detail in my "video essay" (see videos 2 and 3), but briefly…
Bayhorse, Custer City, and Bonanza are all within easy reach from Challis. I suggest at least a day to explore Bayhorse and the mines and lakes above it, then one or even two days to travel the Custer Motorway (a CCC era dirt road) and the sites along it which include Custer City and Bonanza. Your best bet to see and access everything is between Memorial Day and Labor Day. Not only is the weather less reliable outside of those dates, Idaho State Parks manages each site and full access is only available during the summer. Thanks to Idaho State Parks for managing these sites as they have been preserved and in some ways restored. (Again – see my video essays for more details.) I caught these sites a couple of weeks after Labor Day and while the weather was still fine, the buildings at Custer City had been locked up and the artifacts on display there were about to be collected and stored for the winter.
Video 2: Bayhorse (Ghost Town)
Speaking of winter – elevations on the Custer Motorway reach almost 8800 ft. Much later than my travel dates can produce undesired results! In my dinner with Frank and his friends, one of whom owns a tow truck company, I learned that more than one traveler through this back-country has become stranded in an early season snowstorm (as early as early/mid October) and had to abandon their vehicle FOR THE ENTIRE WINTER and then WALK OUT of the wilderness (upwards of 20 miles from the middle to either end! The gentleman had TWO such stories – and they did NOT sound like "tall tales" at all!
Travel along the Custer Motorway can be completed in about 90 minutes – 2 hours if you don't stop – but that is NOT the way to do this! I allocated about 4 hours and wow, that was rushed! If and when I do this again, I will likely bring a tent and a sleeping bag and travel leisurely for 2 days through the wilderness and camp over night. There are NO facilities of any kind through this region – except for some modern pit toilets at Custer City – about 10 miles from the western end of the road.
Video 3: The Custer Motorway, River of No Return Wilderness, and TWO Ghost Towns
After leaving Challis, I have more tales to tell as I followed the river to Salmon then southeastward to Rexburg. But, safe to say, the 4 nights I spent in Challis could easily have been a week – and I don't want to sell Challis too short, there are several restaurants (though Frank was keen on none), a bowling alley (which does have good lunch food), and a walking tour of the town highlighting its history.
Thanks for reading this post! I truly hope you enjoyed it.
3 things you must know about RV insurance – a "must review" report for ANYONE who travels in any RV. There is contact information for RV Explorer within the post. If you do opt to contact them for a quote, please do tell them I referred you. I thank you in advance for using my name when you call (alternatively you can click the link within that post and get a free quote online.)