RV Life for those of us who "full-time" transitions quickly after Labor Day to an entirely new season…

Harvest Season
This is especially true if you're in the north or the mountain states. The long, and often hot days of summer quickly yield to shorter days, wide open campgrounds (the kids are back in school!), and less crowded roadways.
And…
It's Harvest Time
I picked fat, juicy, ripe blackberries before I left Dworshak on Sept. 2. A full bowl of 'em! All ripe and ready to eat.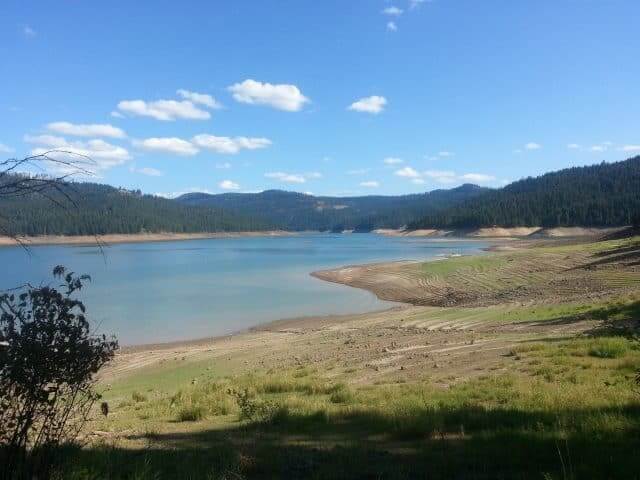 Everything has its season, and as we approach Autumn, which begins celestially around Sept. 21 each year, it is harvest time for many (most?) crops.
To me, picking blackberries is an opportunity to partake more directly in the cycle of nature than buying them at the local store. There's something about picking them off a vine – something more than just saving a few bucks (which doesn't hurt either)!
Harvest season is also a time where many campgrounds begin to "wind down". You often get "pick of the litter" when it comes to campsites – just have a quick look at some of the photos of sites I stayed at in the past two weeks. 
I left Dworshak on Sept 2 after a very good summer, since then I have spent one night in Grangeville and then just south of Riggins (see photos AND full slide show below). In Riggins, I stayed along a river – there's something about rushing water and getting a GREAT night's sleep! So much so, I repeated it for a week in Meadows RV Park near New Meadows/McCall, Idaho.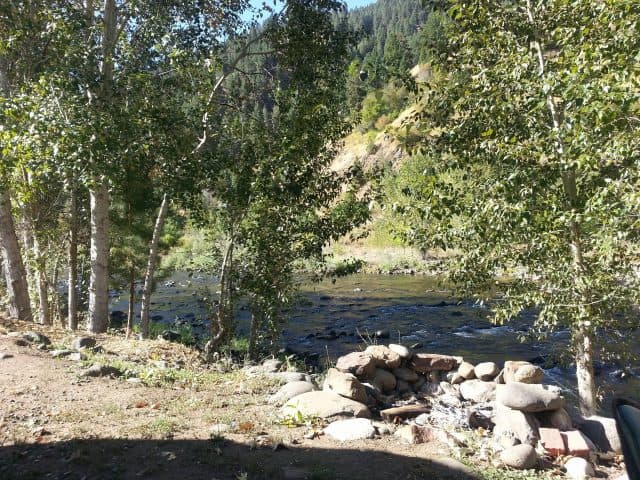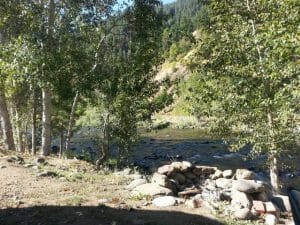 Grangeville is a small town that may be viewed as the "gateway" to "north-central Idaho". It is large enough for several decent restaurants a shopping market and two hardware stores. A short drive north connects you with the Clearwater River and the villages of Kamiah and Orofino. Riggins is best described as a fishing village. Just south of the "Time Zone Bridge", it is the northernmost community in Mountain Time here in Idaho. Riggins itself is a deep "V-shaped valley". There are a couple of RV parks in town, one towards the south end has a steep entrance, but then rewards you with riverfront sites. I chose to drive about 9 miles south to Canyon Pines – still get the riverfront, and have a bit more "breathing room" within the park. 
New Meadows and McCall are the next population centers south of Riggins. New Meadows is a sleepy town of less than 900 people, with perhaps 10 businesses, interestingly 3 of them are coffee shops! The coffee shop at "the motel" has fast wifi, and Jeff the owner is very friendly and helpful. Just east of New Meadows is Meadows RV – an older park run by Trish. The place has character! (see my photos)
McCall is a summer/winter tourist community with less than 2000 folks living year-round. McCall is high altitude for the region – over 5000 ft. Many restaurants are available to choose from, and there are two RV parks that are open all winter! Brundage Ski Resort is the center of winter activity while hiking, biking, Ponderosa State Park, fishing and boating (on Payton Lake – see photos below) are available to visitors of this region.
A short drive down the road from McCall is Cascade – home to Lake Cascade State Park. A very large and spread out park! The lake's shoreline is nearly 90 miles around and the State Park has campgrounds and other facilities spread out across much of the shoreline. Upon arrival, I was quite confused, and now after seeing it, I understand why. I will be doing a separate post soon on this park – and in doing so, try to break it down for you the reader in case you ever decide to visit this amazing region. During my 5 day stay here, I found many "hidden gems" – but stay tuned for MUCH more on Cascade and its MASSIVE state park!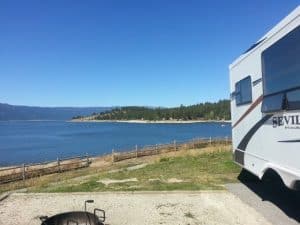 RV Life and the Harvest Season
In terms of our crop cycles, the harvest season is a time where the weather begins to turn. It turns as days grow shorter at a noticeable pace – as an RV'er you tend to get "in tune" with this, perhaps more than those who are indoors all day. Yes, I know the days begin to "shrink" right after the Summer Solstice in late June, however the "pace" actually quickens from mid-August until early-November (check an almanac, you'll see I'm correct on this.)
I started writing this on the morning of August 30, an unusually early Labor Day weekend – and finally finished it on Sep 14. Daylight is still a bit over 12 hours at my northerly locale, however, we are now "losing" about 2 minutes on each sunrise and sunset, so a 12 hour day will soon be here on our way to the least sunlight of just over 8 hours in December. En-route, we will all experience cooler weather – regardless of where you live in this great nation and celebrate traditional harvest related holidays, the most notable of which is Thanksgiving.
The harvest is also an opportunity to store up for an upcoming winter.
Winter is perhaps best described as a time of dormancy. Now, there are times where in my own personal life where that may seem like a contradiction as during much of the winter I spend nearly every day on the ski slopes in the bright Colorado sun! But for most folks, and certainly for crops, it is a time of dormancy. A time to live off the fruits of the harvest.
Consider how this applies in your own life.
Have you harvested and prepared for a winter?  And… what does that even mean?
Many of us live "hand to mouth" – too many of us! No, I'm not going to "preach" to you, but consider this…
What if the food markets were emptied out tomorrow? The dollar collapsed? The company you've worked for (for years) suddenly closes its doors.
Are YOU prepared for any of these potentially life changing events? As you read on, simply consider each and avail yourself of my links IF you see merit in any or all of my points, but first, enjoy the slideshow…
[portfolio_slideshow id=945]
Full disclosure: what follows is information that I myself live by. Yes, if you opt to take advantage of any of it, in some way I may personally profit – but – understand as a full-time RV'er, I need to derive income from somewhere AND I only recommend things I personally use and believe in. If you feel I have provided value thus far, please do continue and consider my words that follow.
If you have any doubt that the events I mention above COULD occur, what have you done in preparation?
I'm going to provide a couple of links below that could help you focus on specific steps – steps that could make all the difference at that time – and steps that must be employed now while the livin' is easy.
Preparation is not for "preppers "only! Click HERE to see what you should be considering (now).