Or… some thoughts on RV Travel and the Covid-19 Virus
I'm writing this on March 18 and in some ways, it feels like the time just after 9/11. Life here in SE Idaho and perhaps where you are as well feels quite surreal. When 9/11 occurred, I was in the process of writing a book and found concentrating difficult – I'm experiencing similar feelings at this time.
Jackson Hole Mountain Resort (ski area) is closed – shutting their lifts about a month early. That ended my winter ski teaching role quite suddenly. Normally at this hour, I'd be teaching some folks, likely the snow surface would be softening under the strong March sun and we'd be having a great day skiing the slopes at Jackson Hole. JHMR as with most ski areas and frankly other businesses nationwide has shutdown.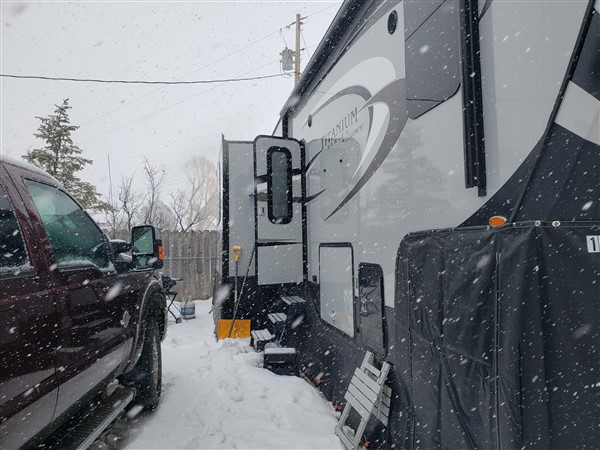 RV Camping and Life in SE Idaho
With the growing presence of this virus originating in Wuhan China, life here in SE Idaho and across our nation has become somewhat surreal – as I suspect it has in many locales. In fact, Teton County now has its first confirmed case of covid as of a few days ago.
In a typical year (I've been doing this since 2012), as the ski season winds down, normally I begin to prep the camper for travel. And I have in fact begun that process at this time. My plan for this summer IS to return to working for a RV dealer (in Cheyenne, Wy) for the summer and then to do a couple of months of travel before returning to ski all winter next winter. In addition to working for a RV dealer, I will continue to offer my own Concierge RV Buying and Selling Service for those who want me to find them the right camper for their needs at the best possible price.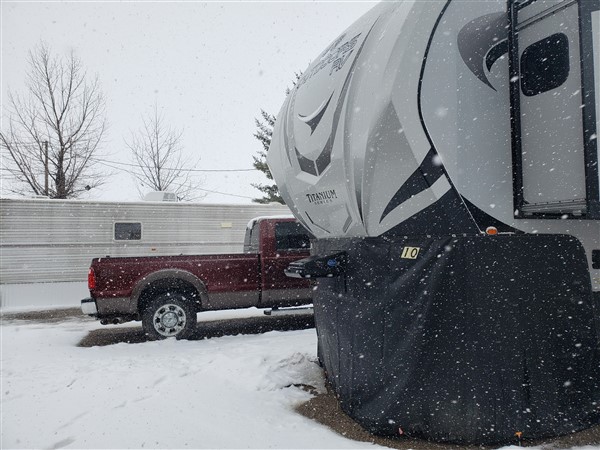 Shelter in Place
Of course, as with many (most?) travelers, my plans are now in limbo. With the early closure of JHMR, and having been able to dig out my camper early thanks to mild weather in March, I am just about ready to hit the road.
The obvious problem is where can you go. Many questions regarding travel must be answered (in my view) before leaving a current location where heat, water and electricity are reliable and reasonably assured.
RV travel in light of the Covid-19 Virus Spread – factors to consider
Will you remain healthy en route and once you arrive, how well prepared is the region for the inevitable rise in virus cases that are coming. Is the campground you're heading to going to remain open? Will the facilities you need be available upon your arrival? Do you have the necessary supplies to be self-contained (in ALL ways)? (Did I forget any? Share below!)
In my situation, most campgrounds I would like to spend some time at (near a lake!) do not yet have running water as sub-freezing nights are still likely for at least 6 more weeks. Dry camping is something I did extensively last summer, but I'm not so sure I'd be comfortable dry camping – or even camping without a water hookup in the event I get sick.
I'm still hoping that a treatment for this foreign virus is developed soon and I can head to my intended destination near a lake at a lower altitude (meaning WARMER) than where I am right now. As I took a walk this afternoon (3/18), I heard that our President is planning a press conference with representatives from the FDA tomorrow – and there MAY be a drug they plan to approve for treatment of (or prevention of?) the covid virus. If its the drug I've heard about, its been around for 80+ years and is dirt cheap!
I like SE Idaho but…
SE Idaho is a beautiful place, but the "shoulder season" (late March through early June) is better known as mud season and we're most definitely heading into it. As you saw in the video, there's still plenty of snow around here and my photos were taken today during a midday heavy snow snowshower. In addition to downhill skiing, cross-country skiing season is effectively over as well as the snow that remains is quite wet and sloppy.
Personal Optimism
I'm NOT typically one to be overly optimistic – but with this viral emergency, I actually am. I have seen our government jump on top of the situation and I do believe that the right steps are being taken. I also see a STRONG commitment to fast-tracking a vaccine and an even faster track to developing a treatment protocol. For myself, I've loaded up on a bunch of herbal strategies designed to strength the immune system and I hope, if exposed, it helps.
As we move forward and things return to normal…
I still hope to get in some camping before settling into Cheyenne for the summer. I do have two posts I'm working on – one addressing the level of discounting an RV to expect when visiting a dealer (there's some bad info floating around out there that I plan to address) and another talking about water filtration for your camper (there are some great solutions along with some tremendously stupid solutions.) I will address several approaches in my article. With the time I have now, I'm hoping to "bang these out" in the coming days!
As we begin the 2020 RV Travel Season…
I wrote an article discussing Discount RV Campground Membership Programs – you may find it helpful as you consider ways to keep your RV Camping budget in check!
UPDATE – I just posted some additional thoughts and insights HERE.
In closing – I welcome your thoughts and feedback during this most pivotal time in our nation's history. Space is provided below…