RV Refrigerators in Winter
One of my neighbors actually expressed this about his Norcold RV Refrigerator in almost those exact words last week. We had several days of temperatures falling to -10F at night and only rising to near 20F each afternoon – and well… he made every mistake in the book!
Watch my video below for 3 key tips on how to keep your RV refrigerator working at top capacity even in the COLDEST winter weather!
If you find value here, please feel free to comment, "follow us" (see the box in the upper right corner of the page), and to interact with me and your fellow RV'ers, please do join us at our Facebook group – RV Lifestyle and How to Earn a Living "On The Road".
So – here's the skinny on using your RV Refrigerator in Winter – if you plan to camp somewhere where it is cold…
Get a

"winter kit"

– note that *some* Norcold refrigerators come with this kit already

Insert a light bulb into the lower compartment behind the refrigerator. Take care to NOT place the bulb where it can melt or damage anything!

When selecting a campsite, orient your rig so that the refrigerator is facing to the south to get maximum daytime sun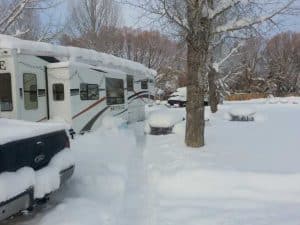 IF you do all of the above, you minimize the need to "burp" your RV refrigerator. To burp an RV refrigerator, it must be removed and then flipped vertically (and then back) and left in a warm environment for 12-24 hours to let the ammonia mixture in the ducts thin.
Did you find value in this "RV Refrigerator in Winter" article? It is part of a series I have dedicated to RV'ers like myself – those who are crazy enough to keep these things livable in cold winter conditions! Additional "Winter in an RV" posts can be found HERE.
Lastly, this is my "if all else fails" way to keep food cold inside the RV (and it doubles during the summer as a way to keep food cold from market to home…