Recent travels leading up to a beach camping experience…
I departed Oregon about 10 days ago and in that brief span of time, I've covered some significant ground. Thick smoke in eastern Oregon had thinned quite a bit by Boise. By the time I reached Burley, Idaho, there was actually some blue sky! Burley was on my docket as my truck needed a routine service (again) and I have come to respect and trust Goode Ford and TJ (their service manager.)
From Burley, I headed over and into Nevada – starting with Jackpot, a state line town, I visited a BLM camping area about 20 miles north in southernmost Idaho. I'll tell you more about in a future post. Elko was my next stop. I spent several nights at the Valley View RV Park for 14./night. While there, I visited Angel Lake & a ghost town near Wells -only about 50 miles away. Next, Winnemucca with another ghost town to visit and a good municipal pool to swim in. All this travel was completed before arriving at Lahontan State Recreation Area about 20 miles outside of Fallon. I had read the reviews and studied the map but was not prepared until I actually visited Lahontan.
Planning My Journey – Tools I Use
All this travel required some measure of planning, ok, lots of planning! To select my routes and choose campgrounds, I use two primary tools. Campgroundreviews.com allows me to access feedback on potential campgrounds or camping areas I consider staying at – often with little or no advance notice of my stay.
Prior to ever consulting campground reviews, I visit AllStays – on my laptop – this tool is NOT free, but it's a VERY valuable tool. AllStays allows me to see in a "google maps" type interface potential routes, lakes, campgrounds and their proximity to lakes (or any other natural feature I want to camp near), along with roads that present steep inclines/declines and even low bridges!
Lahontan State Recreation Area – dispersed beach camping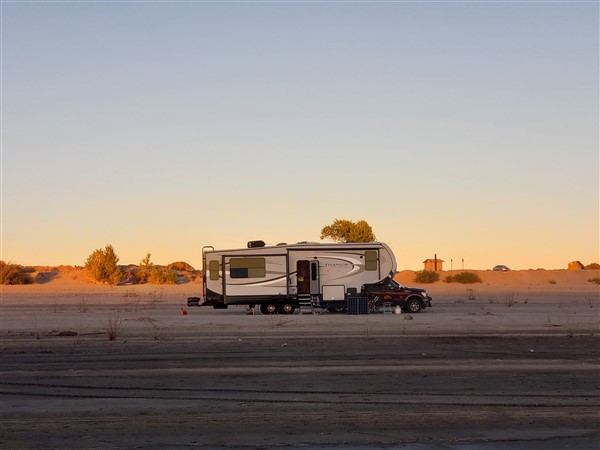 Lahontan Reservoir is a LARGE agricultural reservoir with nearly 70 miles of shoreline when the water is at full level! Agricultural means it gets drained by local (alfalfa) farmers as harvest time approaches – which is just about now as I write this on Oct. 1. In fact the lake receded several feet in the 3 days I was there! The park ranger expects the lake to be DRY in the coming weeks!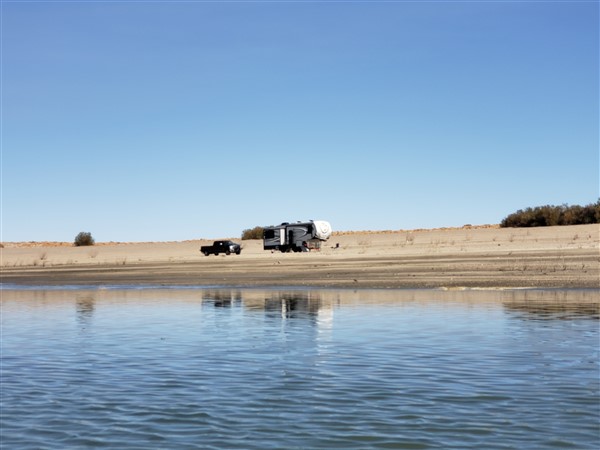 Most of this state recreation area (state park) is a large sand beach surrounding the reservoir (or lake.) Even though the water was very low, its still deep enough and large enough for power boats (and certainly for my little kayak!) And… because you can dispersed camp on the beach (there's no designated campsites), you can get as close to the water as is practical. As the water recedes, exposing new beach, that sand is still quite wet and any camper would definitely sink! This is the first hazard to be aware of.
Prepping for winter? Need a RV Skirt? Here's my experience with some experts based in Boise, Idaho.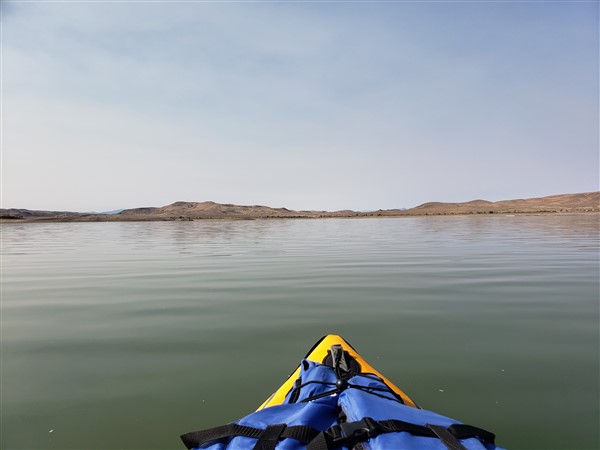 A BIG Hazard When Camping on a Sandy Beach…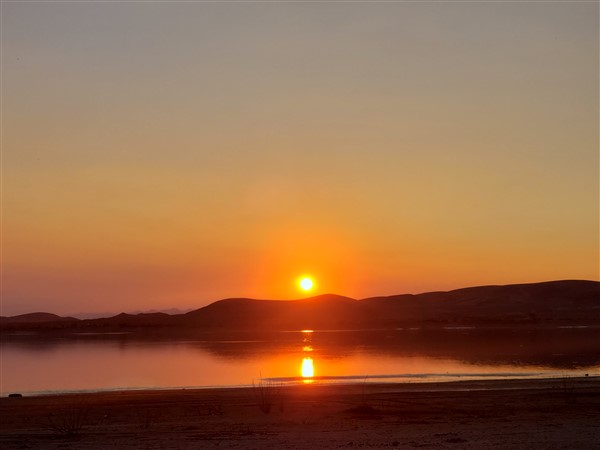 That was not the hazard that got me. There was another… upon entering the beach, I followed in prior truck tracks BUT as the beach alternates between hard-packed sand and even a rocky surface and "sugary" sand (loose, unconsolidated sand.) You have to have a certain amount of momentum to make it through the sugary sand – OR – you will get stuck and in the process of trying to get moving again, you'll likely dig yourself DEEPER! I got to the point where the truck (WITH MY 15,000 POUND TRAILER ATTACHED) was in sand up to its frame!! Getting free from my "sand trap" was not looking good.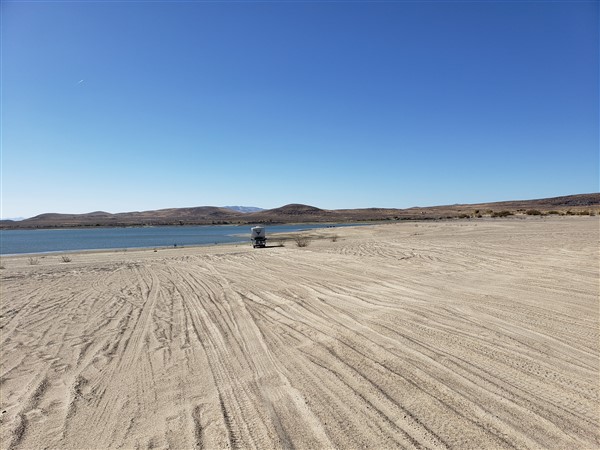 Fortunately (for me), there was a local who had a jacked-up 1 ton with a big chain (and my truck has the sturdy hooks on the front to pull it.) He connected his chain to my truck and inside of a few minutes (a few VERY TRYING minutes), we had my truck (and trailer) freed from its sandy trap (pun intended!)
Once free, I was able to get just a few more tens of yards onto to the firm sand and find a good spot for my camper. I ended up spending 3 nights on the beach – and part of the time was spent contemplating how to get OFF the beach without a repeat performance! The alternative was to just stay camped on the beach… forever!
Tips for how to get your Camper ON/OFF the beach SAFELY without getting stuck…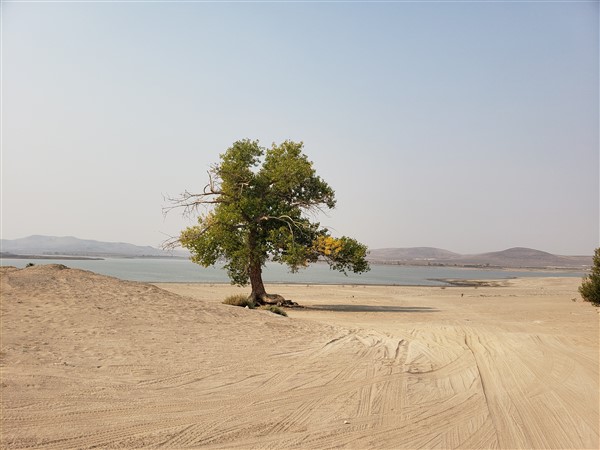 Before attempting to leave my beach campsite, I did what I always do – consult those who are more experienced than I am – and discovered the "formula" to successfully getting off the beach (truck AND trailer.) Here are the KEYS:
let air out of your truck tires (mine run at 65psi normally; I reduced the air to 35psi to increase traction
have an air compressor on-hand (I ALWAYS travel with my Viair – and highly recommend it as a quality product) – remember while its ok to depressure your tires to get off the beach; you MUST pressure them up to drive on the road!
put the truck in 4×4 (high), 1st gear, rear diff. locked and have a STRAIGHT RUN (ie – don't turn the tires!)
DO NOT let up on the accelerator if you hit "thick stuff", you must have the momentum to get through it – especially when climbing OFF the beach (which is usually an uphill drive!)
In an ideal world – get to know the beach you plan to bring your trailer onto BEFORE you are attached to the trailer. I made several "trial runs" off the beach to find my best shot for success.
I was particularly un-nerved that I got stuck on the way ON to the beach as I drove DOWN hill and wondered what my chances were getting off. I believe it was the 1st tip – de-pressuring the tires that made ALL the difference and enabled me to relatively easily get off the beach.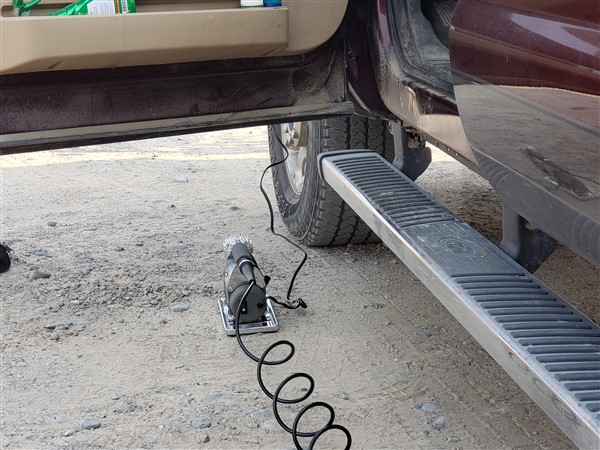 Need an air compressor (air pump) – this is the pump I've had for 3 years and has served me flawlessly…
Incidentally – once the trailer was unhooked, my truck had NO problem getting on/off the beach and required little adjustment on my part (I did go into 4×4 and locked the rear differential; I did not depressure the tires or limit my driving on the beach to 1st gear. Those actions I felt were warranted once the trailer was connected.
Summary of my RV Beach Camping experience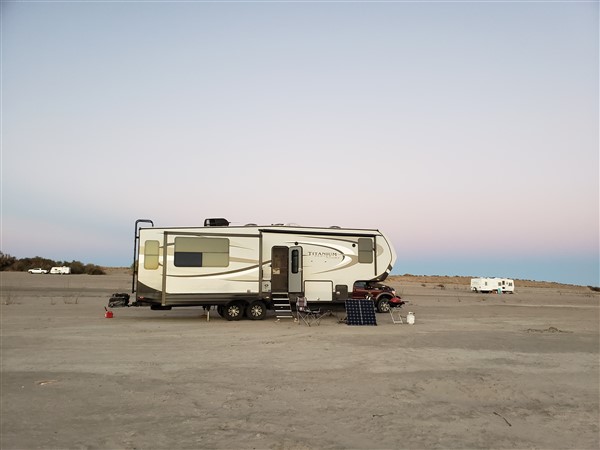 It was certainly nerve-wracking when I got stuck shortly after entering the beach; triumphant upon getting free and reaching the hard sand near the water's edge (but not the wet sand too close!) I did have some apprehensive moments as I contemplated how to get the trailer OFF the beach, and yes, did consider just staying there forever!
Thinking of getting started RV'ing? Want a "guide by your side" to ensure you get the RIGHT camper at the BEST possible price? Check out my Concierge RV Buying (and Selling) Service.
AND… there was that moment of TRIUMPH I felt when I successfully powered the truck AND trailer off the beach after 3 nights there (it was time to move on as the water was receding so quickly!)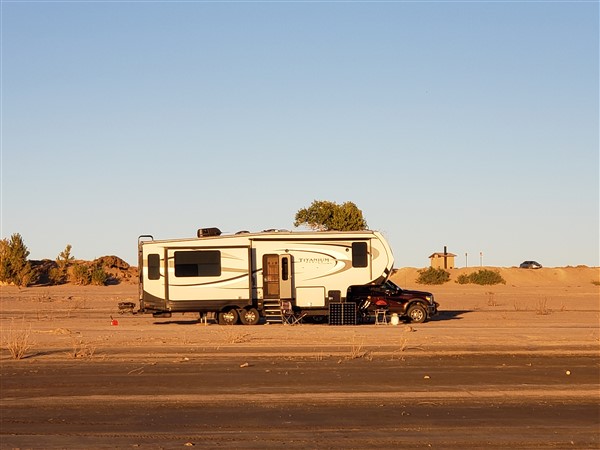 While there, beach camping ROCKS! Camping near the water, lots of open space, LOTS of unobstructed sun, few neighbors, and plenty of time to kayak and relax. I can't say when (or IF) I will beach camp again, but at least now I have some idea of what to look for on the sand to assess if I need to depressure the tires, and I can take the necessary actions that will greatly reduce the probability of needing outside help.
Incidentally… I do have Coachnet and DID call them
Here's how that went – while we (my beach neighbors and I) were brainstorming how to get me unstuck on the way in, I called CoachNet for a possible "Plan B" in case we couldn't get my truck moving. As it turned out, shortly after I got the truck / trailer unstuck, I got a call from CoachNet dispatch. The local service they talked to in Fallon said they could not get me freed up! BUT, I learned (or more aptly was reminded) that CoachNet would allow me to select my own road service, pay for it, and then submit the bill to request reimbursement – a powerful privilege that many competitors do NOT allow for. Before I attempted to exit the beach, I did in fact make contact with such a road service provider who was quite confident he could get me freed up IF I got stuck on the way out. As it turned out, I didn't need him, but it was good to know that CoachNet had my back if I elected (and needed) to hire him.
Quick Note about CoachNet – they charge $179./year for trailers and $249./year for motorhomes. If you click HERE, you're brought to a page where you need to scroll down to see these offers. CoachNet also offers extended service contracts, for which you have to complete a form, the service I'm talking about here is NOT that; its basic road service, like AAA, but covers your truck AND trailer (or motorhome AND toad.)
Locals Summer
Recently, in my travels, I was listening to a Springsteen concert on Sirius from over 40 years ago and during the concert, Bruce mentioned something that I've personally experienced but had never encountered this term before – locals summer. He (and I) of course would most directly think of the "Jersey Shore" (I'm originally from Jersey) and know that after Labor Day, the tourists (often known as "bennys" and "shoobies") go home and in the following weeks following Labor Day and often running right into mid-October, the days remain warm, the beaches are free and unpatrolled, and locals can enjoy the late summer conditions and NO crowds (even as early autumn arrives.)
These past few weeks have been just that – locals summer – for me here in Oregon, Idaho, and now Nevada. The days are still VERY warm (today, Oct. 5 was 89F), but the mornings are chilly (low-mid 40's.) The days are shorter, the trees are changing color, and the sun is lower in the sky, but it remains summer-like – or – locals summer!
As we enter October, even though I'm heading for Texas this winter, I'm following what will soon be major atmospheric changes here in the west. The giant "ridge of high pressure" that has brought very warm and tranquil weather for most of the past 4 weeks will break down in about 10 days and MUCH cooler temperatures will impact much of the west – along with MUCH needed RAIN (and even some snow) by October 8th or so. It's a natural change and will enable the northern states to prepare for winter. And even where I'm heading, it WILL turn cooler and you'll know (soon) that summer is truly over.
In closing, THANKS FOR READING! If you enjoyed the content, there's MUCH more on this site AND if you wish to be notified of new posts – please consider joining my mailing list below…