How to have reliable and affordable Internet Access while traveling in your Camper…
This is a post I've been thinking about writing for a long time but didn't compose until one thing fell into place: affordable, reliable internet access that wasn't too "techy."
I've been "on the road" now for 8 years – spending much of my time in the "intermountain west." The intermountain west is a largely rural, mountainous region which has been the last to receive good internet connectivity in some areas. I'm confident to report to you that this region is now ready for people to access the Internet in MOST areas – including some, where you'll wonder how they're doing it!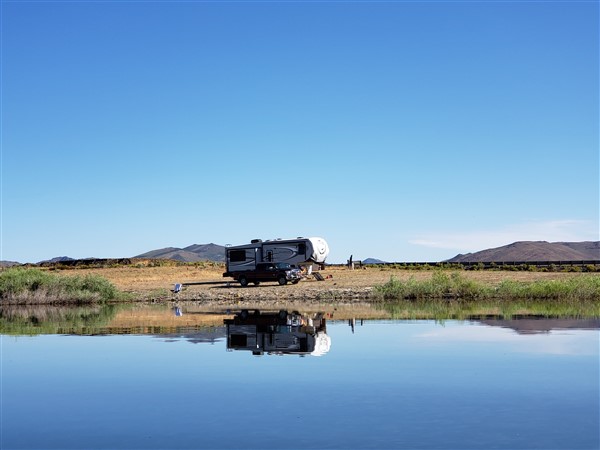 "They" would be your cell providers as they are leading the way with the best plans for heavy data use that is affordable. The two leaders are Verizon and AT&T – their coverage by far and away exceeds any others.
Frankly, and it pains me to say this as I've been a Verizon user for about 20 years now, AT&T has taken the lead in connectivity throughout this region. Verizon has a more consistent signal in many city areas across the nation and throughout much of the east, but out west here, AT&T has edged them out.
For years, Verizon has been my primary mode of connecting to the Internet, and I don't mean by simply using the browser on my smartphone. I learned early on, I can use "Foxfi" (a phone app to turn my phone into a "hot spot" and that let me use my laptop to "surf the web" as if I were connected to WiFi at a coffee shop. This was (and is) a secure method of connecting and with the latest Verizon unlimited data plans, I have yet to trigger the "throttle monster" (the ongoing threat that your cell provider will slow your data speed if you exceed a certain level of usage.)
The biggest downside however to using an app is that you still have to be somewhat "tech-savvy" to make the whole thing work. So, this held me back from sharing it widely as I knew it would only result in frustration for some.
Last winter, I stayed in a deep valley where there were no Verizon towers, BUT there was an AT&T tower. That situation motivated me to get a device that I adapted for use in my camper and provided me with Internet access where there otherwise would be none.
It was through the use of this device that I discovered that AT&T had taken the lead on connectivity in this region. I can state this as I've recently traveled extensively through Wyoming, Idaho, Utah, Eastern Oregon, and Nevada and experienced similar results – AT&T's signal is typically stronger and faster in these states than what Verizon is providing.
The problem was the device I was using was not designed to be used as I was using it and you still needed to be fairly tech-savvy to surf the web with it.
Finally a good, affordable solution to Internet Connectivity for RV Travelers and Campers…
As is always the case, technology continuously advances and I now have something to share with my fellow campers and RV travelers that will facilitate connectivity – and it's affordable and not too "techy."
With a "ToGo", you'll be connecting to the Internet using a device that mounts on your RV's roof, is easily wired into your camper (its a 12v device so it will work when boondocking) and provides unlimited data use through the AT&T network. The ToGo* device itself costs about $400. (or click on the image below and save about $65. through Amazon for the SAME thing) and the service works out to be $30/month when paid annually. *When you click the link, scroll down to where it says "learn more" under "TOGO Roadlink" – this will introduce you to the device AND show you the AT&T plans.
The ToGo is by far the best deal I've seen to date – especially if you use the Amazon link I'm providing – considering the speed and availability of the service along with access to UNLIMITED data. I have yet to see satellite-based service that is affordable and easy to work with.
If you visit the Amazon page I'm linking HERE, not only will you save money, but you'll see a number of reviews on the "ToGo." As I read the reviews, the positive reviews expressed what I know to be true about AT&T and this device; the critical reviews in some cases do not even refer to the ToGo and in others, I believe do not reflect the experience most are seeing with this device.
Final thoughts on Internet Connectivity for RV – Camper Travelers
When it comes to "tethering" your cell phone, its a bit "techy" and most companies have data usage limits beyond which they (at least threaten to) throttle (slow) the data.
For those who are thinking about relying upon campground wifi – DON'T! Campgrounds are NOT very tech-savvy (in general) and the wifi they provide is often slow or unreliable.
If you'd like to try some of the same (more tech-intensive) approaches I use, contact me directly. I will tell you though, my strategies will save you little, and may actually cost you more now that ToGo is available – and at some point, I'm likely to move in this direction as well. I should also note that even though I do not have a ToGo, I'm confident about its construction as it's built by Wineguard, and I'm using the SAME network with my current device as the ToGo uses. In fact, the ToGo will perform better than my device as it's mounted on the roof!
As always, I appreciate my readers and viewers and welcome hearing from you. If you'd like to be "in the loop" and know when my next article is released, please join my newsletter using the form below…