Traveling by RV? Its great, isn't it?
You may have discovered, the more remote the region, the greater the allure to visit and spend time, but the less "stuff" you can obtain – or obtain for a reasonable price.
Let's face it, we're all consumers…
and the "800 pound gorilla" that has emerged in the past few years is Amazon. With a distribution network that can get you virtually ANYTHING in 2 days (or less) – even to the most remote campground or town. Speaking for myself, I love letting my "fingers do the shopping" and lets face it, Amazon makes it so darn easy to click the purchase button and have it arrive just a couple of days later – and with no shipping fee, especially if you have Amazon Prime!

If you're like me, you have come to appreciate "Amazon Prime" with free shipping on most items, and have learned to time the arrival of your "stuff" to where and when you want it. Another nice perk is to not be charged sales tax on your Amazon purchases. Recently, I placed an order (for an air compressor pump for my vehicles tires) and discovered that SALES TAX was added to my order! Being the absolute cheapskate I am, I immediately started researching why I was charged tax – and perhaps how to avoid it. (Note: legally, anything you buy online without paying sales tax at the time of purchase must be declared to your state when you file your taxes and paid at that time.)
As of April 1, 2017, Amazon has started to charge sales tax in all 45 states that charge a sales tax – largely in part due to the fact that they now have distribution centers in many of these states – and legally any state they operate a physical facility in, they must charge tax… but there ARE exceptions – read on!
Minimizing your tax exposure as a RV Traveler
Planning to make an Amazon purchase? Plan your route and have your "stuff" shipped to you when traveling through and staying in Oregon, Montana, New Hampshire, and Delaware. These states do not charge a sales tax as such if you have your goods shipped to these states, you will not be charged sales tax. And again with Amazon Prime, you won't pay shipping either, and typically get 2 day delivery! Alaska also does not have a sales tax, but some municipalities do.

If you do not yet have Amazon Prime, click the image below to learn more about its features and benefits – simply put, as a traveler, I would not be without it.
There is a second exception – and its a BIG one…
Amazon ONLY charges sales tax on Amazon direct purchases – that is when Amazon is supplying you the product. Ever notice when you're reviewing a product for purchase on Amazon, they list "other sellers" with this item? Those "other sellers" are Amazon approved vendors who are supplying you that product. In most cases, they will NOT charge you the sales tax for that purchase! And… from what I've read, that can be upwards of 50% of the orders Amazon fulfills!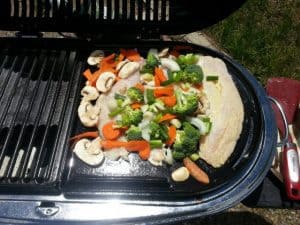 Did you know…
You can also get non-perishables from Amazon as well through "Prime Pantry"! Personally, I order most of my grocery list – except the fresh stuff – through Prime Pantry. (Tax on these products will vary according to individual state laws – many of which do not tax food and grocery products.)
So… paying sales tax at the time of purchase is NOT something you will have to do every time if you explore these two options discussed above. In closing, happy travels and perhaps we'll see ya "on the road".