While in Dodge City, I took away some very interesting insights on this most colorful, violent, and frankly brief lived "wicked town."
Recap of recent travels…
I entered Texas last October (2020) and within days was greeted by a minor ice storm. Parts of Texas are famous for them! It turned out to be a foreshadowing of a winter that included "the week from hell" – a week with snow and cold that parts of the great state of Texas have never seen before. (See earlier on RV Across America (.net) for posts detailing the Texas Hill Country & the extreme weather in February.)
Tourin' Texas…
I broke camp for the winter on March 1 and began several weeks of travel across Texas. My journey took me to Sonora, the border, Alpine and the west Texas region, Pecos, Lubbock (home of Buddy Holly!), Amarillo and eventually Dalhart in the far northwestern corner of the panhandle. (Again see earlier posts including a story about my RV roof on rvacrossamerica.net)
Dalhart is in the Southern Plains. I held up there for a bit over a week waiting for my new trike (story coming soon) to arrive. When I left Dalhart (my video begins with my departure), I crossed the Oklahoma Panhandle (in less than an hour) and entered Kansas. I stayed in Liberal (which is not!) for a couple of days before heading on to Dodge City.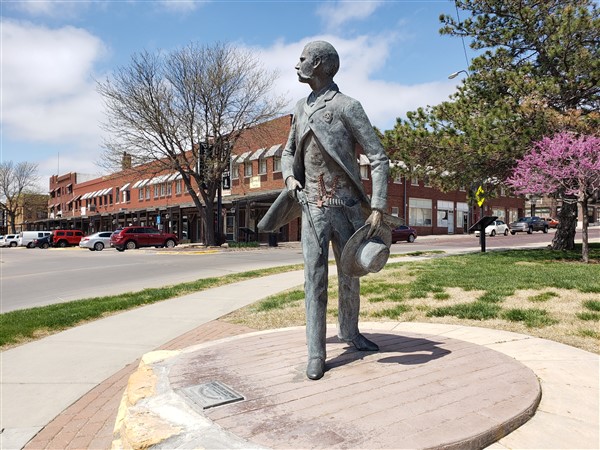 Dodge City – a MOST interesting visit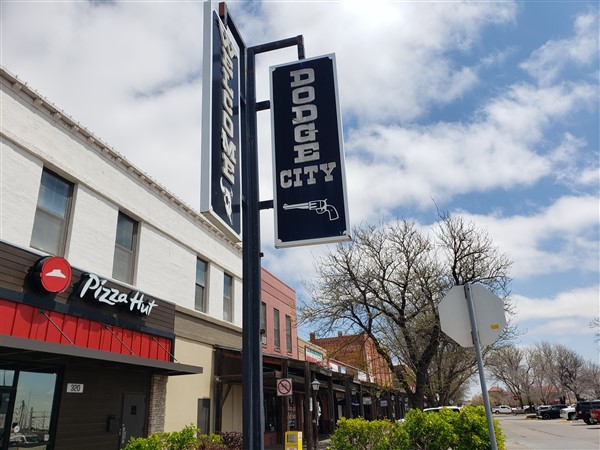 In the middle of the video posted at the top of this article, I try to give you a sense of Dodge's history – perhaps in a way that few have expressed it. If you watch the video, enjoy my "history lesson!" I spent a half-day at the Dodge City – Boot Hill Museum and did an extensive walking tour (self-guided) of Dodge City to gain a better sense of what it was like, and where it all happened during Dodge's hey-day. I hope you enjoy my summary (about 10 minutes) in my video (above.)
After leaving Dodge, I headed west, initially under a slate-grey sky more reminiscent of November than April. Temperatures were also November-like. Eastern Colorado and Western Kansas are indiscernible. It's the Central Plains and remains so until you get close to Denver and the Front Range.
RV Camping in Dodge City…
Options are limited. Two are nice but VERY expensive for what they are and where they are. Being frugal myself (read: cheap!!), I stayed at the Watersports Campground – appropriately located south of the tracks! (see my video for this reference) – their overnight fee is just over $20/night (full hookups) – in contrast the KOA and other options are well over $40/night. If you stay at Watersports Campground, be aware – the roads in the campground are ROUGH! Pitted/potholed sand and gravel – the girl in the office said they like it this way so no one flies through the campground!
Speaking of saving money while RV camping…
Like the sound of FREE AND SAFE RV Camping? You NEED to check out Boondockers Welcome Note: To save you even more – use RVAcrossAmerica15 to save 15% on your membership!
While in Colorado, I remained well to the east of I-25 as its far more sane there! I "settled" into Brush for a week or so to enjoy small town life and spend some time riding my CruzBike recumbent in my final days of owning it.
I picked up my new TRIKE (more on this soon) in Longmont and have crossed "the border" into Wyoming. Guernsey is a nice, quiet, small town – great for acclimating to a new bike to ride! Guernsey is still in the plains – somewhere between the central and northern.
It's RV'ing season! Here you'll find RV Accessories that I personally use. (As a "full time traveler" now for nearly 10 years, I've seen who makes the best stuff!) – Click the image below for highly recommended "stuff" for your RV'ing lifestyle…
All for now, I'm working to get out a post about my trike, but I've been swamped with new clients for my Concierge RV Buying Service – so, to be honest, my clients come first. In the coming days, I'll be traveling to South Dakota and landing in the Rapid City area for the middle of summer.
Like my content? Let's connect! Enter your first name & email to receive notice of new posts as they arise…