Buying a RV
can be a challenging enough experience without the new added "wildcard" of a whole slew of storm damaged rv's (of all types – storm damaged motorhomes, storm damaged trailers, and storm damaged fifth wheels) that are emerging on the market in the aftermath of the recent hurricanes in Texas and Florida – particularly Harvey in Texas since so much flooding occurred in that region.
Allow me to share a few thoughts here on this subject in the following video – and then I will expand further in the narrative below.
Frankly, when it comes to purchasing a RV…
The landscape is rocky enough! After all, when searching for the right RV for your needs, you have to sift through a number of manufacturers who to be honest make substandard products. In my personal searching, with years of experience living in one and years of consulting experience, I have found only a handful that in my view are built well enough to own!
Now add the recent storms to hit the Gulf Coast including Texas and Florida. Hurricane Harvey in particular caused MASSIVE flooding across a widespread region – and some areas were caught off guard. The result? A myriad of storm damaged rv's – both trailers and motorhomes. In short – storm damaged rv's.
Some of these RV's have been totaled out and disposed of. They're not ones you'll run into when you're "in the market" for a RV. But… others have not. The RV's that remain that were storm damaged broadly fall into two categories: those that were damaged, and subsequently were totaled out by the insurance companies and then purchased (either by a dealer or a private party) and now carry a SALVAGE title; alternately, there are RV's that were damaged (largely owned by individuals) and no claim was filed with the insurance company after the storm. They still carry a regular title and it is (frankly) up to the potential buyer to spot a storm damaged rv. I view these as the more dangerous of the two – here's why…
But first… I gotta show off my new trailer! A few photos – much more to come soon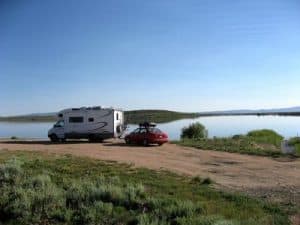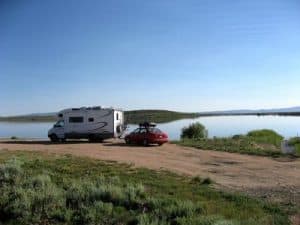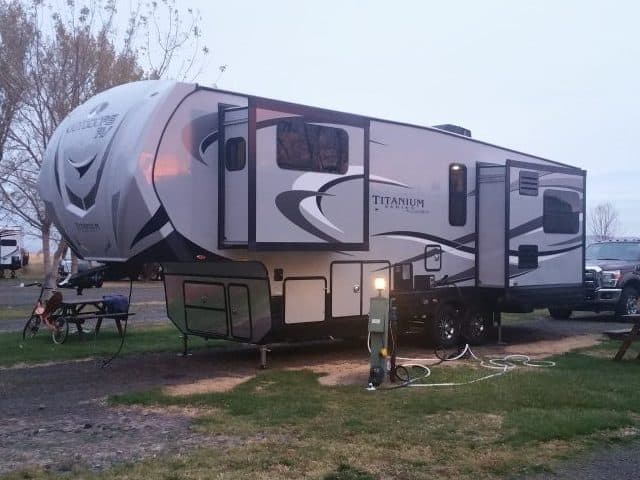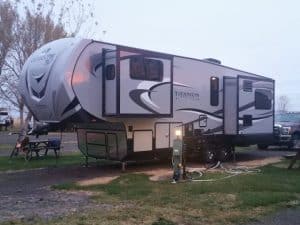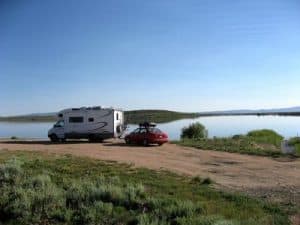 Why are privately owned RV's damaged in the storms more dangerous?
Ok, back to the main topic, but I gotta say, my Outdoors RV (Glacier Peak) 5th wheel ROCKS… and I will share more soon. When it comes to storm damaged RV's, if a private owner who's rv was damaged in the storms did not file a claim, their title status would remain unchanged, so there's no tell tale salvage title to reveal the rv's true history.
By now, these rv's have dried out and may APPEAR to be just fine. But… as they say, appearances can be deceiving. YOU need to become a detective (and the trailer you are looking at may be nowhere near Houston!!) A few suggestions – crawl into the storage area(s) and see if there is a now dried water line – a dead giveaway! Do the same inside the RV, as the water may have risen into it. Look in the underbelly areas where the water pump is (people often forget to clean up these areas) – is there any evidence of water being in that area (where it does not belong)?
Insist upon plugging in the RV and check ALL functions (you should do this anyway when buying a used RV). Does the fridge start up and begin to cool? Will the furnace work? How about the hot water heater? I'm sure you get the idea.
If there are more tips that YOU have, please do report them so all can read storm damaged rv tips below!
A few additional thoughts –
When buying a RV, I strongly endorse the idea of buying an Extended Service Contract (and I can help with this – reach out to me.)
If you have a RV and all it does is sit most of the year, why not make some extra cash with it? These folks can help you get it rented!
Ok, I'll leave you with a GREAT sunset – courtesy of Catfish RV Park…
(click the images for full size views – photos taken on Snake River in Oregon looking W-NW at Catfish RV Park (highly recommended!! See my review in RV Park Reviews)