Starvation State Park, Utah
Whats in a name? According to Wikipedia,
There are various narratives explaining the name "Starvation". One account describes a group of fur trappers stranded in harsh winter conditions who survived by stealing a local Native American cache of food, which resulted in their starvation. Another account tells the opposite story, with the Indians doing the stealing and the trappers starving.[1] A third story involves a local rancher who attempted to graze livestock in the area, and they all starved.[4] The most probable explanation for the name involves settlers in the early 1900s trying to survive along the banks of the Strawberry River, in the area now occupied by the reservoir. These settlers dealt with near-starvation in a hostile environment. Winters in the area are long and cold, and their livestock often died. The area's short growing season was hindered by floods, hail, early frost and other problems. These settlers nicknamed the area Starvation.
A unique day in Starvation State Park…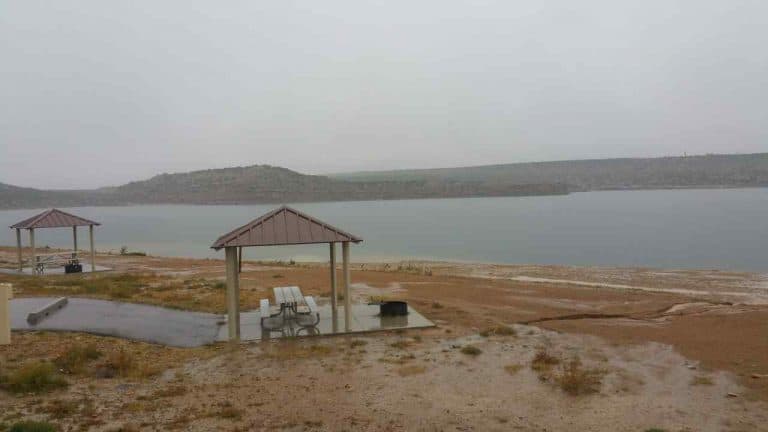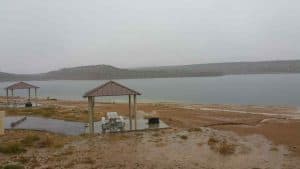 So, I've been here for a few days and I can say with confidence, it's a GREAT place. Situated at about 5500 ft, the late September weather (until today) has been quite mild (afternoon in 80's; morning near 45). I camped in 2 areas while here – Indian Bay (primitive camping – not even a picnic table!!) and Beach Campground (water & electric with a paved site ON the beach – see video below).
Allow me to illustrate then continue with additional commentary below…
As I noted, I came here by way of Vernal, Utah. Let's talk EATS first. Betty's Cafe does a great breakfast. The Vernal Brewing Company (yes, you CAN find beer in Utah!) has a series of microbrews (I had to find a LOW hops brew – and they had it!) and good food. Vernal also has a well stocked Smiths – which is a good thing as when you head west, the next town of any real size is Heber City (about 100 miles). This may not sound all that far, but it is when you consider the WEALTH of GREAT camping opportunities between the two points.
In fact…
When I left Stalkups, my intent was get here and then work my way south towards Lake Powell in Southern Utah – before heading north to McCall Idaho for the winter. Based upon what I'm finding here in northern Utah, I may not make it much farther south before I turn and head to Idaho – which has its own great camping opportunities!
Vernal Utah Continued…
As I noted in my video, I walked in for a haircut and ran into one of the best Chiropractors I've ever visited! Jacob Swonger (Swonger Family Chiropractic, 435 414 9773) was VERY thorough and used some tools and techniques I've never seen before – and I've been under chiropractic care since I was in my early 20's! So, yes, I strongly encourage you if you're passing through Vernal – and need an adjustment, give him a call!
My actual intent that morning was a haircut – and Mark's Old Towne Barber Shop (same location as Jacob's office) was the place to go! Mark knows how to give a great haircut and you'll hear some great hunting stories as well!
Incidentally, Vernal is a place you will likely pass through if you are heading south from the Flaming Gorge; heading north from Moab and Canyonlands; heading west from Colorado (dinosaur-lands and Steamboat Springs); heading east from where I am right now – including Salt Lake City, Heber City, Strawberry Reservoir (I'll be camping there next week), and more!
Indian Bay Primitive Camping
As always, THANKS for viewing! Feel free to leave a comment below; connect with me by entering your email in the "follow us" above; and by all means, do check out the other posts – and products/services I support throughout my site. Know that I use and believe in each – and your support of those services helps me to cover costs at my end.