Saratoga – hot springs, kayaking, fishing and more…
Just got out of the hot springs here in downtown Saratoga Wyoming. Completely relaxing, and you can always count on meeting an interesting person or two while there. You know, it's nice when your toughest decision upon waking is whether to go to the hot springs first or kayak in the lake you're camping next to!
For me, Saratoga is becoming a regular stop after the ski season and after the summer "rv sales" season. The photos may reveal why! Saratoga is a place to soak, eat (Lollypops is a GREAT ice cream/breakfast/lunch place), relax, kayak, fish, shoot (they have their own shooting range), hike (Snowy Range), and shop for unique items.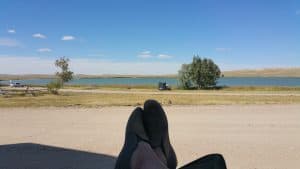 Reflecting over the past few months, it was a long, hot summer in Casper. I immersed myself in the world of RV sales for the 2nd consecutive summer at Stalkups. I enjoy it as I have learned a lot about RV's (including some things I did not want to know!) and earned enough to do some traveling now and afford a new truck – a 2015 Ford F250 that fixes 2 "mistakes" in my first diesel truck. I now have a long bed (helps with the 5th wheel – and extra storage for more "stuff") and a crew cab.
As I prepared for my upcoming journey, I could not anticipate that one "small" issue could potentially derail my departure. I share in this quick video as I share how my journey encountered its first obstacle BEFORE I even left the Ft. Caspar Campground in Casper! (And the magic of taking the service writer at Stalkups out for lunch the day prior!)
If you're a 5th wheel traveler, you know how important your landing gear and jacks are! Simply put, had I not been able to release the pin in the leg, I was not going to even be able to leave my campsite in Casper! I've had trouble with my landing gear/legs (primarily user error) for the past year or so. In Casper Wyoming, outside of my own store Stalkups, my "go to guy" has been Jake of Outlaw Mobile RV Repair – honestly, I can't say enough good things about him and his service. If you ever need mobile service in the Casper region – he's "your guy".
My latest "issue" with my current 5th wheel has me all the more excited about the anticipated release of the new Glacier Peak trailers later this autumn – so much so, it is entirely likely you'll see me in a new home on the road next Spring or Summer! (More on these trailers in a moment.)
A couple of last thoughts – I'm now an agent for CoachNet. It is a service I would not be without! I've even used their option for a hotel stay in the event of an emergency while traveling (I had an unexpected encounter with a boulder that ripped up the under-belly of my 5er and necessitated a 10 day hotel stay while repairs were executed – CoachNet paid the ENTIRE bill!) You can learn more about their service HERE.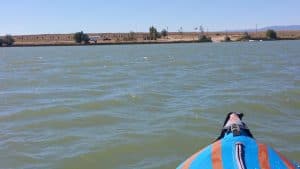 Also – I recently ordered from Boxed.com, an online competitor to Sam's Club and Costco – but with NO membership fee and it is easy to avoid shipping fees as well. My first order was purchased at a discount (use this code – 17Q6B – to save $15 on your first order). Everything I ordered was at about the best price I've seen, arrived in perfect shape (no damage!) and fast (I think it was 2-3 days). If you opt to order from Boxed, please let me know how it works out for you and yes, the code I provided will save you $15, and shipping is free over a minimum purchase.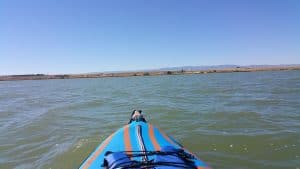 Glacier Peak SNEAK PEEK
As I mentioned in my video above, I'm releasing a video I shot in late March when I saw a prototype of a fifth wheel I was HOPING Outdoors RV would produce. Well, it looks like my hopes have been realized as Labor Day 2016 saw the announcement to all Outdoors RV dealers of whats coming – and as such, I'm now permitted to release my sneak peek video (and a few photos). Click HERE to see what all the buzz WILL BE about!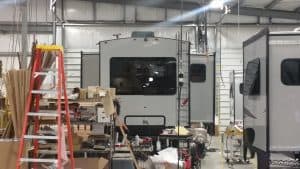 A few more photos of Saratoga and the surrounding region…