And my first RV Camping Experience at an Elks Lodge
Aaah, that change of seasons! I'm writing this on October 26. Occasional SNOW flurries are falling outside and temperatures today will remain in the 30's. I arrived 4 days ago, temperatures were nearly 70 and I headed to Williams Lake to go kayaking! And… if I stay here, by Saturday the 28th, temperatures may not break freezing all day!
THIS is the first "arctic outbreak" of the season. I can't call it winter, because its errr… ummm… STILL OCTOBER! At the moment, had I tried to leave Salmon, I'd be in real trouble. I'm effectively trapped here. The good news is this isn't a bad place to be trapped. Good cafes and grocery markets, comfortable "accommodations" at the Elks Lodge RV sites (my first Elks RV'ing stay!!), and Sharkey Hot Springs less than 30 minutes away.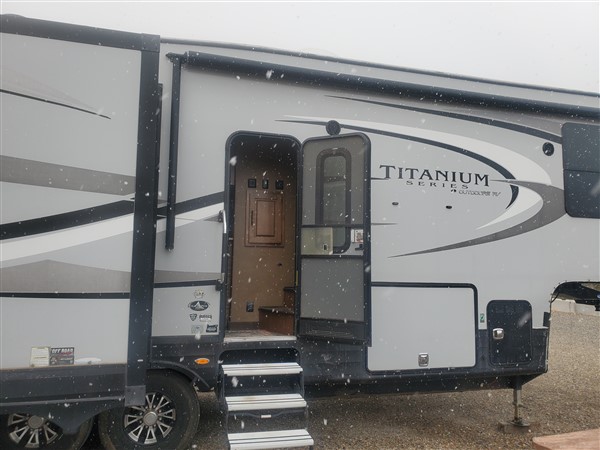 Salmon Idaho
Where am I? Salmon Idaho, a town of about 3300 residents, 175 miles north of Idaho Falls. "IF" is one of the nearest towns to Salmon! This makes Salmon a VERY remote community. Look at it on a map. Between Salmon and IF, there is no population center of any significant size! Highway 28 runs for 125 miles along the route to Salmon and there is PERHAPS 1 gas station!
Sixty miles to the SSW is Challis (along Hwy 93), a town of less than 1000 residents, and to the North, the route I took exiting Salmon, you drive through North Fork (about 130 residents), then to Lost Trail Pass, and onto Missoula, Montana. Missoula is about 140 miles from Salmon, and is the next significant population center from Salmon!
So, is it fair to call Salmon remote? I'd say so!
Why am I trapped?
Last night as the arctic air flooded into the region, heavy snow broke out at higher elevation (Salmon is just 4000 ft.) There are 3 roads that allow you to exit Salmon, each crosses over a mountain pass at about 7000 ft. My understanding is these passes have upwards of 10 inches of the white stuff on them – and since the snow initially melted on the (still warm) roads, its an icy mess on each pass. I'm hoping to "escape" town (for farther north locations) in Montana tomorrow, but I'm going to see what the road reports show before heading out.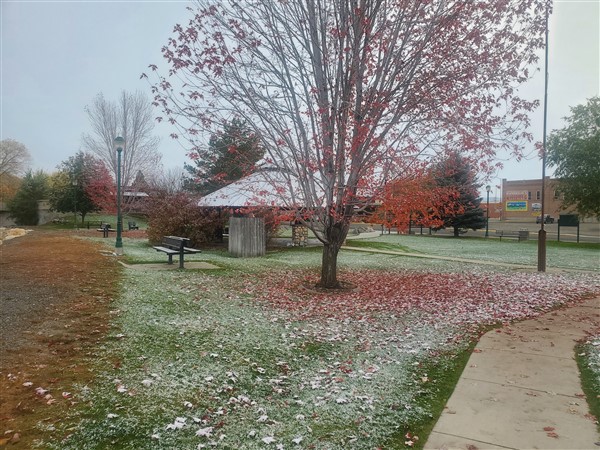 Autumn in Salmon – RV Camping tips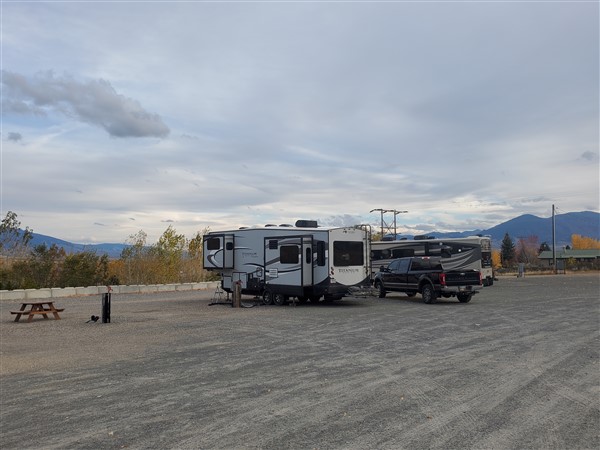 Ok, lets focus on autumn in Salmon and ignore this arctic outbreak! I've visited two great places in my short stay here. But first, RV'ing in Salmon…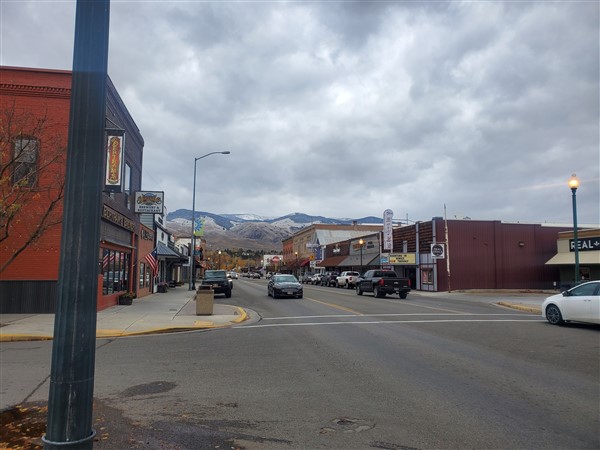 Salmon is easy to navigate through with an RV. There are at least two small RV parks I've seen in the area. They seem to get about $50/night for a nightly stay. One park that seems desirable and is under new ownership is Andreas On the River. Its a small park, but sites are right along the river that runs through town.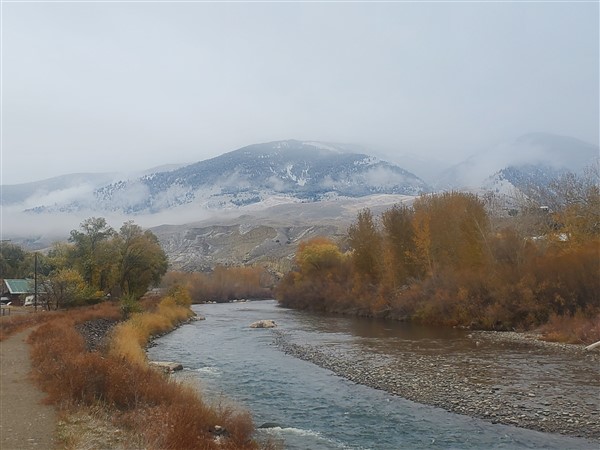 The Elks Lodge allows members to stay in their rv sites for $30/night and its safe with full hookups. The hydrants are "frost free", so, you fill your fresh water tank and live off that. In my case, with my Outdoors RV 5th wheel, I have an 82 gallon tank, so I don't fill often! The fresh water tanks in ORV campers is just ONE reason I highly recommend them to my Concierge RV Clients! (I should note where I'm heading next, I expect early morning temperatures on Saturday and Sunday to be about -5F (thats 5 BELOW zero!!) Just one more reason to be in an ORV camper! They're made for these conditions (and that means they resist hot weather as well!)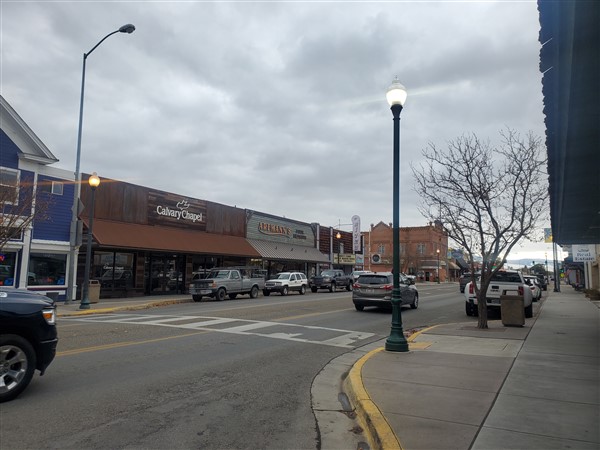 Williams Lake – remote and spectacular
Getting there is half the fun! The road is definitely a 'white knuckle drive' at times. Enjoy the video above – I certainly had an experience just getting there!
Monday morning was mild, the weather was improving, so I headed off to Williams Lake. Williams Lake is the nearest lake to Salmon. Google says its about a 32 minute drive for a 16 mile distance. The first 11 miles are easy and fast, the last 5 miles, not so much! The lake is at 5300 ft. elevation, about 1300 ft. above Salmon. Most of that climb is made over the last 5 miles. You're climbing along the side of a mountain with a steep drop off. The road is gravel and wash-boarded. The lake access itself at times is one lane and parking at near the boat ramp is not real convenient.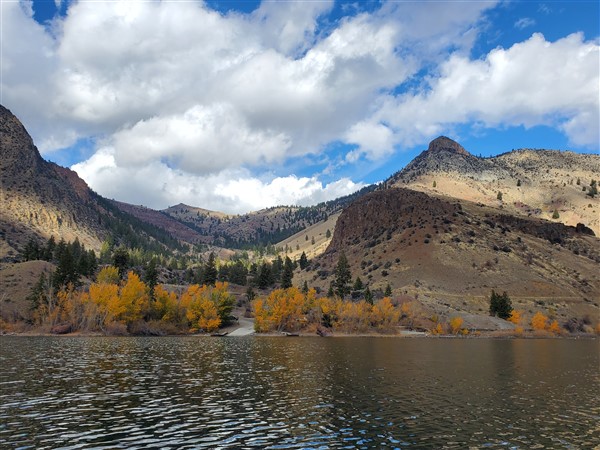 **As you know, I truly enjoy kayaking. Want to know more about my kayak – and get a discount on one? I'm in the Aquaglide Deschutes 110. You can go HERE, then enter RVACROSSAMERICA15 to get a 15% discount on any of their kayaks.**
Regardless, I'm glad I went. Williams Lake is in a spectacular spot. It is rugged, remote, yet not far, and allowed for a great paddling session! Enjoy the photos.
Sharkey Hot Springs
Sharkey Hot Springs is a unique site located about 20 miles outside of Salmon. Its a reasonably easy drive (in contrast to Williams Lake!) The site has two concrete pools that (I'd estimate) were about 103 – 104 F. It is maintained by the BLM (Bureau of Land Management.) They charge $3. admission (50% off for Golden Pass Holders.)
The history of the place is interesting as it was identified as a hot springs by the settlers in the 19th century. It also has spiritual significance to Native Americans. The government (of course) filled in the pools in the 1960's (claiming safety concerns), but locals kept digging fresh pools! By 2002, the government gave in and renovated the site (and now charges an admission fee!)
It was definitely worth the visit and if I lived here, I'd be there often!
EATS
Wallys Cafe is definitely comfort food. Not open Monday or Tuesday, I had a "pot pie" breakfast on Wednesday and pancakes on Thursday (a rare treat for me!) Highlander Beer, despite the name has excellent salads and good pizza (a friend had some.) I had the greek salad (with chicken) – good portion, fair prices.
There are two coffee shops, both are excellent. Salmon River is in an old bar & pub. It is iconic and historic. Rise and Shine Espresso is about 3 blocks away. It is smaller, but much brighter with lots of windows, comfortable seating and good access to electricity. I visited both, but I found myself gravitating to Rise and Shine more often.
Like my content? Please consider signing up for my free newsletter below to be notified of new posts as I generate them. Lots of interesting stuff going on! Also, there's space below to leave a message, I always welcome hearing from my readers, answering questions and more.