If I knew how GOOD this thing is, I'd have bought a bigger one!
AeroGarden – An Amazing Food Source – Ideal for the limited space in an RV Camper!
Food shortages and rising food prices motivated me to look for solutions. One solution was to load up with extra stored food, but dried, canned and boxed foods are not enough. We all need fresh produce – so what could be fresher than picking lettuce (and other leafy greens and vegetables) minutes before preparing a salad in your camper?
AeroGarden makes this all possible with minimal use of electricity and while taking up minimal space. I chose the AeroGarden Harvest with 6 spots for "pods", a 20 watt LED lamp (that runs 16 hours a day), and a telescoping post for the light that can extend 12″ from the pods surface.
I chose AeroGarden due to good reviews and the fact that it appeared to be nearly "idiot proof." It is! All I did was add water and plant food (comes with) and turn it on. It has lighted indicators to show when you need to add water and/or plant food.
First Harvest in 3 Weeks
I was excited to see that 4 of the 6 pods sprouted literally in a few (about 3-5) days from when I first placed the pods in a container.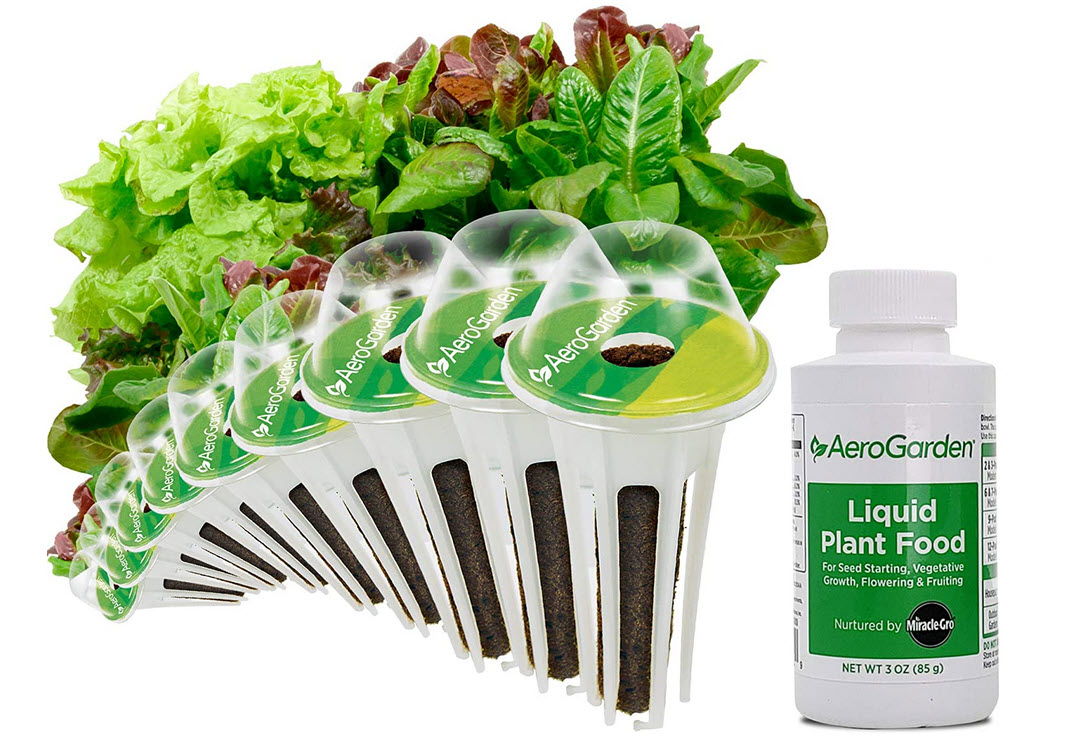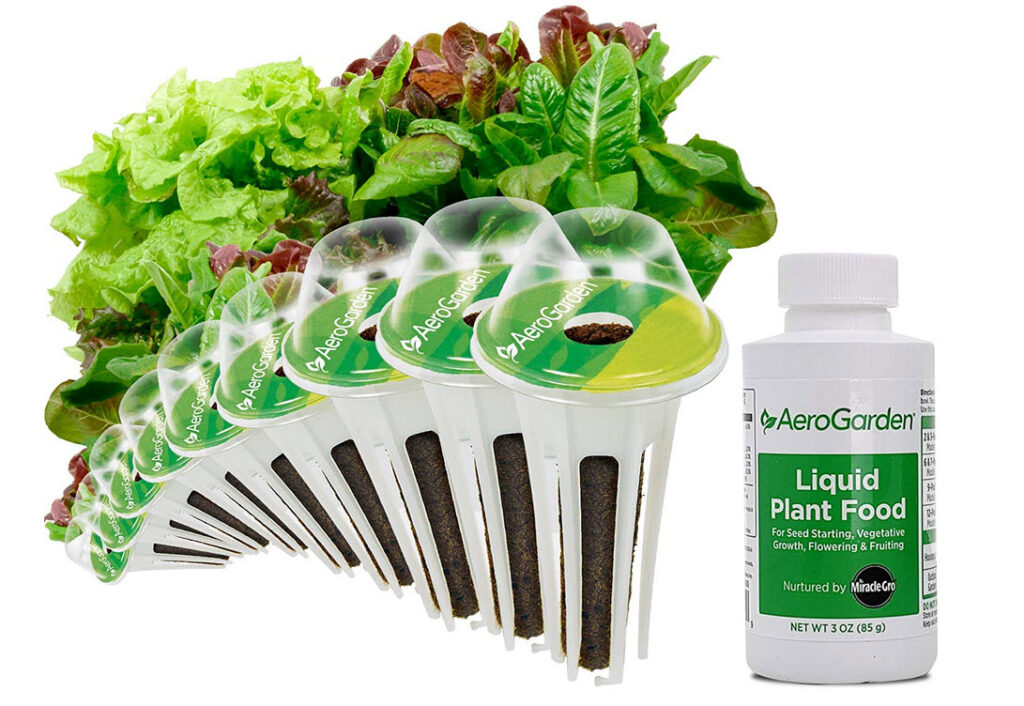 Two pods were "defective", that is they didn't sprout. No worries, AeroGarden has a 100% replacement guarantee. While I waited for the replacements, I conducted a test – I bought some Red Rubin Basil seeds, dropped them into the 2 "defective" pods and viola, 3 days later I had Red Rubin Basil sprouts! I expect to harvest my first basil in a couple of weeks!
For the other 4 pods, they grew – and grew FAST. I was able to do my first "harvest" in just 3 weeks after planting! The only advisory AeroGarden gives you is to take no more than 1/3rd of a plant when you remove leaves. In my case, I'm growing lettuce. Yes, there was an upfront cost to this, but given the increase in food costs, I think this little "garden device" may just pay for itself inside of a year or so!
With just 4 pods producing, I've been able to have FRESH LETTUCE (of various types) nearly every evening to create a TRULY fresh salad!
Needless to say, I'm happy with this purchase. I also purchased the Salad Greens Mix Kit and that's whats growing now in 4 of the 6 pods.
Growth continues…
How does it travel?
In my first travel day since my AeroGarden purchase, I was on the road for about 5 hours. The camper got to 89F and the AeroGarden was temporarily placed in the shower basin (just incase it tipped over.) When I re-entered the camper, I saw the garden traveled well – no damage and after re-connecting the power (the light draws 20 watts for 16 hours a day), all is fine.
Bottom line: GET ONE! (or more!!)
In the market for a camper? Have one to sell? Did you know I offer a Concierge RV Buying and Selling Service? Check it out here.
Thanks for reading! If you wish to be notified of new posts, please join my newsletter below – and – leave a comment below…