Its amazing what a little sun and temperatures just a few degrees above freezing can do in March! My camper is still quite buried in deep snow, but with a few days of strong pre-Spring sunshine and temperatures above (or at least NEAR) freezing… the snow pack WILL fade away.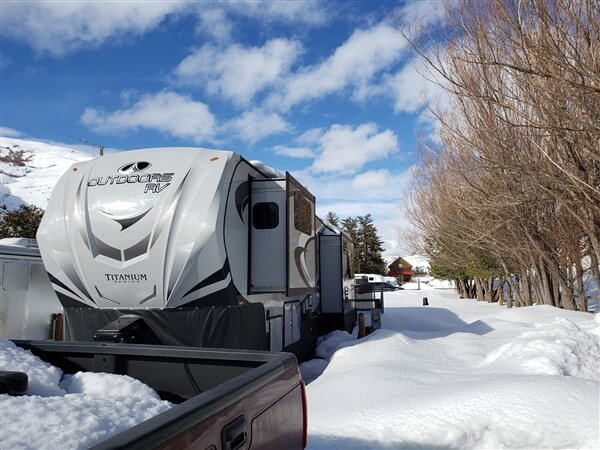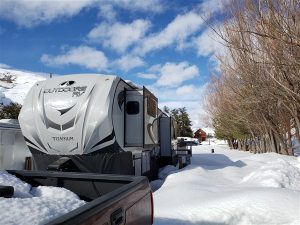 Its been a long winter here in Jackson, Wy…
Even though we are (just) west of the Continental Divide, its been a long, cold winter. I rushed to get here in very early November to set up camp with my 5th wheel ahead of a winter storm. Snow has been on the ground virtually since I arrived and little of it has melted.
The ski area where I've been teaching (Jackson Hole Mountain Resort) all winter has recorded nearly 500 inches of snow – and I'm certain there's more to come. Here in the valley, at about 6000 ft., most snow from here on will melt in a matter of hours or a few days – barring an unusual cold weather outbreak!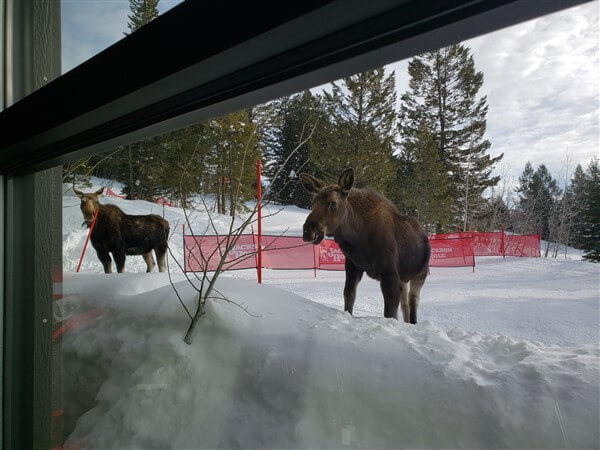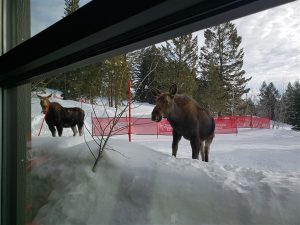 *In fact, just after clearing my 5th wheel's roof AND enjoying an afternoon that reached 40F, we now have a Winter Storm Watch up for tomorrow! BUT, as noted earlier, the snow WILL melt fairly quickly with ANY sun and warmth.*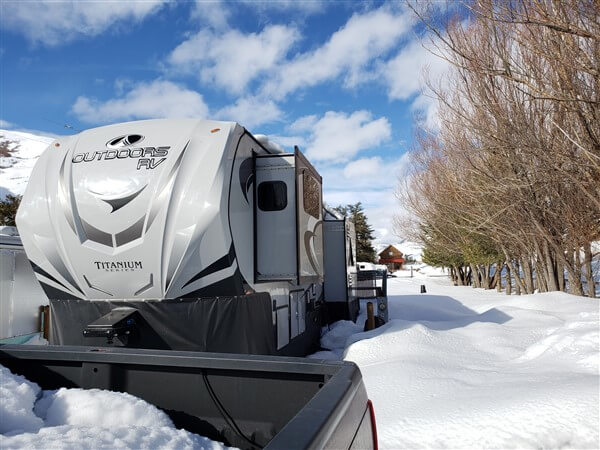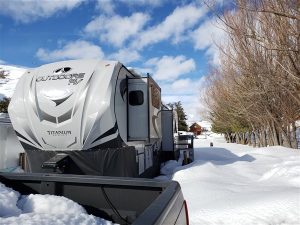 I still have about 3 more weeks of ski teaching but I'm willing to admit I'm ready for spring! I'm feeling the itch to get on my bicycle and kayak and hit some refreshingly cold waters!
A quick video message then an update on my health… after all, I DID have a heart attack just about 3 weeks ago –
Recovery from what turned out to be a MODERATE heart attack
My prior post shares lots of details about the entire experience and a visit to it may prove valuable as I share how I felt at the time and what I did that may in fact have saved my life (and could yours as well if you have a similar experience.) I will repeat some here but not all. (The video above also hits some of the most core info.)
After reviewing this info, should you wish to help me meet my $10,000+ deductible, I'm accepting funds via a go fund me campaign.
Let me start here – on the day it happened (Feb 12th), I was skiing down an advanced trail at Jackson Hole, my heart felt strong, I was NOT out of breath, I was NOT fatigued, but I DID feel a different sensation (see my prior post) than I've ever felt before. Others have told me that the most profound thing I've shared with them is just that – when you feel something that is DIFFERENT from what you've ever felt before (and its unpleasant) – get it checked out ASAP.
Since then, I've learned a few key things…
skiing is a great sport for interval training BUT you also need to (on a regular basis) workout in such a way that you create a sustained heart rate for 30-60 minutes. Think: tread mill, bicycle, kayaking, cross country skiing. When you downhill ski, you create moments (followed by rest) of elevated heart rate – but only for a few minutes at a time.
an angiogram (catheter stent) procedure is the BEST way to "see" blockages in the arteries (and at the same time fix them with a stent) – it has truly revolutionized cardiac procedures
a MRI is the only other way to see blockages in the arteries (or is it a CAT scan?) – would an MD correct me here!
The left ventricle pumps blood out into the aorta. Its job is to clear 60-70% of the blood out of the left ventricle each time it pumps. After a heart attack, it can be reduced. In my case, the reduction is mild – the day after the heart attack, I was pumping 54%. I'm told this is a perfectly functional number, but the cardiologist has me on a "beta blocker" to slow my heart rate (my recent blood pressure was 106/63) in an effort to make the pumping more "forceful" (as I understand it.) So, there is the hope and expectation that I will raise the 54% to the "normal range" in time. This is all revealed with an echo-cardiogram (non-invasive) test. Now here is the scary part… For those who have less than 40% after a heart attack, there is a relatively high risk of "sudden cardiac arrest" where the survival rate is just FIVE PERCENT. I read of one individual who was tracked at 20% after his heart attack and was given a high tech jacket to wear that monitored his heart function and if an irregular rhythm occurred (and in his case it DID) – instead of dying in his sleep, the jacked shocked his heart and brought it back to a normal rhythm! Wild, huh? So… in some (many?) cases, its not the heart attack that kills you, its the sudden cardiac arrest (I've read within about a month of the heart attack) that has the low survival rate.
A few days after the heart attack, I visited a cardiac rehab MD here in Jackson. She did a stress EKG (hooked me up to the EKG and had me do some mild exercise on a tread mill) – I PASSED with flying colors!
Low blood pressure (from the beta blocker) can make you a bit lightheaded – so standing up quickly, or spending excessive time in hot tubs or saunas can be an issue. I do these a few times a week, but limit myself to 15 minutes or so.
If (and when) you experience symptoms – do not ignore them– the longer you do, the more damage you may be causing your heart. While I was allowed to return to "work" (skiing and ski teaching is not really work to me!) just 1 week after the heart attack, I've spoken with others who have had a similar procedure (catheter stent) done and they have been forced to wait far longer before returning to work. I'm sure there are a number of factors considered by the Cardiologist in their decision – and I'd bet they include age, overall condition, results from blood work and the echo cardiogram – perhaps among others.
Cardiac muscle while it is muscle tissue is different from other muscles in your body. Muscles like the quads or triceps when stressed generate localized pain making it easy to feel when you've over done it (a common experience with the quads in skiing!) – but – when the heart is experiencing ischemia (deprivation of oxygen due to blockage(s), symptoms are often diffuse and varied, hence my "advice" to NOT ignore feelings you've never felt before!
If you think heart attacks are rare, you're wrong. About 1.5 MILLION Americans suffer a heart attack or stroke (same underlying cause) EACH YEAR. And… its hitting younger and younger people each year. Reason? Stress? Diet? Lifestyle? I personally do not know – but – I do know even if you're in your 20's and if you're doing something destructive to your health (smoking is the #1 thing you can do to DESTROY your health), YOU may be at risk.  **I JUST read an article posted on marketwatch.com that states heart attacks have risen at the rate of 2% per year for folks UNDER 40 for the past TEN YEARS! The article blamed drug use for this trend.
If you found this info valuable and you're so moved (and able) to assist me – PLEASE consider going to my go fund me page to help me with the MOUNTAIN of bills I now face…
https://gofundme.com/alan-sills-heart-attack
Moving forward into SPRING…
I expect to be working somewhere in the RV business (from April thru Labor Day), but I still have my Concierge Buying (and selling) Service that I offer year round. While I will not do much touring this summer, I DO plan to tour extensively in September and October before (likely) settling back into the Jackson Hole Wyoming region for another winter teaching at "Teton Village" – a ski area I've truly come to respect and appreciate. This includes the incredible supervisory staff and leadership at the ski resort. (Just speaking the truth here!)
While I will not be traveling much for a few months, I WILL be updating RV Across America (.net) regularly. I still have a very extensive post I'm working on that will detail my tour across Washington and Oregon last Autumn. Additionally, I'll be posting on a construction project I'm doing inside my camper – more details soon on this. I also have several posts in mind on the state of the RV industry as one manufacturer in particular recently garnered over a quarter million dollars in fines due to shoddy workmanship and construction materials. Achieving this in a largely un-regulated industry is in my view quite an accomplishment! Especially when I can easily name several manufacturers who are clearly in a "race to the bottom" and are striving to become the "worst of the worst" – all as WE the consumer pony up our hard earned dollars – in many cases TENS OF THOUSANDS of dollars – to buy these campers. More soon!