Dateline May 24, 2015 – Casper, Wyoming (well at least the starting and ending point!)
Memorial Day weekend "back home" was a time to "hit the shore" and hope for hot weather (and typically COLD ocean water)… what shore? Need you ask?! The Jersey shore! That was the Memorial Day weekend ritual of my youth (and many years after!) 
Now that I'm in the "intermountain west", Memorial Day weekend is MUCH less summer-like than I was used to "at the shore" (not that it was always hot their either!) Memorial Day 2013 in Steamboat Lake, Colorado was chilly, damp, and the ice had JUST broke (about 10 days earlier) on the lake! Last year, Idaho was not very different – chilly and wet. Locals out here seem to know its not summer yet and as such campgrounds and other outdoor activities are not packed as I remember them to be along the east coast. 
Yesterday set an entire new standard for non-summer weather! See the photo below…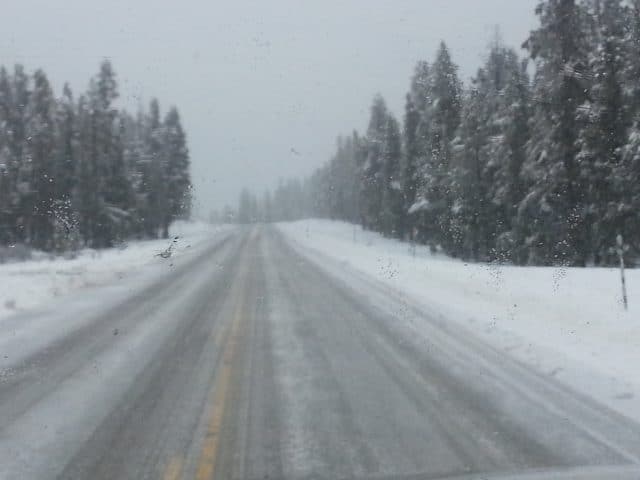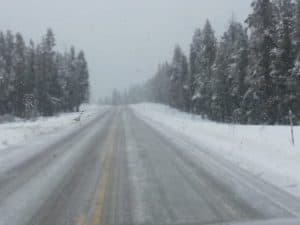 I took this photo while driving as there was no place to pull over – and the one "scenic overlook" pullout had so much snow (at least 8 inches), I dared not pull in without concerns over getting stuck! Yep, the temperature was 33F, it was about 5:30pm (with 3 1/2 hours daylight remaining) and the snow was falling heavily. (More photos below)
Allow me to back up a few hours… after DAYS of rain here in Casper (and much of the intermountain west), I decided to take advantage of a day off from the RV store to do some touring. I wanted to visit a few ghost towns – and did succeed at passing through two – Arminto and Lost Cabin, Wyoming. (Recall I have a truck and a fifth wheel – so, while the 5er is safely "parked" in a campground, I get to explore with a heavy duty F250 4wd that is fully capable of dealing with everything I threw at it all day during this adventure!)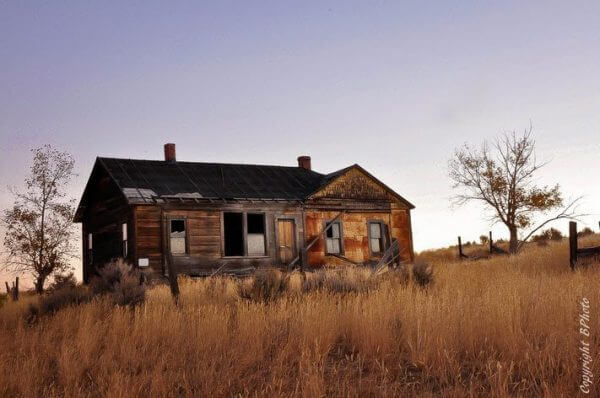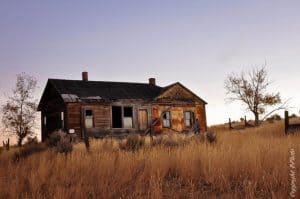 Arminto is a mining town who's time has come and gone, but the scene as I passed by the few remaining buildings in town was a bit strange – shacks (like the one above), but mostly burned out. Of the two that appeared to be occupied, they were basically one room shacks, and one had a satellite dish for tv outside of it! I suppose I shouldn't be surprised, but at last census, this town had 5 residents! It was raining so hard, I didn't even stop (didn't look like there was much to see anyway), and I continued North on the paved road until the pavement ended about a mile up the road. 
The end of the pavement offered two options – continue into the wilderness, or go west to Lost Cabin. Having read a bit about it, I decided to travel 25 or so miles on dirt (mud) roads to get there. I even had to kick over to 4wd for a bit to avoid getting stuck in the mud, miles from ANYWHERE! It took about an hour to go the distance and Lost Cabin was only partially what was advertised – yes, there is a vintage home built in 1900 by a self made millionaire (see photo below – again I didn't take it, was too rainy and well, frankly there's better photographers out there!)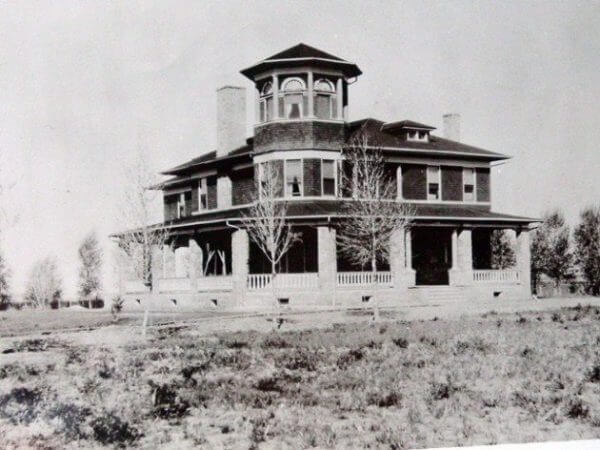 What I did find in Lost Cabin was a ton of activity – oil field activity. Its interesting how a town that existed for one reason nearly a century back is now growing again as the oil activity in this area increases – and its good to see it. Lost Cabin marked the beginning of paved road again, so my travel to Thermopolis (my main destination) was uneventful. 
Thermopolis has one claim to fame – hot springs! There is a state owned hot springs, but they limit you to 20 minutes, so, I went to Star Plunge – a facility with a large indoor and large outdoor pool, along with hot tubs, and a "vapor cave" (kinda like a natural steam room).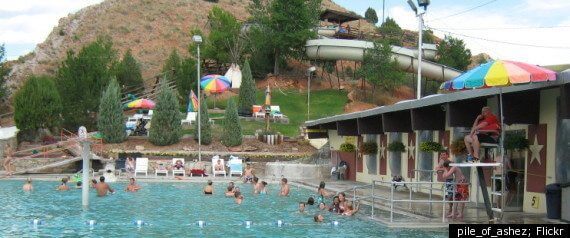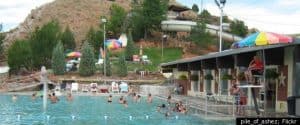 The day I was there was cloudy, breezy, and rainy… so, it didn't quite look like it does in the photo above, but, considering it was a holiday… it was packed! I highly recommend Star Plunge for the visit and encountered several families who stay at the motel that is about 100 yards away from the hot springs – their kids are pretty much free to use the springs facility as much as they want since the motel is so close by. 
When I left Star Plunge, I wanted to explore a region I had not seen before in Wyoming – Worland, Route 16 from Worland to Buffalo and Buffalo itself. Worland and Buffalo are small towns, each with a few thousand (under 5000) residents, and elevations of around 4500 ft. When I arrived (passed through) Worland, the rain was still coming down hard and temperatures were in the low 40's. I took some photos along the way to show off GREEN Wyoming…
It REALLY has RAINED alot in the past few weeks!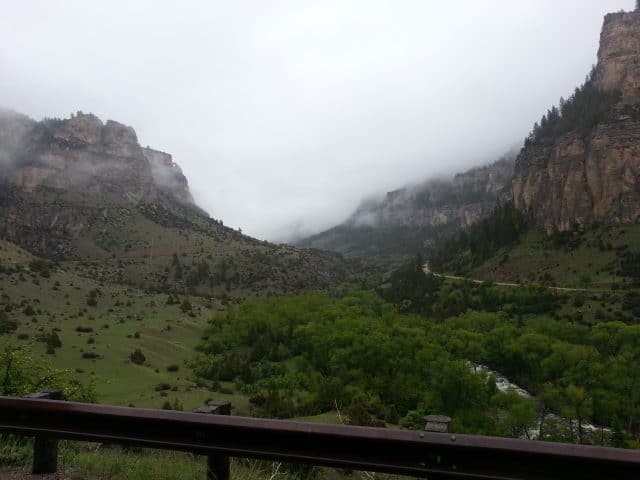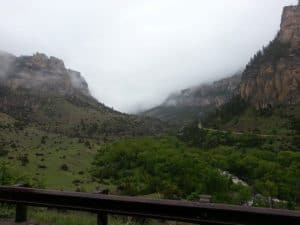 The climb up Powder River Pass – about 6ooo ft elevation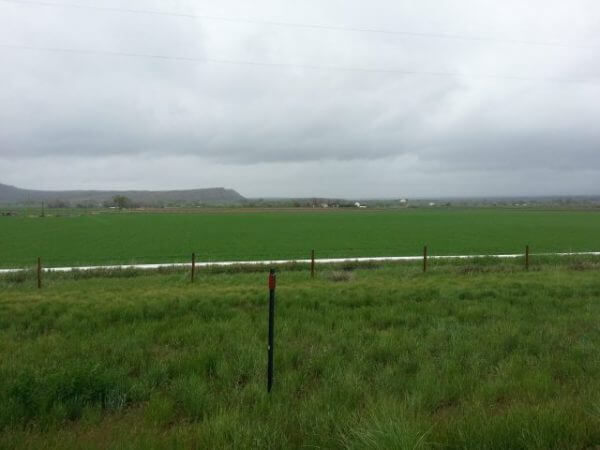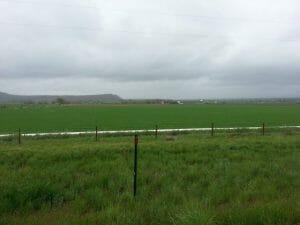 Grass fields?? In Wyoming??? Yep, after LOTS of rain, the valleys are really GREEN!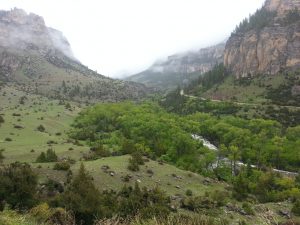 Climbing the pass – towards 9900+ ft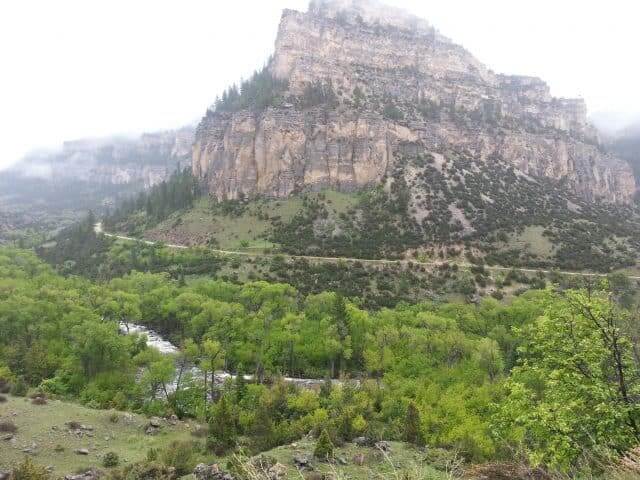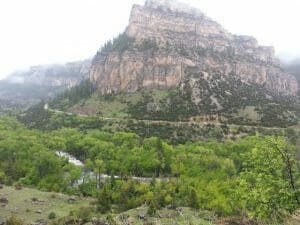 When I started approaching the peak of Powder River Pass the temperature gradually fell to near freezing, the rain changed to snow – and then I saw fresh snow sticking on the trees and on old snow that has not yet melted…
Meadowlark Lake and Ski Area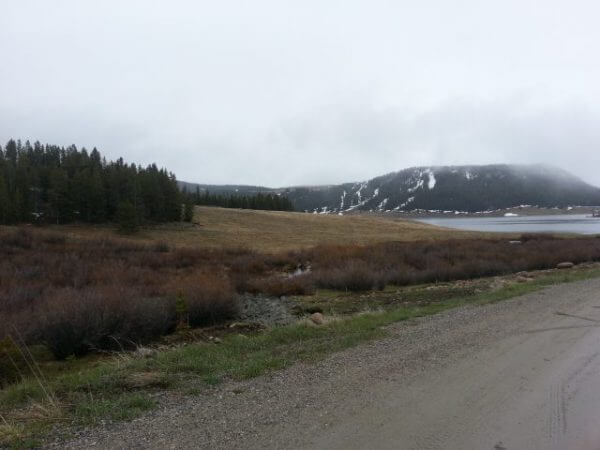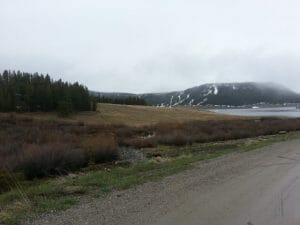 Farther up, the ground was all white! 
A summer campground on the west side of the pass – not yet open for the summer season.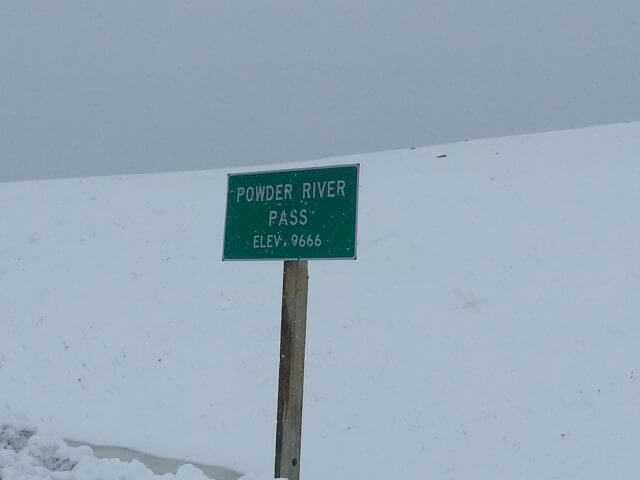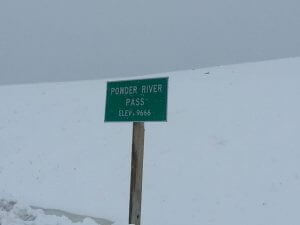 Powder River Pass – the snow was about 2 feet deep off the road.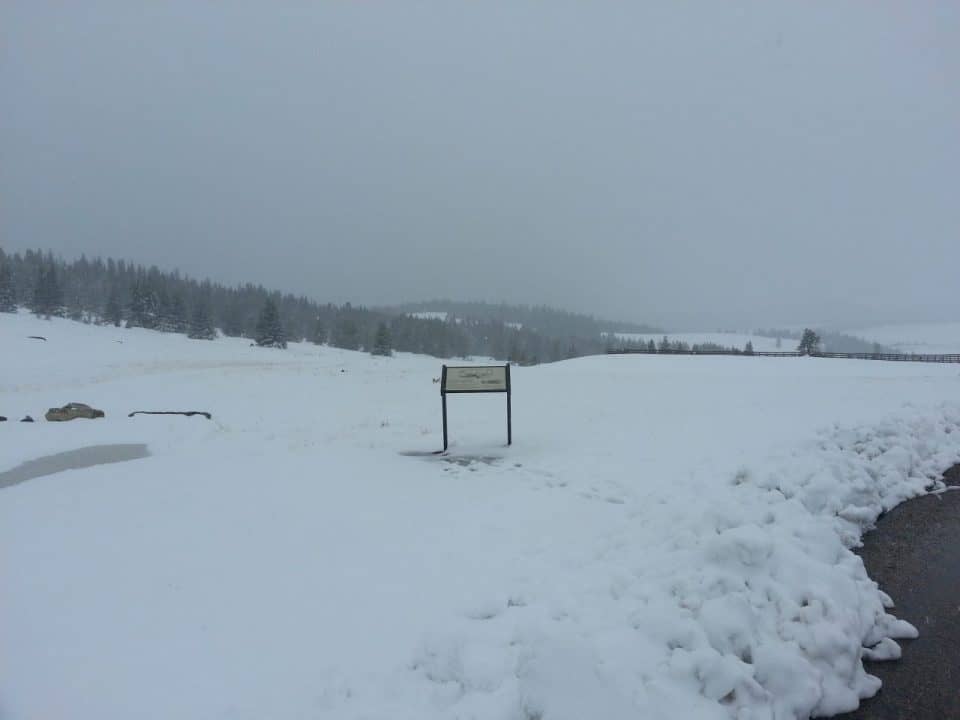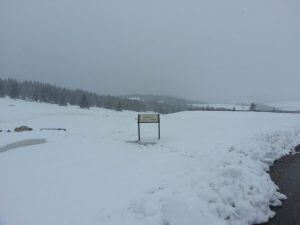 The worst conditions were yet to come on the EAST side of the pass. The snow got heavier (makes sense with an east wind – kinda like a Nor'Easter – but 2000 miles from the Atlantic!) and the snow began to accumulate on the ROAD (on MAY 24!)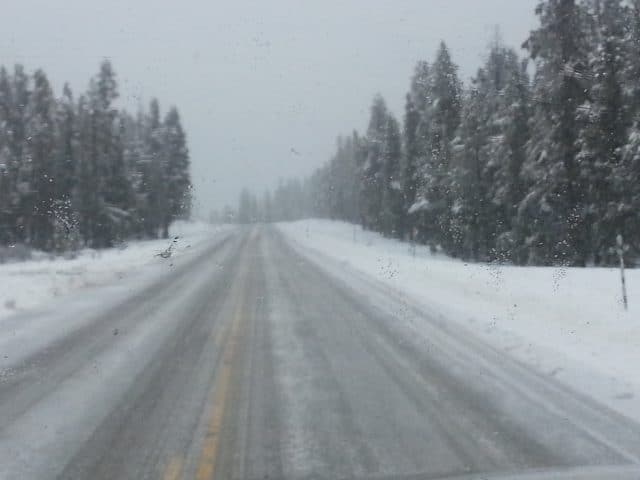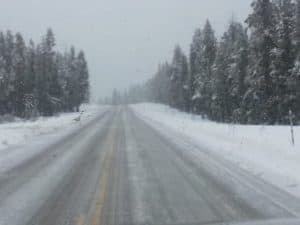 And, I'm driving in my "five finger" water shoes, shorts and a light shirt! Fortunately, there was no need to spend much time out of the truck – and – I managed to NOT drive off the road when it got very slick and slippery!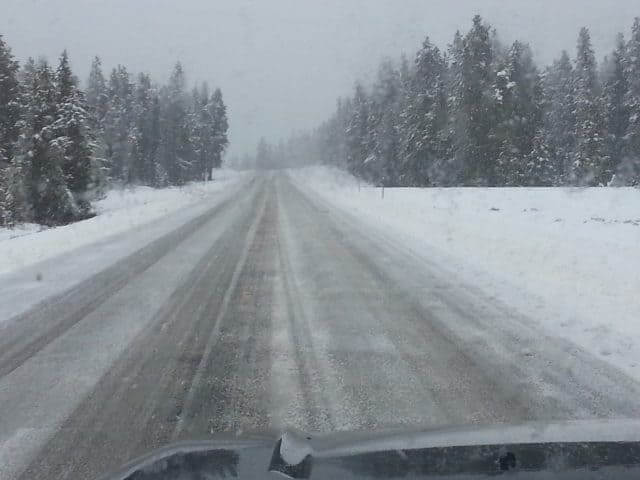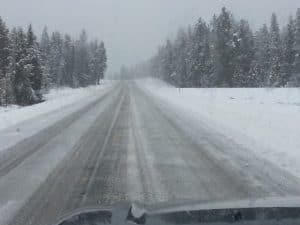 The roads returned to being simply wet as I descended into Buffalo – but the rain and low 40's temperatures persisted. Thanks to Trip Advisor, I located an iconic place to eat and have a couple of drinks before completing the last 100 miles or so of my journey – returning home just about 12 hours after I left…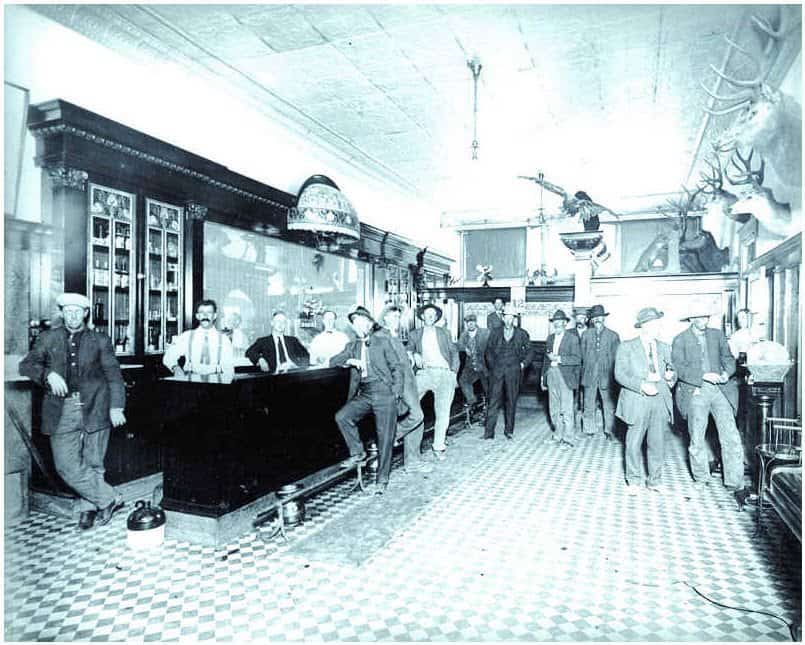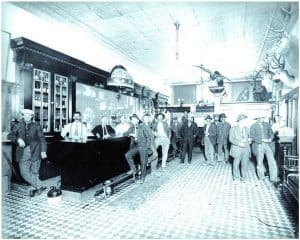 The Occidental Saloon in Buffalo – a Landmark… Great atmosphere,  history, and part of the Occidental Hotel. Good food – grog – and conversation. And that capped a very "adventure filled" Sunday over Memorial Day weekend! Thanks for allowing me to share it with you. If you like my posts, please leave feedback below.