Ever considered Winter Camping (in an RV)…
In fact…
How about Winter in the Rocky Mountains?!
Spending a winter in an RV can be an experience of a lifetime…
Complete with multiple challenges – sometimes several at a time – often arising when the outside temperature falls to as LOW as -35F (and then barely crosses zero degrees in the "heat" of the day!)
Yes, at times the cold was "biting", but the campground I spent last winter in – within the town of Steamboat Springs, Colorado is in the deepest part of the valley the town is located in and a "temperature inversion" insures cold, dense air collects for much of the "dead of winter" – which turned out to be for SEVERAL weeks.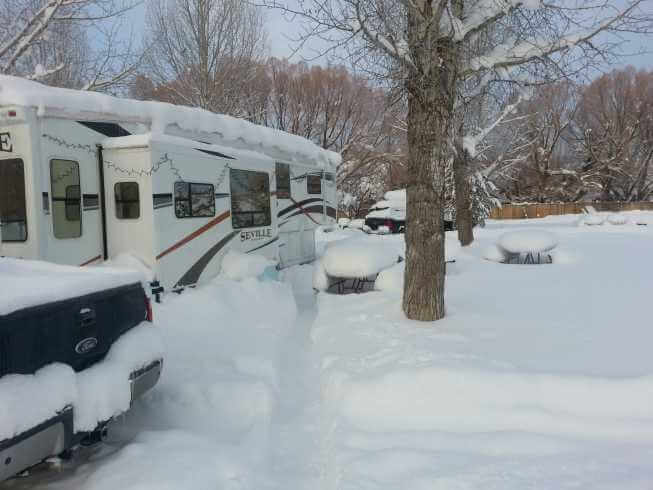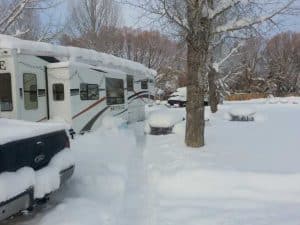 As you'll hear and then see in my video below, I had to make several modifications and preparations for the upcoming winter in October and November – but even with those preparations, challenges arose. Those challenges included water freezing (multiple times in multiple places), frozen grey and black tank levers (you can't "dump" when the levers won't move!), refrigerator failure, water pump freezing, slide outs requiring snow removal, and more. Even my truck needed a block heater!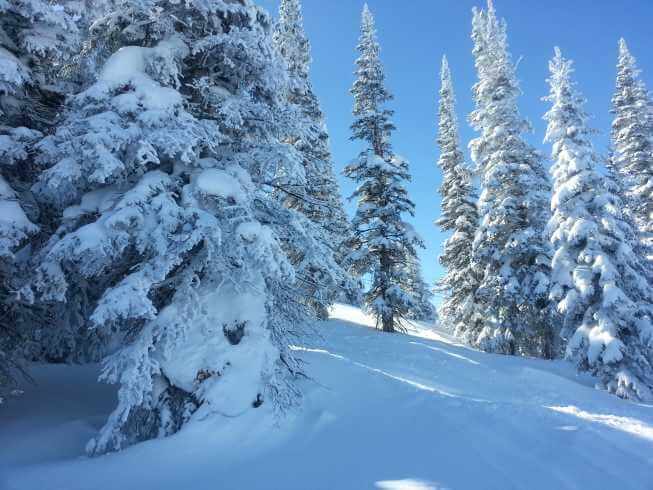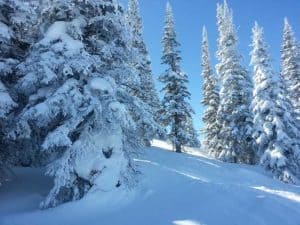 Being familiar with gasoline engines my entire life, I NEVER knew about "glow plugs" and "gel'd diesel fuel" (try climbing a hill at 5mph at 8am when other skiers are ANXIOUS to hit the slopes! Problem solved, $480. later by installing a block heater (you get to plug in your truck at night – especially when the temperature drops below -15F. And, adding some additive to prevent gel from forming in the first place is a wise move as well!
Winter Camping
It is important to know that with a properly insulated RV, you can EASILY maintain a temperature of near 70 inside, even if the temperature outside is 100 degrees colder! And… often I kept the inside warmer than I needed for comfort – but – I knew it would help keep the underbelly from freezing up.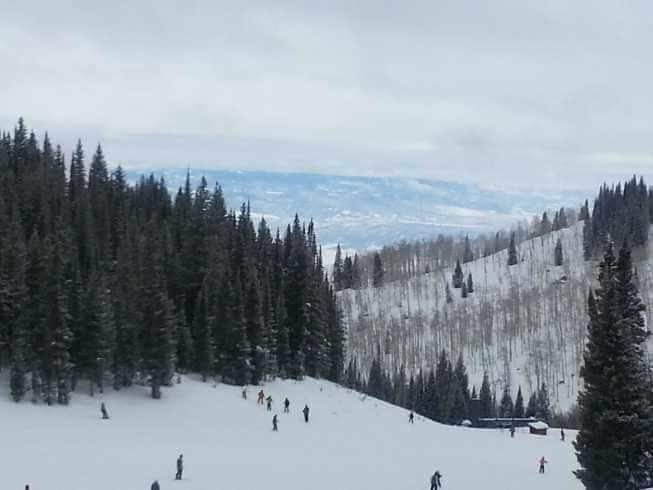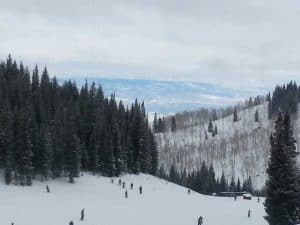 If you're ever thinking of such a lifestyle, watch this video and enjoy! 
[youtube]http://youtu.be/ynwHHSsdkpk[/youtube]
As you review my video, note the insulation I used to keep warm and minimize my use of propane. Note where I strategically placed "heat lamps" (150 watt bulbs) under the RV (inside the insulation) to keep levers from freezing; the insulating approach for my water hose and sewer line (using heating "tape") and the need to remain vigilant to keep the slideouts relatively snow free on their tops. It often meant about 45 minutes of "extra work" at the end of a ski day on days when it snowed to clear the slideouts and shovel around the RV.
Those who know about being a part of "ski school" or really working for any seasonal resort, you know that you won't get rich doing it! Now, don't get me wrong, ski school was a GREAT way to spend the winter – after all, we DO get paid to ski and for me the added benefit is PHYSICAL CONDITIONING. But… you need to know that in order to live a location neutral lifestyle, I have built a business "online". If you want to learn more about my "location neutral" lifestyle and how I generated it, have a look at the two banners below – click on each, review the information and then contact me to discuss what I do and how I do it.